---
Oct 05 | 2020
Focus on Sustainability More Vital than Ever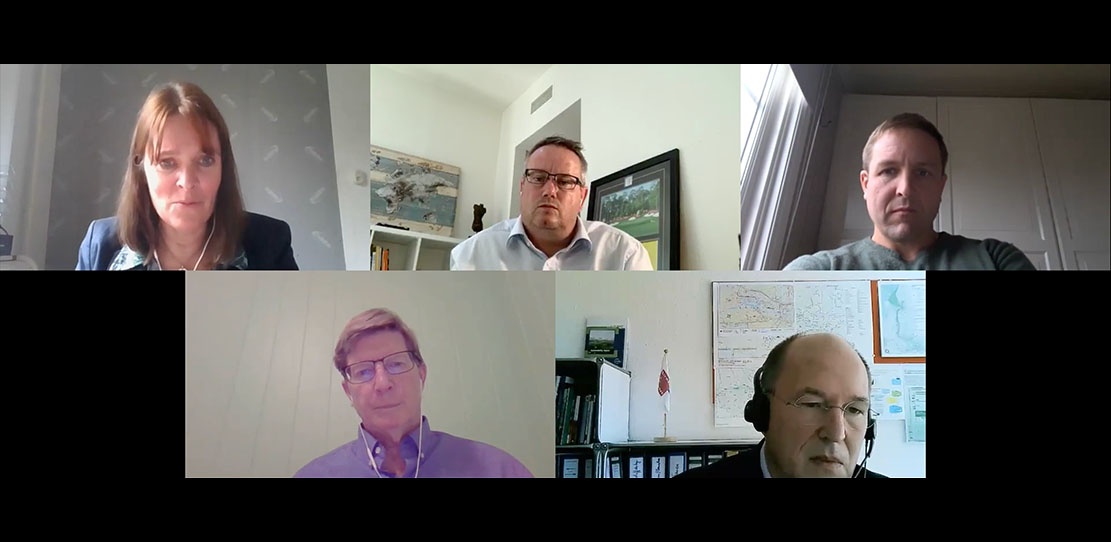 By Gary Burrows
Despite the dramatic impact of the Covid-19 pandemic, the drive towards sustainability must remain a core function within the logistics industry, agreed panelists of a Breakbulk365 webinar on Sept. 30.
Sophie Punte, executive director, Smart Freight Center, said the pandemic's impact has three dimensions: economic, environmental and social.
"From seafarers to truck drivers and farmers, Covid affected so many people in society in so many ways," she said during the webinar, which was part of the virtual Breakbulk Europe event.
If anything, the Covid crisis "is in a way a preview of what will happen in the world if we're not making it more sustainable," she added.
Roger Strevens, vice president – global sustainability, Wallenius Wilhelmsen, acknowledged that "it's really apparent to us that this is a challenge bigger than ourselves." However, "it's not a time to step back and ease up on our vessels. We need to use this time to move toward a deeper level of impact on the business."
"Covid hasn't affected our vision and goals around sustainability," said Jason Pratt, vice president – group health, safety and environment, DP World. "A few projects have been delayed and we can't always get together in a collaborative way. However it has strengthened us in a few areas. We became an essential service, we feed communities, deliver medical supplies and we need to keep our people safe."
"For us, it's most important to stay resilient and create good solutions," said Uwe von Bargen, director for environmental and sustainability issues, bremenports. "We need to widen our view of topics, and what we need for the future resilience of our society … collaboration is necessary at local, regional and international levels."
Awakening
Paul Holthus, founding president and CEO, World Ocean Council, who moderated the panel, in his opening remarks noted that "the logistics sector for a lot of people isn't something that comes to mind immediately when thinking about direct ocean users. It's that part of the network that holds together the diverse set of supply chains and operation of those supply chains."
However, the logistics industry is "awakening" to the fact that sustainability is no longer a side issue, Punte said. The industry realizes that integrating sustainability within business strategies brings internal and external stakeholder value, and that companies should make sustainability reporting part of its annual reports, rather than monitoring separately.
"Sustainability is not a bolt-on corporate activity," Strevens said. "It's central to our thinking and we expect to see it develop more widely across business. "It must be deeply ingrained in corporate strategy. "If you don't have strategy, you have hope, but hope is not a strategy."
Strevens said that three things are driving the importance of sustainability: regulation, innovation and demand. The shipping industry is entering a "golden era of regulatory development," he said. Innovation brings increased transparency, as industry embraces technology solutions.
For demand, he said breakbulk customers' minimum requirements are increasing. "Unless you do X, Y or Z, you're not going to be considered for the business," he said.
In response to that demand, some logistics companies will question whether customers are willing to pay more for sustainability measures. However, he said solutions won't always come with increased cost, but even so, those costs bring value in increasing resilience and reliability that value the customer and the provider.
bremenports recognizes multiple drivers of sustainability, von Bargen said.
The German port group has developed its green port strategy over 10 years, and this has become a core of its corporate philosophy.
As an industry infrastructure provider, the port seeks sustainable solutions as it weighs future investment, as it relates to the maritime business and the community surrounding the port. "We ask (stakeholders) what they need and want and look for good solutions to serve them."
Sustainability Drivers
Holthus asked webinar panelists whether sustainability was driven more by internal stakeholders or outside regulatory advocates.
"A little bit of both," Pratt responded. Internally, DP World has engaged employees in the process, and has outwardly educated the community – including employees' families – on sustainability commitments and carbon reduction strategies. At the same time business entities from governments, banks, regulatory agencies are all engaged. "They all matter in specific ways," he added.
Wallenius Wilhelmsen's Strevens said, "We are see escalating levels of interest from all stakeholders. They're getting more sophisticated and as they know more, their expectations are higher."
DP World's Pratt noted that ports must be conscious of what the neighbors think. "Many of our ports are surrounded by communities. Workers come from those communities. That's usually our first level of engagement," he said.
Strevens agreed. "A lot of the issues we've dealt with over the years did not come from the regulators, it came from the community. They are a loud voice and they speak to the regulators."
Strategy
It's one thing to have a sustainability strategy, but quite another to make employees follow it. It's important that management demonstrates that it is engaged and that sustainability is vital.
Pratt agreed all employees and stakeholders have to be on the same page. "We all have our own KPIs, which may contradict each other," he said. Management must align internal key performance indicators, and demonstrate the value sustainability brings to a company.
DP World's business model "is strategically tied to sustainability," Pratt said. "External and internal stakeholders are counting on us." While the Dubai-based multinational logistics company has invested in renewable projects, it only recently began knitting sustainability into its long-range business plans for 2030 and 2050, in which it expects to have a zero carbon footprint.
"From our board to employees; we're demanding it from us. We want to be seen as a green company," Pratt said.
Punte said that the Smart Freight Centre sees three aspects within a logistics partner's sustainability strategy: increased need for insight into the supply chain, resilience, and ability to implement emissions reduction measures.
A recording of the webinar,
"Growing a Sustainable Future,"
is available.
---
Related stories
Breakbulk New Normal: Wake Up, Wise Up
Carriers Find Themselves in a Spot
Roger Strevens on How to Achieve Real Sustainability
Business Outlook Webinar Follow-up Q&A with Volga-Dnepr
Project Logistics 2030 (Part 1 of a 6-part series)
---
Subscribe to BreakbulkONE and receive more industry stories and updates around impact of COVID-19.