---
Oct 05 | 2020
(Europe Digital Special) 5 Leading Carriers Discuss Way Forward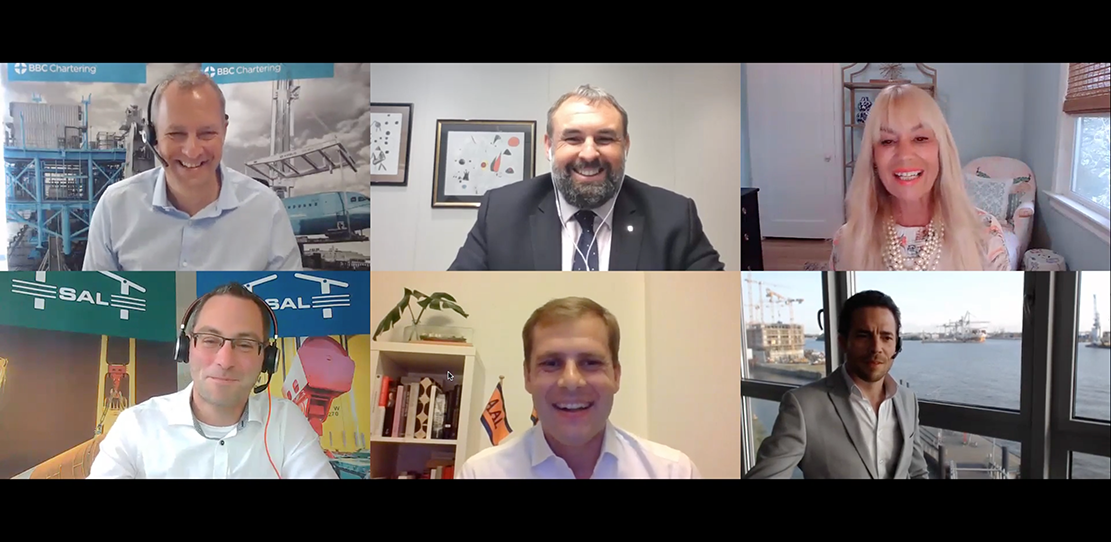 By Gary Burrows
Breakbulk asked industry ocean carriers for three words to describe the current ocean transport market. The results were as mixed up as the current operating environment.
During the BreakbulkONE Show, Carrier Check-in: Cargoes, Hotspots and the Road Ahead, which was part of Breakbulk Europe's Digital Special last week, BBC Chartering's Ulrich Ulrichs simply gave the answer of: "spot."
Other panelist went with four words. "Living in interesting times," responded SAL Heavy Lift's Jens Baumgarten. "Uniquely unprecedented and unpredictable," said Felix Schoeller of AAL Shipping, while Dominik Stehle of United Heavy Lift, answered, "Uncertainty is never positive."
Ben Collins of MSC kept it to three words: "Challenging, demanding, uncertain."
The carrier executives agreed that the double-whammy of the Covid-19 pandemic's impact on the global economy, coupled with depressed commodity prices, particularly oil and gas, have placed the breakbulk and project cargo spot market under severe pressure. And carriers' required compliance with the International Maritime Organization's 2020 low-sulfur fuel requirements served to exacerbate the market.
"The black swan Covid-19 arrived and suddenly the bunker discussion was not a big topic anymore," said Ulrichs, CEO of BBC Chartering.
"The last couple of years have been tough, and I personally don't see the light at the end of the tunnel," said Stehle, chief commercial officer for UHL. On top of the external economic pressures, he said the multipurpose vessel fleet's continued overcapacity is a "self-inflicted problem for the carrier community."
"The market will only correct itself when new environmental rules are imposed and financial sources dry out," he said. "Companies that create value will always sustain, and companies that can easily be replaced by another player will die."
Cost control is first and foremost among carriers, "and it will remain that way for a long time to come," as the heavily asset-based industry navigates forward, Stehle added. "Whoever does not understand that will be forced out of business."
Opportunities
Schoeller, general manager, AAL Shipping, views the market circumstances as an opportunity to support clients as they face disrupted supply chains, by being responsive and flexible.
Baumgarten, SAL Heavy Lift's commercial director, agreed, noting that while some markets struggle, opportunities have developed among renewable projects, as well as some rebounding in Asia, Africa and the U.S.
Reacting to the evolving pandemic response, Urlichs said, "comparatively, our industry has done reasonably well. Most carriers adapted and found new solutions." It has forced carriers to be "super flexible" to adapt to changing circumstances.
The market downturn also affords carriers the opportunity to look at their processes, systems and cost structures "to be efficient and lean and mean for the future," Ulrichs said.
The evolving circumstances of the last six months has challenged shippers, receivers and carriers to make necessary plans, and Collins, MSC's global project cargo manager, said the carrier's "thin-line management structure" has enabled it to be flexible and fluid.
While some carrier executives pointed to uptakes in some markets, Stehle said that even with rebounds in commodity pricing and solving Covid-19, the heavy-lift segment is still vulnerable to trade policies of big economies like the U.S. and China, with tariffs greatly impacting how materials are procured and sourced now and in the future.
There is already evidence of shifts to alternative sourcing, including near-shoring, but that is not possible in all markets, such as Europe and the U.S., "because the work force is simply too expensive," Stehle said. "It always comes down to the bottom-line price."
Ulrichs added Russia and some Middle Eastern countries to the trade complexities.
However, "the customer will find some way to source their product, and one day it comes from Europe or South America, then you have to be flexible and follow the cargo and adapt to the requirements of clients," he said.
Schoeller said that despite some trade downturns, carriers should be resilient on serving their customers' markets. "It's prudent to look at trade routes and make smart decisions; not shift too quickly … because our customers rely on us."
"It's a spot-driven market," said MSC's Collins. "Carriers that have the best flexibility and manufacturers stand a better chance of taking what project cargo is out there. For the long term, we'll have to see how it shakes out."
Capacity Concerns
Ulrichs said that the MPV fleet requires further scrapping, and he is hopeful an increase in oil prices will revive oil and gas projects. "We need the oil prices to rise, then I think some of the older ships will get inefficient and disappear. There has been some scrapping activity, but I think the fleet will be at least stable if not shrink on the heavy-lift project carrier side."
When asked at the webinar's conclusion where the tipping point would be for oil prices to bring meaningful revival, responses fell within the US$70 to US$100 range to jumpstart projects, and also to raise bunker prices to help cull the market.
Most carriers concluded that there was little in the way of further mergers and acquisitions among carriers – or partnering with other industry verticals in order to expand the carriers' range of product offerings.
"The time for speculative investments is over," Stehle said. "Our strategy going forward is to only invest in assets we know that we can make money with … anything else does not make sense, because it's so volatile you simply can't afford anything."
While assets change hands during mergers and acquisitions, it doesn't remove capacity from the market, most of the carriers agreed.
However Baumgarten, SAL Heavy Lift's commercial director, disagreed that the industry has seen the end of mergers and acquisitions. "The industry is still not healthy at all, on both sides … not only the shipping sector, but the freight forwarding sector and the client side … we will see more changes in the future."
As if foreshadowing, SAL Heavy Lift on Oct. 5 announced that it had acquired a "major stake" in Americas heavy-lift carrier Intermarine, which will operate as an independent brand.
MSC has grown its fleet without mergers and acquisitions, which Collins said "brings a limited benefit and a great expense to be honest." Staffing and costs tend to bloat. Further, the acquisitions often fail to retain the new business assumed as part of the acquisition. "Many of the clients and forwarders feel a bit nervous to trust cargo to these companies that recently acquired others," he added.
UHL has entered into a partnership with Ocean 7 in Asia, but Stehle said that's merely a "cost-sharing agreement."
Ulrichs is reluctant to consider hooking up with other companies to extend the value chain beyond its core competencies. "If we were to try to expand beyond ocean transportation … we would get issues with a lot of our clients. We would be competing with them."
He says BBC will stay close to clients and their plans for coming years and what their requirements will be. "If we have beautiful ships that nobody wants, it doesn't help much."
BBC Chartering adapts to the market with its diverse range of vessels, both owned and chartered. "But we need to be alert and very sharp to adjust, because you don't charter and build ships overnight and you don't get rid of ships overnight."
Environmental regulations over the next 30 years should also impact the MPV fleet, Stehle said. "I'm hoping that it will drive older tonnage to the scrap yard."
As vessels extend beyond an efficient life cycle, newbuildings will begin, but that is dependent upon the growth and development of alternative fuels – and the ability to source them on a global scale, carriers said.
Collins said MSC is "investing quite heavily in a biomass trial from Rotterdam." However, "even if the trial proves successful … it needs to be available on a global scale to be able to support the industry. It can't just be a few ports here and there."
Developing the next generation of MPV vessels, as well as niche ships is challenging for such a small carrier segment, Ulrichs said. "We can let others try … and learn from them. If the big container guys have something that works, we can adopt that later because we are too small to stem these kinds of investments. We can be a little bit smarter as we go."
Technology and Challenges
Carrier executive panelists agreed that adjusting business environments to the pandemic provided lessons, but also demonstrated the value of technology to the industry.
"We work as well and as efficient from home with IT," Stehle said. "Of course the personal international is missing, but I think IT technology has helped us interact much better." At the same time, it has reduced travel and business expenses.
Most panelists, however, acknowledged that despite the effectiveness of remote working, it's not as productive for the industry in the long run.
"We know clients and players quite well," Ulrichs said. "It's a small group, but there will be new people entering and there will be constant change, and there must be personal contact at some stage, maybe not as much as before, but it's important to have that personal contact."
"In the project sector, trust is very important," Collins said. "It's still a matter of sitting down with the client, looking him in the eye and sharing a beer or a meal … I still very much believe that the personal relationship and seeing people will have to come back to reality at some point."
"In our sector, it's not just us commercial guys that discuss things on the phone or via Teams," Baumgarten said. "It's also the engineering side, they have to work on the product itself and on the ship themselves, so it's very, very important that traveling will be possible in the future because there are some things you can't do from the computer and office."
Schoeller noted that digitalization, which has grown through remote working, will further develop and streamline processes.
A recording of the
"BreakbulkONE Show:
Carrier Check-in: Cargoes, Hotspots and the Road Ahead,"
is available.
---
Related stories
Breakbulk New Normal: Wake Up, Wise Up
Roger Strevens on How to Achieve Real Sustainability
Business Outlook Webinar Follow-up Q&A with Volga-Dnepr
Project Logistics 2030 (Part 1 of a 6-part series)
---
Subscribe to BreakbulkONE and receive more industry stories and updates around impact of COVID-19.