---
Feb 22 | 2021
Pandemic Gives a Push, Industry Must Add Momentum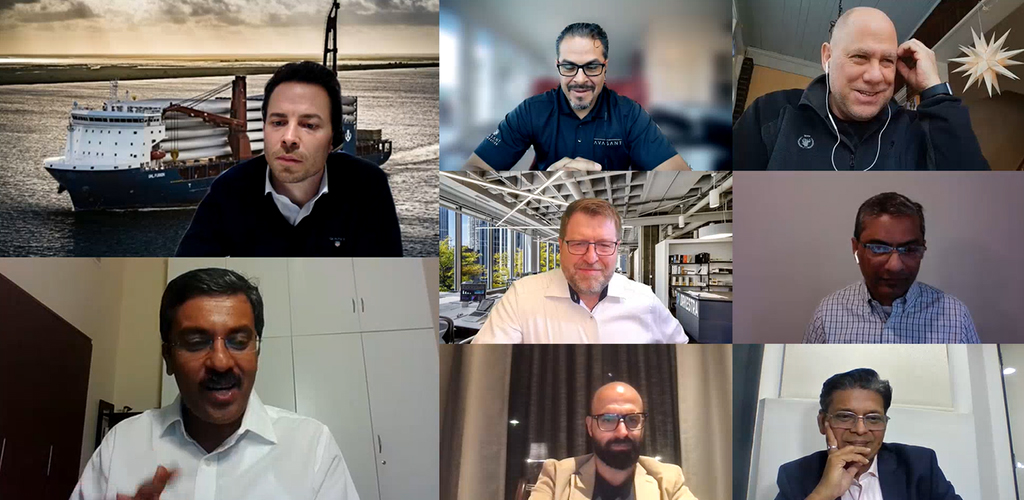 By Gary Burrows
Nearly 36 years ago, then U.S. Customs Commissioner William von Robb delivered an ultimatum to the shipping industry: "Automate or perish."
Von Robb's infamous pronouncement in 1985 was about customs brokers adopting U.S. Customs' nascent steps to automate Customs filing processes.
Pronouncements weren't quite that dire during an executive roundtable on industry digitalisation efforts during the Breakbulk Middle East Digital Special. But the message was shared among the executives, with decades of industry experience, that companies that fail to embrace that future would be swept out of business by those companies that do.
"Our industry is still in the stone age when it comes to digitalisation," said Dominik Stehle, chief commercial officer of United Heavy Lift. "We like to do our part and change that whenever we can. It remains a challenge to be honest."
Dennis Devlin, Maersk's senior director – special project logistics, said the container line "has been very involved in digitizing logistics. However, Maersk doesn't cover the entire project supply chain, which includes all modes of transport, globally, from the supplier's door to the job site, a goal which still has not even been close to having been accomplished by the project industry as a whole."
Cyril Varghese, global logistics director – strategy and commercial, Fluor, warned that "organizations will need to invest in digitalisation and move forward to gain a competitive edge. It may sound extreme, but if you don't embrace it, you're out of business in a few years."
Covid Cure?
A number of roundtable participants agreed that, like many digital functions that have grown in the past year, the Covid-19 pandemic is pushing the project cargo industry to embrace digitalisation.
Covid-19 has "taken logistics and supply chain on an extremely accelerated growth that is forcing organizations to jump into the digital transformation faster than ever," said Carlos Hernandez, partner – global lead business and digital transformation, Avasant, a global IT consulting company.
Mohammad Jaber, vice president for project logistics, Agility, and COO of Agility Abu Dhabi, said the pandemic "was a wakeup call," though he said: "We are using and investing in technology to drive more efficient and effective customer and business processes."
Industry wide, Jaber said investment in blockchain in the industry was US$1 billion in 2018 and is expected to reach US$23 billion by 2023.
"I wouldn't necessarily say it took a global pandemic to initiate action," Stehle countered. "I think a lot of it was moving towards that direction but it may have accelerated the whole process.
"What the pandemic taught us was a completely new way of communicating and discovering the benefits and also cost savings associated with that."
Urs Schaerer, head of industrial solutions, Orkestra SCS, agreed that "communication is changing and it has enabled us to look at our companies in a different way and embrace different technologies."
Regardless, the industry is awakened, and there's no turning back.
"We've been excited with the leaps and bounds in technology and innovation, affordable access to technology and innovation over the last few years. We've seen that the digitalisation priority in global corporations and in smaller companies has jumped quite a bit," Varghese said.
Digitalisation is happening at different paces and different times, with varying investment capabilities. The Covid-19 pandemic has pushed it to a "critical mass" culminating in a need to "create one universe and one family similar to SAP, Android or iOS tech platforms," said Dharmendra Gangrade, head of logistics, L&T Hydrocarbon Engineering, the oil and gas arm of engineering, procurement and construction giant Larson and Toubro.
Hernandez said Avasant research found that 87 percent of people surveyed believe the acceleration towards digitalisation is going to continue and force organizations to change their overall business models.
"It's really embracing holistically everything that goes together to transform normal business models into digital business models," he said.
Companies that accelerate and make investments in technological change are not only going to survive, but take a competitive advantage that will take them well into the future.
"I don't think this is going to stop, even after Covid," Hernandez added.
Silo Mentality
While there is mounting enthusiasm, real progress in collaborative digitalisation faces daunting challenges towards true integration, roundtable participants pointed out.
At the heart of the matter, regardless of participating companies' intentions and technological advances, the major barrier remains silo mentalities.
Varghese noted a LinkedIn post from a colleague who said, "Supply chain is a vision and supply silo is a reality."
"I found that simple statement extremely profound," he added.
He believes Fluor is at the cusp of reinventing the supply chain, building it through a range of "homegrown relationships."
"Now we are at the stage where we have the opportunity to amplify the effectiveness multiple times over through the proper use of technology," he added. "The acceleration and adoption of industry-wide digitalisation is the need of the hour."
Maersk's Devlin noted many project cargo companies have moved towards digitalization by developing in-house tools and systems (see
Companies' Steps Towards Digitalization
).
While the tools are valuable, the broader issue is the project cargo industry needs "a tool to see an entire global project logistics and supply chain and have visibility to that," he said. "Purchase order to packing, cargo weights and dimensions, where the cargo is at any given point in time. That would allow the construction managers who are really the end customers to make important decisions."
"Compared to other industry, I think our segment is really still way behind what is possible," Stehle said.
There are particular challenges for a heavy-lift carrier like UHL, which faces complexity of a diverse fleet with varying lifting capacities and modes of loading, each load requiring sophisticated engineering and matching up right cargo with vessels at right time.
"It's very challenging to integrate all of that into one system because we have many moving parts that constantly change until the very last minute," he added.
Devlin noted that, while logistics is moving towards digitalisation, it's less true on the breakbulk side, "but it also may be less necessary." But for EPC projects, it's "still done rudimentally."
Adolph Colaco, founder and CEO of e2Log, a cloud-based logistics technology platform, said: "No. 1, Almost every organization worth their salt have started the process of digitisation in some shape or form. No. 2, the level of maturity relative to that digitalisation process varies depending on when the journey started and what momentum they have going."
In a multibillion-dollar project there are multiple freight forwarders, carriers, customs brokers, transporters, each investing and developing their own technologies, he said "But at the end of the day it all has to come together in one single layer or platform so the end customer gets that seamless experience – the future therefore is digital platforms to run global logistics programs."
He agreed that much that much of the application of digitisation is problem solving logistics and supply chain processes, "but it's being addressed in a siloed manner." While supporting your own customers is the logical first step, "the next step is how do you weave all of this together so that it becomes one seamless, orchestrated process for the end customer?"
Overcoming Barriers
Along with the silos, barriers to integrating companies can be the difference in budgets, and different levels of each company's digital development, L&T Hydrocarbon's Gangrade said.
Gangrade embraces a common platform, but "no matter how much best technology I have, I still need to talk to all stakeholders, who won't necessarily adapt to my technologies."
"That's exactly the point," Varghese said. "My take is we are actually at the tipping point … We'll all be two years later talking about the cooperation."
How does the industry move beyond the silos and embrace Varghese' vision?
"I think it requires all parties to see the value of technology first and foremost," Stehle said. "It has to be easy and once a solution is implemented, it should then be embraced and seen as a benchmark. People in general are resistant to change."
Stehle and Schaerer both believe that the next generation of project professionals are wired to embrace technology and lead the industry to embrace digitalisation.
As an example Stehle said a team of engineers at UHL decided its ways of doing business could be improved. So they developed a 3D simulation tool "where we can virtually assimilate any load we take on and vessel," he said, showing a short video presentation. "We can show the client how we secure the module down the smallest detail."
How Will the Future Look?
Roundtable participants waded lightly into how collaborative digitalisation might shake out in the coming years, whether the winners will be technology in the cloud, platforms in the cloud, a single or handful of platforms – similar to what developed in the supply chain industry during the dot-com boom/bust near the turn of the century – or shared integration among partners. The lengthy session left the door open to pick up that topic in the near future.
But, like the group of engineers Stehle referenced, a key development will be in visualization.
Orkestra's Schaerer alluded to his background in engineering and how he saw the evolution from 3D CAD design to full models – "they (virtually) walk through the plant; they check everything three times."
He referred to a comment from Hernandez about digital twin, which is a virtual replica of physical devices to run simulations before actual devices are build and deployed. Such systems, if available within the cloud, would allow collaborative simulations among stakeholders.
"The future is immersive," he said. "The future is you see your plant building up in virtual reality, immersive, to see where the problems are … That's where we need to come to in logistics."
About the moderator: Cyril Varghese leads Fluor Corp.'s global logistics function on both the commercial and strategic sides. He is a qualified Naval Architect from the Cochin University of Science and Technology and holds an MBA from the Management Development Institute of India. Prior to joining Fluor, Cyril worked in leading international freight forwarding companies, focusing on industrial project logistics for the oil and gas, mining and metals, petrochemicals and power industries.
See Related Story, "Companies' Steps Towards Digitalization," from the Breakbulk Middle East Digital Special roundtable.
Photo Credit: (Clockwise from upper-left) Dominik Stehle, United Heavy Lift; Carlos Hernandez, Avasant; Dennis Devlin, Maersk; Adolph Colaco, e2Log; Dharmendra Gangrade, L&T Hydrocarbon Engineering; Mohammad Jaber, Agility Abu Dhabi; Cyril Varghese, Fluor; (center) Urs Schaerer, Orkestra SCS