---
Feb 19 | 2021
Education Day Advice from MENA Industry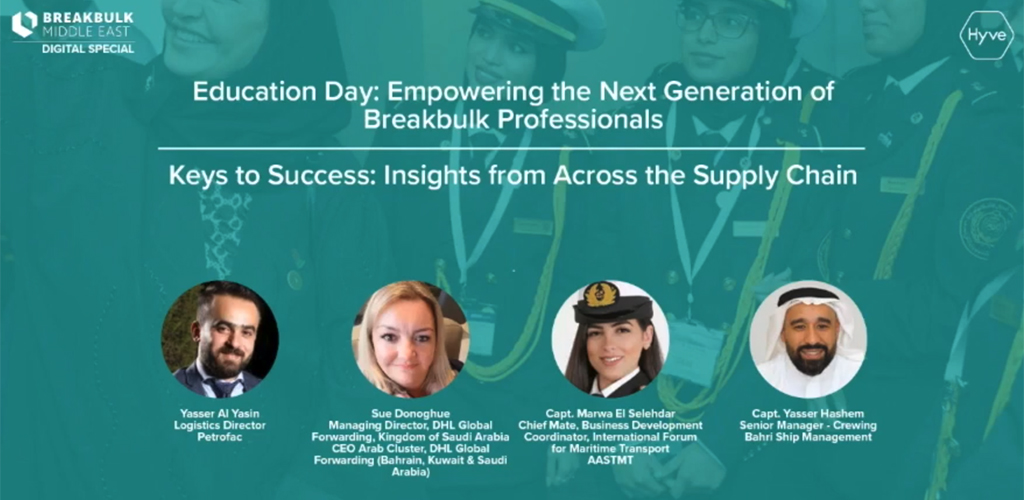 By Gary Burrows
One of life's greatest challenges is choosing a career, and often a most valuable determiner is to be able to learn what industry veterans experience in a day of their professional life.
Breakbulk Middle East's Education day, held virtually during the event's Digital Special, offered a glimpse through three Middle East-based veterans during the session:
Keys to Success: Insights from Across the Supply Chain.
"The key advice I have for the students and the young generation is always look for a challenging job that will make you reach your potential, that will challenge you enough to bring the best out of you," said Yasser Al Yassin, logistics director, of Petrofac, an international oil and gas industry engineering, procurement and construction company, or EPC. "You'll learn and you'll learn more until you reach your potential, and then the sky is the limit."
The supply chain industry means exposure to global trade issues, rules and regulations, and the intricacies of logistics in different countries, he said. "You have to learn this information so you can execute your job. The more you know, the better you can execute and achieve for your internal stakeholders and clients."
The logistics industry brings great variety and different life skills, along with the elements of the job, said Sue Donoghue, managing director of DHL Global Forwarding, Kingdom of Saudi Arabia, and CEO Arab Cluster, DHL Global Forwarding.
'Expect the Unexpected'
There are multiple paths within the industry, including literally temp-to-perm, which was Donoghue's experience. She started as a temporary receptionist for a small freight forwarder. After a few weeks she was asked to train as a freight forwarder. She built her own client base, moved from an assistant to operations director and then managing director. She moved to project management, managed teams and further climbed the ranks.
She joined DHL and was part of a team that relaunched its industrial projects division. From there it was country management, global head of business processes, leading operations. She moved to Saudi Arabia and climbed from managing director to her current CEO role, responsible for Bahrain, Saudi Arabia and Kuwait.
Donoghue's motto is "expect the unexpected. That's really what I live by." It requires multiple hats: accountant, project manager, referee, salesperson – "some days you put them all together," she added. "But the variety, the excitement, the passion of my team and meeting the people I do is second to none."
Reaching Potential
Likewise, Al Yassin loves the challenges of his job, that each day is different and requires creative thinking and teamwork to find innovative, out-of-the-box solutions.
"This keeps the job alive; it keeps you excited for the next day, what sort of troubleshooting you'll have to do, what sort of solutions, how much you can reach your potential," he added.
For Al Yassin, a typical day starts with the plans, what to execute that day, week or month. "I verify these plans with my team … and the stakeholders for each product," he said.
True throughout the industry, information is key. A normal day may see plans fall into place and all stakeholders aligned and everything goes smoothly. Due to the dynamic environment of the EPC business, however, plans change on the fly.
"We face different last-minute changes and we have to react quickly and realign ourselves and our stakeholders to execute the job," he said.
'Learn More'
There are many benefits of working in the maritime field, said Capt. Marwa El Selehdar, chief mate and business development coordinator, for the International Forum for Maritime Transport, of the Arab Academy for Science, Technology and Maritime Transport.
"It's allowed me to travel more," she said. "It makes me more responsible and I started managing everything in a better way, even in my social life."
The role also carriers the weight of its role within worldwide trade and the depth of experience that builds there. "We have the ability to deal with different countries and mentalities and this is something very useful.
El Selehdar has a unique role, in that she's starting in her career, and with her work about a training vessel with AASTS, she's dealing and mentoring cadets while aboard.
"Cadets should focus on their training year to get everything critical they've learned in academy to do it by practical way and to gain this experience on board by doing everything by themselves. Learn more, read more and gain more knowledge. They have to keep themselves updated for new technologies and the future in the maritime field," she said.
Qualities Desired
The breadth of supply chain industry operators also presents a wide spread of talents and skills required, so that anyone interested in a career can carve out a fruitful niche.
"The variety and the wide spread of talent and tasks that you cover is phenomenal," Donoghue said. "The key skill that we're looking for from new people coming into the company is a passion for the industry."
"Logistics, like many fields, has its own kind of difficulties," Al Yassin said. "But if you don't have passion for your job, and you're not enthusiastic, you can easily drop the ball and eventually you'll not succeed in this line."
Donoghue also lists self-drive, determination, enthusiasm, patience, hard work, willingness to learn, going the extra mile … and passion.
"You can learn so much in the industry, but to have those key talents and the drive and determination is really, really important," she said. "The best advice that I would have to give is never give up. Be brave, take opportunities … and don't be afraid to help, don't be afraid to ask questions."
"These qualities we look for we start with the young age and you develop the experience," Al Yassin said. "At the end of the day logistics is logic, and if you have common sense, you will succeed."
See related Breakbulk Middle East Education Day coverage: The Logistics of Your Horizon.