---
Mar 02 | 2021
(Europe-MENA) Post-Covid Recover for Upstream FID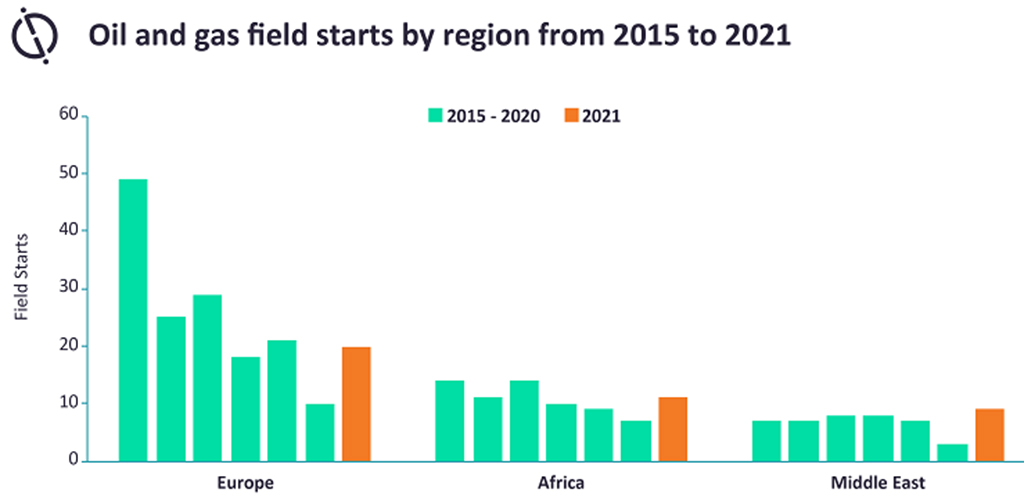 Source: GlobalData, Oil & Gas Intelligence Center
Oil and gas field starts and final investment decisions will see a boost across Europe, the Middle East and Africa, or EMEA, region, according to data and analytics firm GlobalData.
"A strong start to 2021 has resulted in a number of project approvals across EMEA so far," said Daniel Rogers, senior oil and gas analyst at GlobalData.
That's a rebound from 2020 when delays and Covid-19 restrictions forced engineering and procurement companies to defer FID amid capital preservation measures. That led to multi-year lows for project starts and a 30 percent decline in global upstream development and production capex, Rogers said.
Release of lockdown measures and oil prices returning to pre-Covid-19 levels should bring investment reconsideration for EMEA O&G development. Several projects have been approved across the region.
In the United Kingdom, Shell's two major greenfield developments, Cambo and Jackdaw, could see US$1 billion in investment. Meanwhile, Norway tax incentives could nudge approvals for smaller developments and field electrification projects at Snøhvit and Oseberg, Rogers said.
In Africa, projects poised for FID include Total's controversial Tilenga oil project in Uganda, and Morocco's first offshore gas development, Anchois. The latter could play a pivotal role in reducing the country's gas imports from Algeria and push toward a lower carbon energy source, he explained.
In the Middle East, Qatar Petroleum's US$30 billion North Field East liquefied natural gas development is potentially the largest upstream project sanctioned globally this year. While it promotes the long-term potential for mega-LNG project, it also faces competition for LNG buyers into the late 2020s with LNG developers in the U.S., Canada and Mozambique."
Other projects due for sanction are UAE-based gas developments including the multibillion-dollar Hail and Ghasha sour gas projects, and development of the Umm Shaif gas cap.
"Despite continued trepidation going into 2021, the upstream sector will be optimistic with the price recovery and investment commitments already seen so far. Sustained prices above US$60 per barrel could well move forward developments that have been put on hold across EMEA throughout 2020," Rogers concluded.