---
Jun 30 | 2020
America's Air Cargo Capacity Scramble
By Lori Musser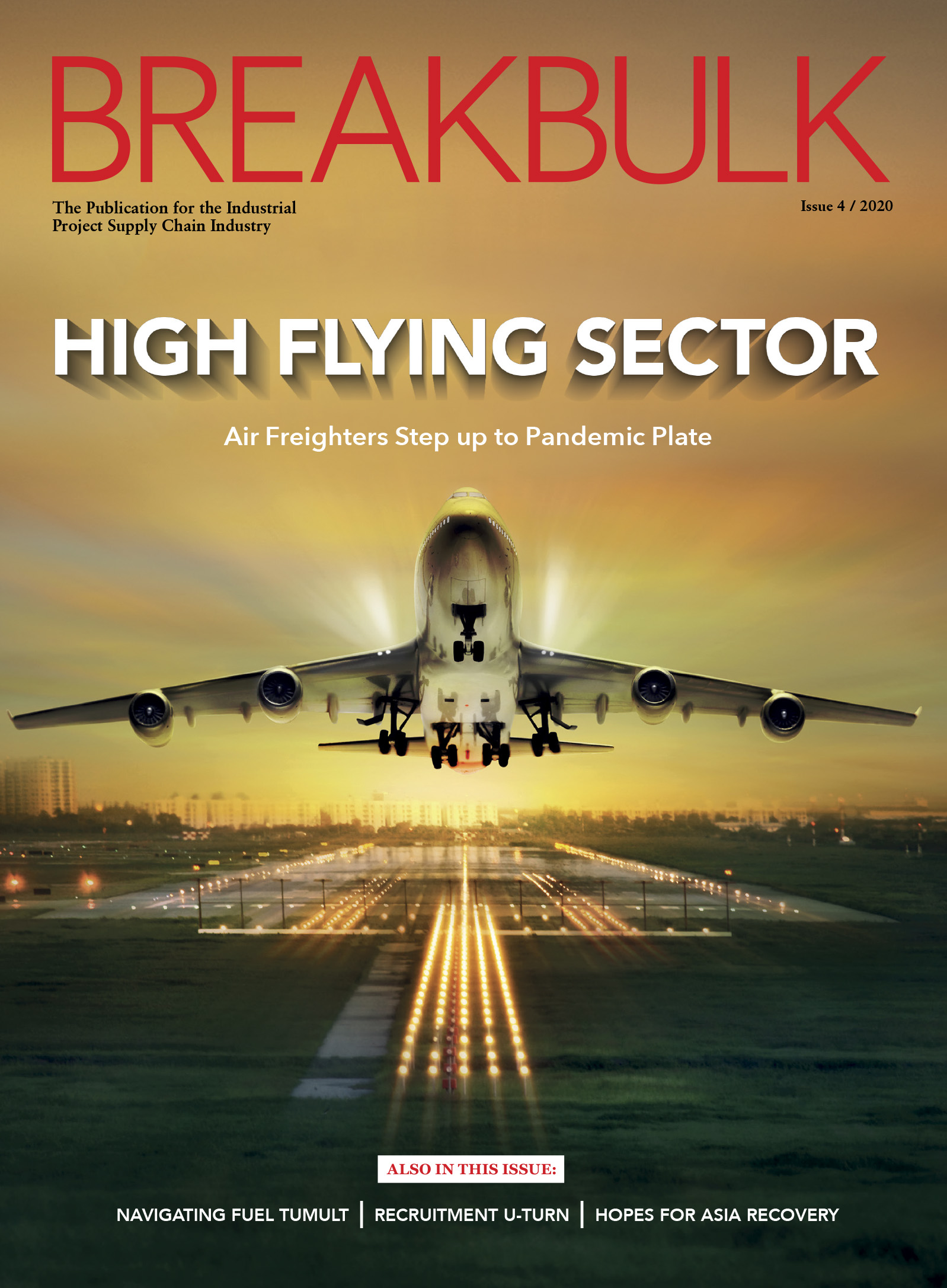 Air cargo isn't taking the back seat anymore; it is taking virtually every seat, and every inch of hold space on every available plane in the Americas.
Millions of cases of the novel coronavirus have seen to that.
For the time being, there isn't quite enough cargo room to go around. The suspension of passenger flights around the world immediately reduced belly airfreight capacity and delivery frequency, muddling up supply chains for pandemic-propelled healthcare cargo.
Shannon Davis Ford, communications advisor for FedEx Services, told Breakbulk: "Air cargo capacity is [now] limited, and we've had to make adjustments so that our international networks can best deliver much-needed goods and services in this constrained environment."
Jan Krems, president of United Airlines cargo, confirmed the surge in United's demand for Covid-19 breakbulk cargo – especially medical supplies and personal protective equipment.
"We are proud to partner with our customers to support the healthcare heroes on the front lines by transporting the commodities required for their crucial role," Krems said.
"The biggest challenge we faced in meeting our customers' needs as the pandemic began to spread was that passenger demand fell quickly while the need for cargo capacity was growing," he added.
Adam Rod, Chicago Department of Aviation's assistant commissioner of planning, described this year's "meteoric rise" of the cargo airline. "O'Hare already had two-dozen of them from all over the world. If they do not have a passenger side of the house, business is ironically as strong as ever in serving the most valuable, vital end of the supply chain," he told
Breakbulk
.
"Airlines with both passenger and freighter operations are a bit of a different story, though, experiencing a temporary loss of revenue from passenger flights and belly cargo," Rod added.
O'Hare Airport is one of the world's leading cargo gateways. Its high-value medical and technology imports are surging. "O'Hare has seen a boost in year-to-date freighter volumes due to its gateway capabilities and recent expansion in capacity. However, since O'Hare also receives significant cargo tonnage in the belly of passenger planes – particularly international flights – the slowdown in operations means overall net tonnage is about even to slightly down year-to-date."
Fast-moving World
The roller coaster ride from exponential cargo demand, idling passenger aircraft, and reintroducing capacity on passenger and other aircraft, has made the fate of air cargo in 2020 anyone's guess.
Foundering with most of their customer base under isolation orders, passenger airlines' improbable solution to the global crisis has been to reinvent passenger aircraft as freight planes, stuffing bags and boxes into holds and seats and overhead bins.
This reassignment of passenger capacity to freight may help keep some heads above water. In its May 6 testimony before a U.S. Senate committee, industry association Airlines for America, or A4A, noted that 49 percent of the U.S. active fleet was idled, and US$100 billion in revenue had been lost.
Katherine Estep, communications director for A4A, shared a roundup of some cargo-only flights being offered by U.S. passenger carriers: "United Airlines flew its first cargo-only flight on March 19 and will continue to fly 40 cargo-only flights from U.S. hubs to key international cities per week. American Airlines flew its first cargo-only flight in more than 36 years on March 20 at full capacity; [it] carried 14 pallets of medical supplies, mail for active U.S. military, electronics, and e-commerce packages."
On April 29, Alaska Airlines said it would fly passenger jets as cargo-only flights to carry essential goods like mail, medical equipment, e-commerce packages and food throughout its domestic network. In addition to Alaska Airline's three dedicated cargo freighters, six Boeing 737-900 aircraft are being utilized as cargo-only aircraft. "In total, each flight will carry up to 30,000 pounds," said Estep. That is 13,500 pounds more than usual.
"Combined, America, Delta, United and Hawaiian Airlines are operating more than 80 percent of [their] international flights in a cargo-only configuration," Estep said.
More Frequency, More Capacity
But there is a wrinkle: staggering demand by the healthcare industry may inconvenience some customary air cargo. And when there are no more planes to be had, they have to fly more often, or carry more. Consequently, not all industries are finding the air capacity they need.
Cargo charters have come to the rescue of some companies, including those in the oil and gas sector, that wouldn't normally need to charter.
Forwarders are reporting significant delays and high prices for air, and some sectors have turned to sea-air combinations, or even sea-truck. In April, Air Canada and Quebec-based Delmar International teamed up to deliver 25 million pieces of PPE from China to healthcare workers across Canada. Seeing a broader need, Delmar formulated "cost-efficient alternatives" that complement its air services. Delmar integrates guaranteed booking and space confirmation, late gate cut-offs, 10-day transit to the West Coast, prioritized vessel unloading, and less-than-three-day delivery across the U.S.
The U.S. Federal Emergency Management Agency's public-private partnership, Project Airbridge, is also bringing in more breakbulk air freight focused on the fight against the pandemic.
In delivering critical relief during the crisis, Fedex's Davis Ford said, "We are continually working to provide the best experience for our customers, while also keeping team member and customer health and safety our No. 1 priority."
Because pandemic rules and restrictions vary from place to place, air crew safety – including simply identifying crew transit accommodations – has been a particular challenge.
Chicago Department of Aviation's Rod said to Breakbulk: "The safety and security of our airport and those who earn their living here is our top priority, and we work closely with our cargo tenants and airlines to safeguard their personnel in every way possible."
While additional airspace for cargo flights isn't a problem with so many passenger aircraft grounded, some airports have been struggling to find space on the ground. "As volume has increased, we have also helped some of our cargo tenants and airlines who need additional aircraft parking spaces or truck staging areas," Rod said.
Change has been fast and unforgiving for the breakbulk air freight sector in the U.S. While the expectation is for conventional cargo demand to recover quickly, a new level of agility driven by data may be the future of air cargo. Whatever happens next, sustainable air freight will certainly look different going forward.
Based in the U.S., Lori Musser is a veteran shipping industry writer.
Image credit: United Airlines
---