---
Jun 17 | 2021
(Americas) Bottlenecks Continue to Hamper Breakbulk Logistics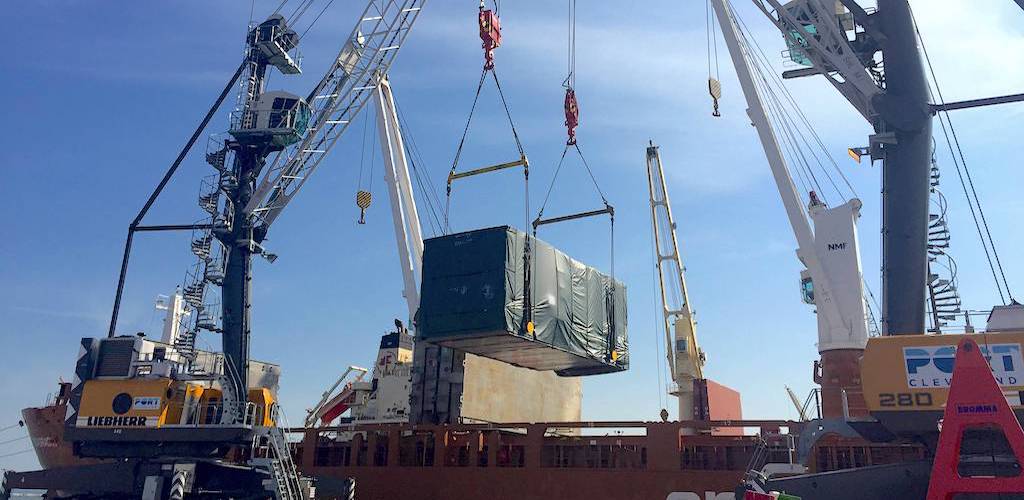 As the U.S. Congress considers testimony from regulators about congestion and delays at the country's ports, the impacts of bottlenecks and restrictions on the breakbulk industry look set to continue.
Members of the House of Representatives heard testimony last month around the causes for unprecedented shortages, delays and pent-up demand in the shipping sector, as the increasingly interlinked dynamics between breakbulk and container shipping raises serious issues for operators.
"Bottlenecks in breakbulk follow the bottlenecks in the container market as shippers look for additional vessel supply to meet the high demand. So that would be Southeast Asia and China. However due to the relative size of the breakbulk fleet to other vessel types, this has a global impact on vessel availability if vessels are repositioned to take advantage of market forces in hauling non-traditional cargo on a breakbulk ship. Demand is still surging, and port productivity and equipment availability is worsening," Reiner Wiederkehr, CEO of logistics group Fracht FWO, told
Breakbulk.
Long-term Trend
Following more than a year of disruption, many ports and shipping lines now don't expect to clear backlogs until well into 2022. This situation is potentially compounded by a rebounding global economy and massive stimulus packages which are forecast to drive a huge surge in shipping demand in the latter half of 2021.
"Backlog must be reduced that is putting pressures on shipping smaller cargo lots on breakbulk ships. This is a complex proposition, as upcoming seasonal holiday demand will add to shipping pressures, and then the cycle starts over with Chinese New Year holidays. If the pandemic backlog cannot be cleared by the next seasonal holiday it will be a longer trend of this current market," Wiederkehr explained.
Major bodies such as the Federal Maritime Commission and World Shipping Council are putting pressure on policymakers to find solutions but given the unprecedented convergence of challenges it appears any resolution will not be speedy.
"The difficulties are global. Congestion, reliability, and cost issues are hitting ports, businesses, and ocean-linked transportation networks not just in America but worldwide … the crisis does not just affect ocean shipping but the entire supply chain. Attention has been focused on ports because this is where we see dramatic pictures of lines of ships and piles of containers. But outdated infrastructure, equipment and labor shortages, railroad issues, and limited warehousing all diminish our capacity to move containers," said Daniel Maffei, FMC chairman.
Infrastructure Limits
One proposal is for ports to diversify further, adding capacity to handle a wider array of goods and switch flexibly between cargoes.
"Traditional mayor hub ports for breakbulk should be supplemented with other less congested ports. Discharge at alternative ports may be subject to Infrastructure in place and over the road transportation from said ports to final destination. Carriers and forwarders need to look beyond just the port capabilities," Wiederkehr said.
The White House continues to advance an infrastructure budget, designed to boost infrastructure investment and prioritize a range of construction projects to upgrade ports, fix highways, rebuild bridges, airports and transit systems. However, the proposed program faces a long journey before becoming law, as the White House aims to bundle climate change initiatives with other economic and social investments
"We can put in measures to improve the overall capacity of the system – increase the supply in the supply-demand chart – through infrastructure improvements and more data and information sharing. Shippers need more information than they currently get and providing it to them would greatly improve efficiency. However, these are not immediate solutions," Maffei cautioned.
Structural issues
The unique demands posed by the Covid pandemic have fractured many long-standing supply chains while at the same time increasing the urgency of shipments, adding pressure to supply chains.
"The pandemic created at first a drop in demand, loading/quarantine restrictions, that further led to reduction in vessel supply. The vessel supply is currently not rebounding to pre-pandemic levels. With a high demand, and any legacy tariffs, the market could change to sourcing away from Southeast Asia/China, even domestically. JIT inventory models may be reviewed to see if carrying more inventory to soften market changes may also be considered. As countries reopen and consumers count on more disposable income the internal consumption has passed pre-pandemic levels. The outlook remains strong while reduced transport capacity in the container market continues to be the main driver for reduced space in the breakbulk sector," Maffei said.
While this outlook provides some upside for breakbulk operators in the short-term, the larger issues in the sector must be resolved now to avoid catastrophic shortages further down the line as a lack of financing tools, reduced ship building capacities and an aging fleet all pose ongoing threats
"For years, the increasing supply of cargo space on bigger and bigger ships kept ocean freight rates on the low side. Now, Covid and its effects have created record demand for shipping and record freight rates as well. The demand for imports will likely not diminish until 2022. But the supply of space on ships has not increased enough to keep pace even though virtually every usable ship is in service," Maffei concluded.
---
Subscribe to BreakbulkONE and receive more industry stories and updates around impact of COVID-19.