---
Sep 11 | 2020
Pandemic Reveals Supply Chain Failings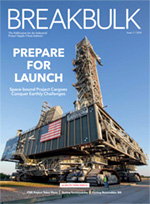 By Vilasini Krishnan
The Covid-19 crisis has exposed the vulnerabilities in existing supply chain models worldwide. It has proven to be a painful lesson as to why end-to-end value optimization is more critical than transactional cost reduction.
As we emerge from pandemic-related restrictions, there are four areas supply chain companies need to focus on:
• Revenue revitalization.
• Operational rehabilitation.
• Organizational redesign.
• Adoption and implementation of digital solutions.
As we navigate the uncharted path of return to the "new normal," this is an opportune moment to rethink and redesign supply chains to deliver the most value.
To deliver successful change management, the logistics and supply chain process needs to be reviewed from all angles. End-to-end value optimization should drive down cost, deliver efficiency and be robust and resilient.
4D's Logistics Performance Review – a quick "pulse check" that reviews an organization's procurement and supply chain processes – can rapidly assess a company's supply chain which is critical in the current state of flux.
In examining processes, companies need to:
• Identify performance gaps in costs, processes and health, safety, security and environment, or HSSE, for example, between the best-in-class and current performance through internal/external benchmarking.
• Identify logistics practices worth replicating which can be shared across the global logistics team, helping other units improve their logistics performances.
• Establish a platform for sustained outputs and drive continuous improvement of logistics performances.
• Introduce operational excellence/continuous improvement capability within the logistics team.
Visibility More Important Than Ever
Now, more than ever, it is critical for all parties to have visibility of their supply chains. With global trade impacted, both in terms of supply and demand, the challenge faced by many, whether buyers or sellers, is how to adapt their supply chains to keep goods and services moving during a time of global lockdown.
A logistics performance review is ultimately an assurance activity to help logistics management to highlight gaps to potential areas, assess unit operation cost, identify key process improvements, establish platform for sustainable outputs, drive continuous improvement in logistics performance, and demonstrate independent assurance in providing logistics service to the businesses.
The pandemic has exposed latent issues in the supply chain and logistics arena. It is imperative to use this as a much-needed catalyst to start thinking about adapting businesses to the changed world. A logistics performance review is the key to understanding what breakbulk businesses need and how those demands should be met.
This focus can assist an organization to be more efficient and reduce cost, supporting it to emerge into the new normal more resilient than before.
Vilasini Krishnan is a senior consultant with 4D Supply Chain Consulting.

Image credit: Shutterstock