---
Mar 09 | 2021
(Europe) Ferus Smit to Deliver Ecobox XL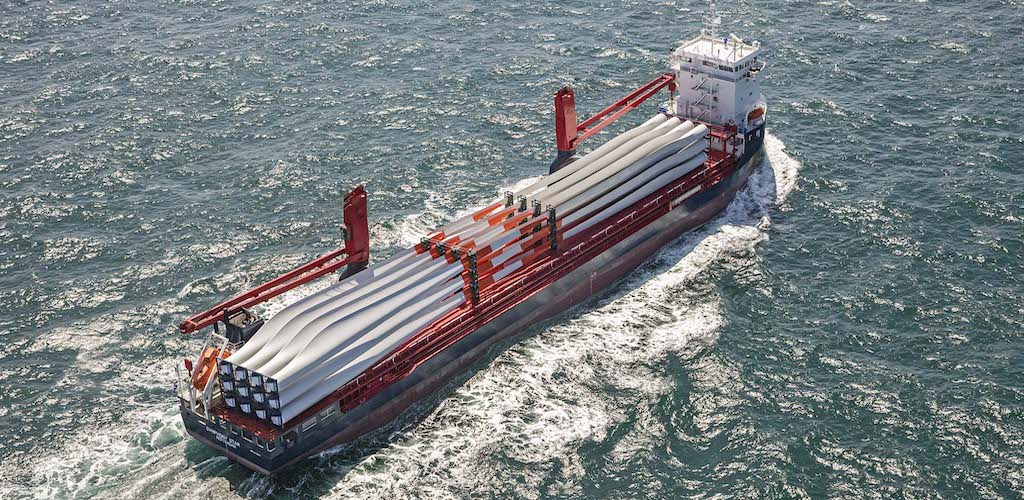 Breakbulk shipping line Symphony has placed orders for two new Ecobox XL project cargo vessels from Ferus Smit Shipyards in the Netherlands.
The new vessels will expand the firm's capabilities for handling extra-long items, such as windmill blades, and are planned for delivery at the end of 2022 or early 2023.
"The ships will be an evolution of the successful 'Ecobox' and 'Ecobox DP' series that the yard already delivered to Symphony over the recent years," a spokesperson for Symphony said.
Lengthened Hold
The new vessels will be built with open top notation, featuring a deckhouse placed forward to shelter cargoes against severe weather conditions and enable oversize deck cargoes to be loaded over the stern.
The new designs will also be lengthened by more than 21 meters compared to the first generation Ecobox, extending the box-shaped hold to more than 100 meters long on the tanktop, and 112 meters above the movable tweendeck level.
"The new Ecobox XL design will have its focus on loading extra-long items, such as windmill blades, while at the same time still maintaining her good capabilities as a normal general cargoship," a spoke
Reduced EEDI Score
The new ships will also feature enhanced cargo deadweight, with a width of 18 meters, and flexible loading attributes keeping very low resistance on both flat water and in waves.
The vessels' fuel consumption will also be reduced by integrating an ORC waste heat generator in the propulsion system, consisting of a 3,300 kilowatt main engine driving a nozzled controllable pitch propeller running in fully automatic combinator mode.
"The modifications in design and systems are also aimed to further enhance her excellent 'green' performance with a reduction of her EEDI [Energy Efficiency Design Index] score to a new class reference standard," Ferus Smit added.
Ferus Smit has worked with Symphony since 2013 and has jointly developed and built a total of six Ecobox ships to date. The Ecobox originated with a 10,500 deadweight-tonne design, which is now increased to 12,500 dwt, and has evolved to include a dynamic positioning system, known as Ecobox DP. The revised fuel system will also be capable of running on bio blend fuels.
---
Subscribe to BreakbulkONE and receive more industry stories and updates around impact of COVID-19.