---
May 26 | 2020
(Asia) Hakodate-built Bulk Carrier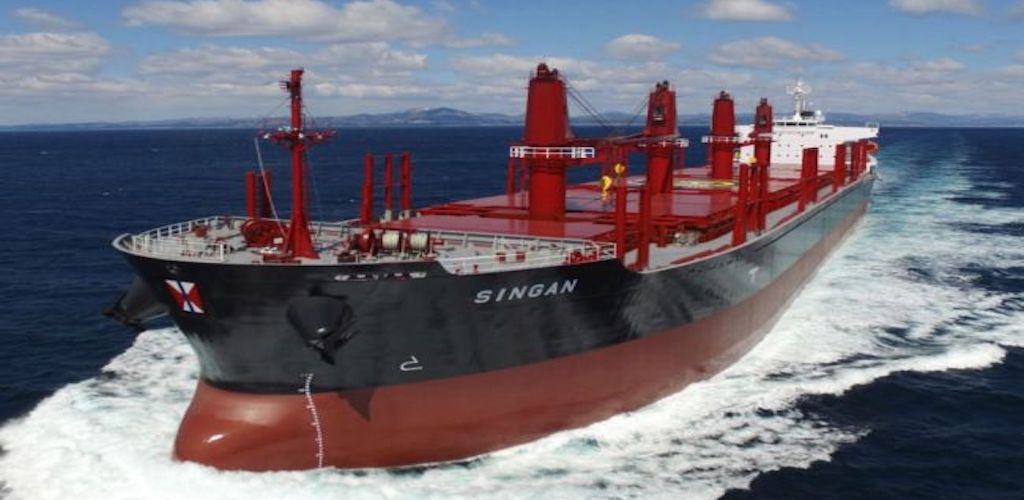 Cargo shipping line Swire Bulk has taken delivery of a new bulk carrier, the
Singan.
The log-fitted carrier was built at the Hakodate Dock shipyard in Hakodate, Japan, and embarked on its maiden voyage from directly to Busan, South Korea, following a naming ceremony.
"The vessel is designed for optimal speed and consumption at 12.5 knots in the laden condition. The eco-efficiency additions of the rudder bulb, wake fin and pre-swirl will improve vessel hull efficiency," said Rob Aarvold, general manager, Swire Bulk.
Handysize Logger Fleet
The
Singan
will trade worldwide with a strong focus on the logs trade in the Pacific and South Atlantic. A sister vessel, is under construction at the same shipyard scheduled for delivery in June 2020.
"We are one of the world's largest handysize logger fleets, and we have the flexibility, supply and consistent technical standards to perform and deliver freight contracts safely, reliably and professionally," Aarvold said.
Both vessels will feature a high level of structural stability and come installed with the latest solid state radar equipment with integrated ECDIS.
Newbuild Program
The vessel is part of an ongoing fleet expansion by Swire with the remaining vessels scheduled for delivery by the end of 2021.
"Swire Bulk's newbuilding program will enable us to strategically deliver the largest and most eco-friendly fleet trading in the market. We remain committed to delivering market-leading, innovative and sustainable shipping solutions to our customers with our modern eco-designed vessels," Aarvold said.
Swire Bulk is the bulk operating division of China Navigation Co., or CNCo, a merchant shipping company based in Singapore. Swire Bulk runs a fleet of owned and long term chartered tonnage and works with a range of cargo charterers and industrial shippers.
---
Subscribe to BreakbulkONE and receive more industry stories and updates around impact of COVID-19.