---
Mar 15 | 2019
China's Rail Offering Not Yet Up to Speed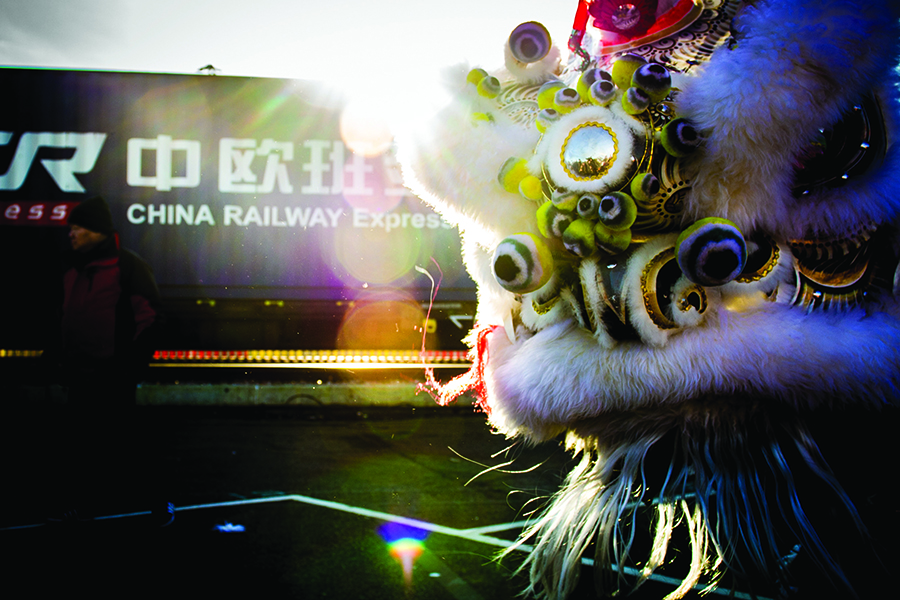 By Carly Fields
Two years on from the trump and fanfare of the arrival of China Railway's first direct service into the UK and the shine of the well-heralded occasion has dulled somewhat.
On paper, a direct rail link connecting the world's biggest exporter with its markets makes perfect sense. The Yiwu-London railway line promises to move cargo across continents for half the price of air freight and half the time of sea freight. Why wait up to 40 days for your cargo to make the journey when rail can do the job in 18? But there's more to this story than simple math gains, and questions are being asked about whether rail will ever be a mode to rival sea freight for ex-China project and breakbulk cargoes.
Jonathan E. Hillman, fellow and director of the Reconnecting Asia Project at the Center for Strategic and International Studies, or CSIS, in Washington, D.C., wrote a detailed research paper on the Rise of China-Europe Railways in 2018. In it he outlined constraints against any dramatic growth in rail services, highlighting the uncertain future of Chinese subsidies and a chronic trade imbalance between Europe and China which undermines the profitability potential.
Nearly all stakeholders interviewed for the CSIS report mentioned subsidies as a key driver of recent growth, but they had different expectations about when those subsidies might end.
Capacity constraints and a lack of standard gauge throughout the network were also noted as concerns. While Europe and China employ a standard 1,435-millimeter gauge, Russia, Kazakhstan, and other former Soviet states use a 1,524-millimeter gauge, meaning wagons need to be transferred from one train to another at interchanges.
Added to this, Europe's rail network is older than China's and prone to bottlenecks. And then there are the border challenges. Speaking to
Breakbulk
, Hillman said: "There are these big structural constraints to rail. Even though the processes have become much better coordinated, every separate country and customs process you have to go through is something that's going to slow things down. You obviously don't deal with that on such high numbers when you're shipping something by the sea. Delays remain a major risk for China-Europe trains, the main selling point for which is speed."
Size is another issue. Rail capacity is completely overshadowed by the capacity of some of the larger ships, and without sufficient volumes there is no incentive to invest in larger capacity on the rails.
Range of cargoes
China has the second-longest railway network in the world and those railways are carrying a greater range of cargoes. China's rail freight had increased by 10 percent year-on-year in October 2018, up on the 6.7 percent increase in August's year-on-year figures. There has also been a 7.3 percent growth in total freight volume this calendar year up to and including October 2018. China allocated US$113 billion for railway improvements in 2018, according to China Railway Corp, and year-on-year railway growth is undeniably "impressive by volume, value, and service frequency," Hillman said.
But railways still carry only a small fraction of the trade between China and Europe. While maritime transportation remains dominant, air freight still carries more than 13 times the value of goods compared with rail. And even with subsidies, maritime shipping is roughly one-third of the cost.
Andre Wheeler is chief executive of Asia Pacific Connex and has more than 20 years' experience in international business. He is working towards his Doctorate on the Impact of the China One Belt One Road initiative on infrastructure and logistics in the ASEAN Region, and is author of China's Belt Road Initiative: The Challenge For The Middle Kingdom Through A New Logistics Paradigm. He stressed to Breakbulk that it is important to understand that the Belt and Road Initiative is an integrated logistics/supply chain plan that pairs ports with rail networks to improve connectivity and efficiency to meet end-to-end supply. "As such, rail adds value and complements ocean freight and will not fully replace sea freight," he said.
Rail will, however, take a slice out of ocean freight, he added: "With the proliferation of block trains and flatbed rail, we are already seeing rail being the preferred method to transport particularly breakbulk product via rail."
Block trains are customer-dedicated rail transport services that transport goods from origin to destination without splitting them up en route. In 2017 there were 1,000 block trains in play and they did more than 3,600 journeys; by 2018 this had grown to more than 6,700 journeys. It is projected that a further 1,000 block trains will be added to the fleet by the end of 2020 with 10,000 journeys added. "With regards to flatbed, there are examples of project equipment being transported by rail, as it is more cost effective in terms of size and insurance costs associated with risks to damage by ocean transport," Wheeler said.
The growth is driven by China's push to increase rail volumes by 30 percent by 2020, Wheeler said. "While the targets are ambitious, they are achievable in the medium to long term. There are, however, a number of infrastructure issues that need addressing." In addition to those cited by Hillman earlier, Wheeler added bottlenecks on the Polish border as well as seasonality issues associated with rail in harsh winter conditions.
Borders and Balances
A number of other issues have already been addressed – such as setting a plan to deal with those rail gauge differences. China has also started addressing Customs issues through the establishment of bonded warehousing and economic zones along the route coupled with block trains. However, in Wheeler's eyes, the questions of adequate border crossing infrastructure and the gap in container availability due to low volumes of east-to-west rail traffic still need to be overcome. "These two issues have the potential to collapse the system as they take away the competitive advantage of rail, that is to say short transit time translates into saving on inventory holding costs, warehousing and so on," he said.
Russian Railways is also stepping up its rail-related Chinese relations. In a statement to Breakbulk, a spokesperson said that the two countries have been "successfully cooperating in railway transportation for a long time, a partnership that is particularly flourishing now." It stated that there has been a steady increase in freight rail traveling between Russia and China, and that it is "interested in further increasing transit volumes."
Russian Railways pointed to a promising project in the development of the Primorye-1 and Primorye-2 international transport corridors, which will allow goods to travel unimpeded from the northeastern provinces of China through the Suifenhe-Grodekovo and Makhalino-Hunchun border crossings and the ports of Primorsky Krai (Vladivostok, Zarubino and others) to the south of China, as well as to other countries in the Asia-Pacific region.
It also flagged up a large-scale initiative to create the Eurasia high-speed cargo and passenger railway corridor, which includes the construction of high-speed rail for freight and passenger transportation between China and the European Union. It will run between Berlin, Germany, and Ürümqi, China. The total length of the Beijing-Moscow-Berlin railway will be about 9,500 kilometers, of which 6,700 kilometers will be newly built lines, 2,300 kilometers of which will be in Russia.
Russian Experience
Russian Railways has experience in transporting goods related to the manufacturing process, including finished products and semi-finished products such as pipes, rails, rolled metal products, and slabs. Its fleet includes specially designed wagons to transport out-of-gauge cargo. Russian Railways invested Rubles13 billion in upgrading track equipment in 2018, which included purchasing 397 special freight wagons as well as passenger carriages. Freight loading volumes on the network owned by OJSC Russian Railways increased by 2.2 percent in 2018.
However, putting that in context, Hillman pointed to at least one project on the Russia-China border that was supposed to be completed last year, but has been delayed to this year. It was announced prior to the Belt and Road Initiative, but when commodity prices plummeted the project stalled. "The project has turned into this kind of metaphor for the Russian-Chinese relationship because only the Chinese side of the bridge was completed," Hillman said.
Breakbulk and project cargo carriers may have to wait a while longer before really seeing any benefits from China's rail services to Europe and Russia. As Hillman summed up, while there's something universally exciting about that idea that this ancient Silk Road is being revived by rail there is "certainly political incentive to make it appear bigger than it actually is commercially."
Image credit: Newscom

Carly Fields has reported on the shipping industry for the past 19 years, covering bunkers and broking and much in between.