---
Sep 11 | 2020
Mental, Physical Toll of Crew Change Restrictions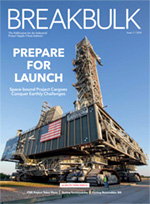 By Carly Fields
Often referred to as the lifeblood of the shipping industry, seafarers have had great cause to doubt that lofty statement this year.
Left battling severe restrictions on international travel, hundreds of thousands of at-sea workers have been confined to ships well beyond their contracts – despite having no contact with Covid-19 – or have been unable to start contracts, putting them in extreme financial difficulty.
In recognition of the problem, in July the UK government hosted the first international maritime summit to address the impact of Covid-19 on crew changes. Representatives from 14 countries met and agreed to new international measures to open up foreign borders for seafarers and increase the number of commercial flights to expedite repatriation efforts. A joint statement after the summit urged all International Maritime Organization member states to designate seafarers as key workers alongside a number of other measures to help facilitate crew changes.
Estimates from the International Transport Workers' Federation at that time put about 300,000 seafarers trapped working aboard ships due to the crew change crisis caused by government Covid-19 border and travel restrictions, and an equal number of unemployed seafarers left ashore and unable to join ships.
Speaking after the summit, shipping organization BIMCO said it was "positive" that notable maritime nations attended the summit and pledged support. However, BIMCO had concerns about the low number of participants and the lack of timescales for concrete actions.
"The absence of many key countries from the international community at the summit highlights the apparent indifference of some governments towards the crew change crisis and their lack of understanding of the critical role seafarers play in keeping international trade moving," said David Loosley, BIMCO secretary general. "Now is not the time for inward looking nationalism – all governments need to step up to the mark and work together to provide a tangible international solution to a pressing international problem; robust, decisive and immediate action is needed to bring our seafarers home safely," Loosley added.
MPV Operator Challenges
Multipurpose ship operators have fought hard to make necessary crew changes throughout the pandemic. AAL Shipping Managing Director Kyriacos Panayides said his company has faced and continues to face severe disruption to the normal process of crew change and movement. He put this down to three factors:
• The availability, schedule integrity and in many cases cost of commercial flights and other modes of public transport available.
• The disparate and constantly changing travel restrictions and documentational requirements implemented by each government.
• The enhanced Covid-19 testing protocols and guidelines, which tend to differ from region to region and demand forward planning from crew managers and patience from seafarers.
"This has put a great strain on everyone involved in the crewing process – especially our crew," he said.
Panayides referred to the "new normal" that the sector now faces at sea, and the need to move from previous reactive short-term measures to building a new strategy for the long-term safety of seafarers and office-based teams.
BBC Chartering CEO Ulrich Ulrichs said that BBC, as a charterer, faced many different restrictions all over the world. "Each country, sometimes even each respective port, had and have their own rules and regulations, so we had to adjust to those circumstances," he said. These include general embarking/disembarking restrictions, quarantine regulations, and a lack of flights, transportation, accommodation ashore. "We actually had more problems getting replacement crew on board than getting crews home," he added.
To undertake some changes, BBC had to deviate to certain ports purely for crew exchanges and Briese Group – BBC Chartering's technical and crewing manager – even chartered a few dedicated planes to get crew home and back on board.
'Prejudice Against Seafarers'
Speaking in a Breakbulk365 webinar in August, Fr. Sinclair Oubre, the pastor of St. Francis of Assisi in Orange, Texas, and a member of the Seafarers Union, said that the issue of shore leave and crew change is universal. "It's very difficult on the international flag fleet and even our U.S. guys are suffering greatly for that." He added he knew of one mariner quarantined on a Military Sealift Command ship since April.
Oubre went as far to say that it's a case of "classic prejudice against seafarers." He used the example of airline crews versus vessel crews, in that airline workers are quickly ushered through expedited Customs service, while a mariner faces a more daunting process.
The situation "has been a terrible failure of governments for flag countries because they don't show a lot of interest in getting their citizens back," he added.
Fellow Breakbulk365 webinar panelist Thomas Damsgaard, a long-time maritime executive, agreed. "There are protocols in place for the airline industry already. And what I don't understand is why have we not taken a page from their playbook for our maritime seafarers?" He added that, with the airline industry struggling due to travel restrictions, providing mercy flights for stranded seafarers would actually benefit the airlines.
Damsgaard also lays blame at the feet of the International Maritime Organization. "The IMO has failed miserably. It's all bark and no bite at all from the IMO, which should have been stepping up to the plate here."
Some blame can be leveled at ship owners: webinar panelist Reiner Wiederkehr, CEO, Fracht USA, said he had heard that some owners did not want to spend money on the visas for seafarers. "I think that's wrong," he said.
He added that cargo owners can apply pressure on carriers and ask questions. "We can include some language into a booking," he said. "Maybe they'll want to implement a surcharge; they're implementing surcharges for everything else, so maybe there's a half-dollar per ton that you pay to ensure that these crews are taken care of, and their families."
Also speaking at the Breakbulk365 webinar, Dennis Mottola, a global logistics consultant and former head of global logistics for Bechtel Corp, said charterers, when booking cargo or a vessel, need to ask the owner, operator or carrier "what are you doing on behalf of the seafarers that are manning the ships?"
Mental Health Worries
The mental strain that the whole situation is placing on seafarers is of grave concern. Reports of a spike in suicides – although there is no single source that counts suicides among seafarers – have been attributed to the extended contracts.
BBC Chartering has committed to close communication with all parties to help alleviate some of the mental strain, ensuring that seafarers understand all the efforts that are being made to get them on and off ships.
AAL Shipping added that the physical safety and mental well-being of its masters, officers and crews cannot be overstated. Free Internet access is provided to its crew so that they can maintain contact with family and friends and through Columbia Shipmanagement, crews have 24/7 access to an online mental health support initiative that provides direct counsel (via a hotline, Viber, WhatsApp and email) and video tutorials from health professionals on mental and physical wellbeing. It also recently launched a series of Covid-19 training videos for seafarers that provide insight and advice on safety measures and mitigating risk.
Fears are that the physical consequences of the crew change status will also start to mount. "If we have fatigued, tired and demotivated crew on board, it has severe consequences," Ulrichs said. "Productivity and efficiency will be low and hazardous and unsafe situations could occur and we could not provide the service we promised to our clients."
In a brighter note, Ulrichs said that the bond between owners and charterers has grown as both work together to help crews in the sector.
Along with caring for seafarers' mental health, Damsgaard also emphasized crews' families as an important issue. "I think the crew agencies and owners should be held to a higher standard making sure that the crewmembers' families are being taken care of," he said.
He likened the current circumstances to piracy in the Gulf of Aden with the risk and needs similar.
"The crisis that we are going through now is being referred to as a war situation," he said. "What have we done with ships that have gone into the Arabian Gulf during the war? With war premiums and bonuses and what have you.
"I don't think you can buy yourself out of this … but I think that if we're calling this a war situation, I think there would be more tools in our toolbox to more efficiently handle and manage it," he added.
Damsgaard said that the "mercy flights" that were employed early in the pandemic to repatriate citizens should be extended to displaced seafarers.
"Countries seem to have forgotten their seafarer citizens in this sense," he said. "I think it is upon them to really engage a lot more … to make sure they can evacuate some of their citizens back and also send new citizens back so that they can re-crew ships and so we can keep these supply chains going."
Carly Fields has reported on the shipping industry for the past 20 years, covering bunkers and broking and much in between.

Image credit: AAL Shipping