---
Mar 02 | 2021
(Europe) Efficiencies and Joint Fleet Operations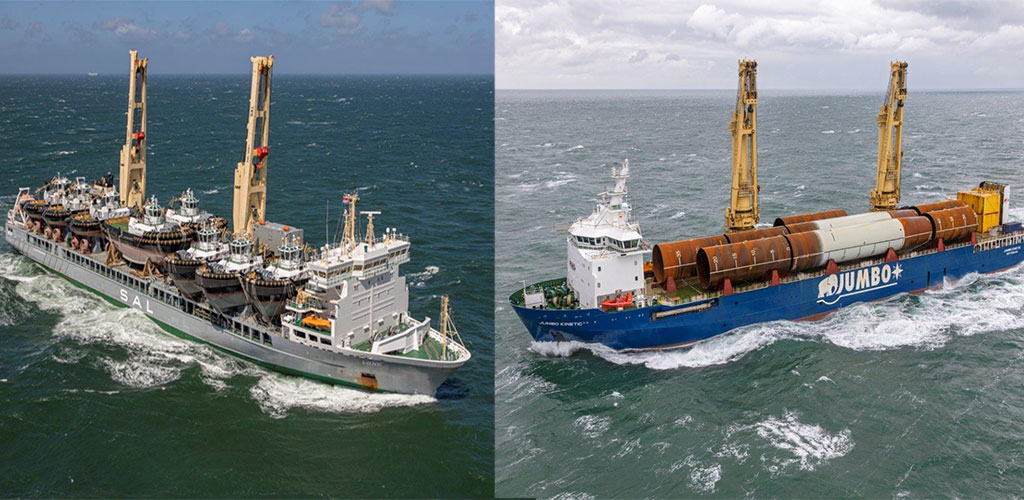 Breakbulk specialists SAL Heavy Lift and Jumbo have announced plans to form a joint venture, as they seek to drive operational efficiencies.
The two partners aim to combine a large part of their fleets, as well as merging engineering and commercial activities.
"The Jumbo-SAL-Alliance would be focused on gaining logistical efficiencies, such as joint fleet operations, and benefits for its customers, such as increased flexibility and offering customers worldwide a carefree logistics solution for both breakbulk and outsized cargoes," a spokesperson for SAL said.
Calling the joint venture a "serious development," Jan Hein Reeringh, communications manager for Jumbo, reinforced the fact that the move is "not about rationalization/staff cutbacks."
Concrete details about the joint venture remain undisclosed, but the partners have stated a goal to improve sustainable transport capacity and growth.
The proposed entity is subject to clearance by the Bundeskartellamt, the German competition authority, as well as Dutch in-company legal requirements, but should it receive approvals, it stands to dominate the heavy-lift capable segment.
The partners aim to obtain formal approval imminently with both companies having started the necessary procedures. No comment on job losses was made but both companies are reported to remain in their current headquarters in Netherlands and Germany.
Market impacts
"The immediate challenge will be to receive approval from the relevant regulator(s)," Darron Wadey, Dynamar market analyst, told
Breakbulk.
"A lot will depend upon the interpretation of the authorities as to whether the SAL-Jumbo JV will represent a dominant position or not, or will there be sufficient competition from any incidental operators of heavy-load tonnage, or will they consider the top end of the conventional/breakbulk segment as providing sufficient competition. Similarly, given the fleet profiles (SAL in particular) other competition comes from other semi-submersible and deck ship operators such as Dockwise. Will this segment also be taken into any deliberations?"
Dynamar predicts that the immediate impact of the venture will be on the 700-plus-tonne segment, with the potential for further impact on the top end of the heavy-lift vessels of the conventional/breakbulk fleet.
Jumbo's and SAL's fleets are primarily "super-heavy" consignments, as opposed to conventional MPVs with lift capacities of up to 700 tonnes, Wadey said. "Jumbo and SAL go way past that capacity with more than half of their fleet." The only other competitor in the heavy-load segment is BigLift Shipping of the Netherlands (who, along with Jumbo, is part of Spliethoff). "Immediately, and effectively, this venture will reduce choice and place an awful lot of heavy-load capacity and capability in the hands of the new venture."
MPV carrier Chipolbrok operates 14 vessels of 640 to 700 tonnes combinable lifting capacity, while UHL has 12 units able to provide 900 tonnes combinable, along with other vessels of lesser capacities.
By comparison, SAL, through its acquisition of Intermarine's fleet, also has six ships from 120 to 300 tonnes, he noted. Spliethoff as a group has a similar spread with about 40 ships in addition to BigLift's fleet of combinable capacities of 80 to 540 tonnes.
"It merely adds to [the joint venture's] wide-ranging capability," he added.
"Upon receiving approval, the first and most important challenge is to make it a [financial] success," Wadey said. "Partnerships in shipping are not usually the result of all parties having a position of strength; at least one will experience a weakness or perceive a threat. In this latter case of one carrier being weaker, it could be the first step for the stronger party, or parties, to make an acquisition. If the partnership truly is one of equals, it would suggest a challenging market in that the only way, perversely, to stay independent and relevant is to team up. Container liner alliances and vessel pools in a range of other sectors, including breakbulk, are symptomatic of this."
Based in Schiedam in the Netherlands, Jumbo provides heavy-lift and project cargo services worldwide and operates a fleet of nine heavy-lift vessels with lifting capacity from 500 tonnes up to 3,000 tonnes. Within this fleet two have lifting capacity of more than 1,800 tonnes and a further two have capacity of 3,000 tonnes.
Headquartered in Hamburg, Germany, SAL Heavy Lift, meanwhile operates a fleet of 22 heavy-lift vessels the majority of which are lower capacity of up to 900 tonnes with four vessels featuring with combined crane capacities of more than 1,400 tonnes. SAL is a member of the Harren & Partner Group.
Last year, SAL acquired a "major stake" in cargo shipping line Intermarine, expanding its offering in the Americas and, strengthening cross-Atlantic trade. Intermarine operates as an independent brand within the Harren & Partner Group.
---
Subscribe to BreakbulkONE and receive more industry stories and updates around impact of COVID-19.