---
Jan 18 | 2021
Multimodal Qingdao to Cuxhaven Wind Energy Transport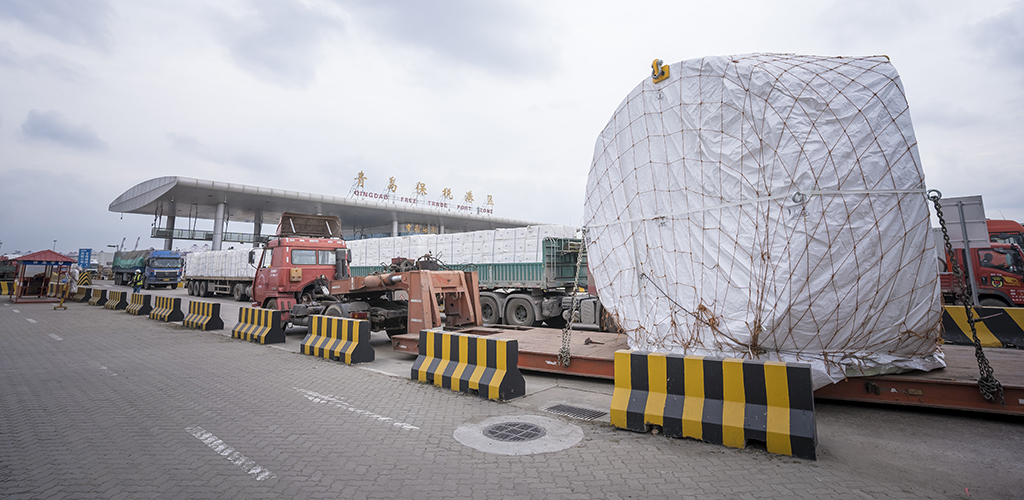 In an exceptional transport, Shanghai-based Protranser successfully handled a mega-shipment consisting of three 8MW hubs from Qingdao, China to Cuxhaven, Germany at the close of 2020. Scope of work included pick-up of cargo from the manufacturer, transporting to Qingdao, arranging for shipment to Hamburg as breakbulk cargo on a container vessel, followed by inland barge transport from Hamburg to Cuxhaven, a staging port for offshore wind projects in the North Sea.
Breakbulk asked Protranser's Leo Liu about the challenges the company faced for this shipment. "Actually we face several challenges. The first one related to COVID conditions which meant lack of space and equipment for exports from China," Liu said. "Between the time of the client specifying need date and carrier confirmation, there were only 47 days left for us to arrange door to door transport service from Shandong factory to CNEE's factory close to Cuxhaven port.
"Three cases of asymptomatic infection of COVID-19 suddenly appeared on Oct. 12, 2020. It was reported that "Three cases of asymptomatic infection of COVID-19 suddenly appeared in the local area in Qingdao, and the source of infection is unknown." Now there was only half a month left before we planned to pick up the cargo.
"Luckily, on Oct. 17, local government officially announced that 10,899,145 nucleic acid samples tested all yielded the same results: No new positive samples. Even though the situation was stable, both factory and port authority took actions for safety reasons, such as we were not allowed to take photos in the factory, we were not allowed to use drones to take photos or videos in the port, only stevedore staff can be on board and they had to wear protective suits. We were able to comply with regulations and still record the process by photos and video—not easy, but we did it."
About Protranser
Protranser is a local forwarder company in China, focusing in project logistics and oversize, overweight cargo for eleven years since 2005. We have ten offices in China, HQ is based in Shanghai. Over 150 staffs will provide you professional service for shipments import and export from China. We are qualified logistics supplier of world famous manufacturers, world famous EPC companies. Protranser know how to provide high standard service to meet requirement of your high value cargo.
Protranser, a long-time exhibitor at
Breakbulk Europe
will be exhibiting at this year's show in Hall 5 5A20.
Leo Liu, Marketing Manager
leo.liu@protranser.com
+86 13917036121