---
Mar 11 | 2021
Building Dedicated Operations, Expertise, Investment, Services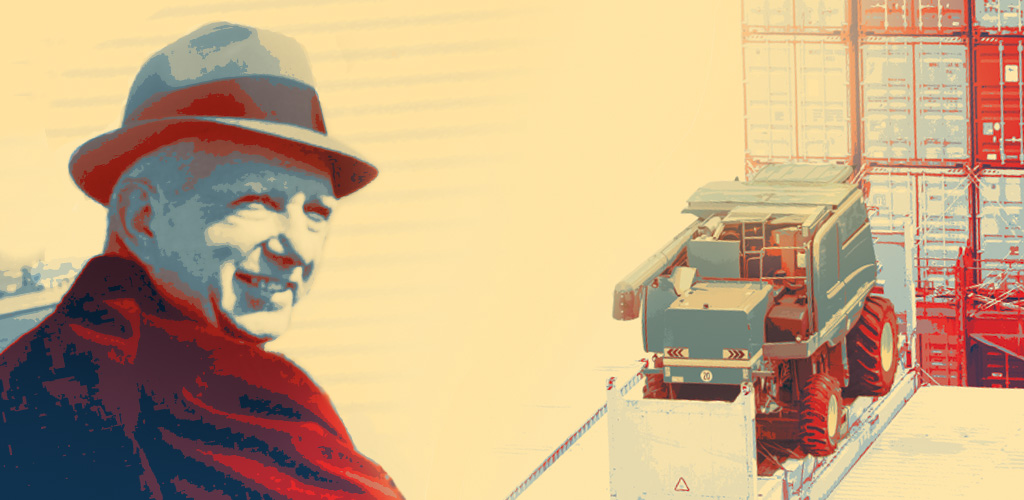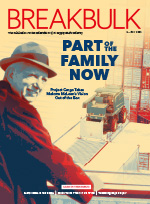 BREAKBULK ISSUE 3 PREVIEW CONTENT
By Felicity Landon
Where do container carriers fit into the project cargo and breakbulk scene? The accepted narrative was this: if container volumes are scarce, container lines desperate to fill their vessels will try to get business from the project field, often offering knock-down rates.
More than a decade ago, this was exactly the fallout of the global financial crisis. As container volumes subsequently recovered, to use the words of one multipurpose vessel specialist at the time, "they dropped project cargo like a hot potato." Container lines, he said, were opportunistic.
Today, container lines are looking at the project cargo opportunities very differently – bringing in the expertise, setting up separate divisions, investing in open-tops and flatracks, and refining services and software to match.
The CMA CGM Group started shipping project cargo decades ago through its various brands, said Stéphane Berninet, head of the CMA CGM project division. "In early 2017, we gathered our numerous project cargo managers in charge of these different lines into one single dedicated project cargo division. We now offer our customers a comprehensive organization with project cargo managers, pricers, key account managers and project cargo engineers, as well as a tender desk to better cover the market and serve customers."
This dedicated division allows CMA CGM to streamline customer approach and share technical expertise and know-how within the team, Berninet said. "It also allows us to drive business development of project and special cargo by increasing market awareness of our service offerings and capabilities, and focus on delivering global solutions which meet our customers' projects' needs."
Project cargo is very important and an integrated part of the way in which Maersk is run, according to Kristian Lund Knudsen, head of special cargo solutions at Maersk.
"We have organized ourselves by verticals, in order to do our research and really focus on what the customers in certain markets need," he said. "We have seen that customers in the project cargo, or project logistics/special cargo, sector have similar needs – therefore we have organized this in the same way as our vertical for automotive customers, for example.
"We have been in the project cargo market for more than 25 years – since the 1990s we have been serving the oversized cargo market. So it is not a new development, but we have continued to refine our service."
Integration Challenges
Sarah Schlüter, Hapag-Lloyd's senior director, niche products, described project cargo as a "hot topic" for container carriers today, but there can be challenges when it comes to integrating projects with container carriers' strategies. "From a strategic perspective, project cargo and breakbulk at Hapag-Lloyd is being run separately," she said. "My department [niche products] is separate, setting its own targets and budgets, everything related to commercial aspects and pricing, but also processes and operational requirements, IT requirements, and so on. So we are really at the helm of everything to try to improve the overall organization and smooth things out to make sure we are commercially successful."
The key issue that needs to be considered, Schlüter said, is that container lines are run very much like a machine: "You can't run projects like a machine – it is not so straightforward. Sometimes people really like to put things in boxes, literally things that don't fit in boxes. It can be difficult within an organization to encourage people to think outside the box and to accommodate the not-so-straightforward."
Hapag-Lloyd is working towards a more dedicated project cargo set-up with dedicated staff to provide expertise, she said. "It is not about selling a container full of T-shirts, which pretty much anyone might do. It is giving customers expert advice on how things should be handled, and that requires expert staff. We do have those experts already – but not enough of them, so we are focusing on getting more and more in place." In this, Hapag-Lloyd is sourcing from outside the company but also growing its team internally through training "by our real experts who are former seafarers," Schlüter said.
This effort extends to sales and customer service staff, but also to training for customers. "We want to increase the expertise of our customers – educate them to come to us early and talk about it," she said. "These cargoes and their timelines are so crucial for the success of a project; we need to manage customer expectation, what is possible and what is not possible. And we need to be 100 percent honest, not promise something we can't deliver on."
Project cargo is part of Hapag-Lloyd's niche division but there is a strategic initiative to grow the segment over the next few years, Schlüter added. "It is – under normal circumstances – better paying than regular cargo. Right now, the world is upside down – including with freight rates – but it is part of our Strategy 2023."
Enabling Online Quotes
Maersk's focus has been on online enablement, making it faster for customers to get a quotation and make a booking, through a dedicated, 95 percent automated website, Knudsen said. Its approach reflects a determination to treat this type of cargo as complicated only when necessary.
"In the past two years, we have reduced the average time to give a quotation for project cargo from more than 36 hours to less than four hours," he said. "The customer can put in the dimensions and other details and get a quote back – sometimes instantly, or we can go to the relevant terminal if necessary and get back in four hours."
Customers are at first hesitant about using Maersk's website for a quote, Knudsen said. "They feel that this is a complicated business, they really need to talk to someone; why should they go on a website for a quotation? From our point of view, this is not a replacement for talking to someone, but making a booking and getting a quote online is freeing up our people to add value for you in other ways. Most customers, when they try it out, really like it. For example, they can sit at their computer at 2100 hrs and go ahead and get a quote."
Rather than talking about price A or price B, Maersk wants to spend its time discussing how it can make sure it moves project cargo in a safe manner, instead of spending unnecessary time firming up a price. "Once the customer has a quote, etc., they can talk to us about the details later," he said.
There are instances where Maersk needs to check in with a terminal to avoid confirming a booking, only to have the terminal saying it can't handle or lift the cargo. However, that should happen less and less because of frequent discussions with terminals upfront to establish what they can handle in terms of size and weight. "So, if a customer comes up with something we already know is too big for the specified terminal, we can say sorry, we can't do that, but maybe come up with an alternative.
"We have a database full of information on what any terminal can handle and it is being updated all the time. Every time we talk to them, we use what we have learned to update our information. Some terminals have very much the same as us. But others are a little bit more conservative and ask that we check and make sure with them each time regarding this kind of cargo."
Terminal Know-how Expounded
Maersk Line works with hundreds of terminals across the market and determines in each case which would be the best terminal for this cargo, Knudsen continued. Its website will provide a quotation for the best product the line has available. "If our standard product is not able to cater to a load, for example if the origin terminal can't handle it, then in those cases we have a salesperson who will reach out and suggest an alternative, such as trucking the load to another terminal nearby. If we don't see a solution, we have to say so."
Maersk started building up its automated website in earnest about four years ago. Eighteen months ago it started pushing it as channel to use.
"For a long while we kept the option of providing email quotations. Then, as these reduced to a trickle, we said now we move to the website as the only channel," Knudsen said. "We continue to invest in making the online experience better – anything from the speed of it to using historical data to make the offer better. That is what we are trying to achieve, to make logistics simpler for our customers and become a global integrator; exactly this kind of ease where we take some of the complexity out of it and enable customers to handle their supply chains in a simpler way and with less friction."
Special cargo volumes are experiencing strong growth for the CMA CGM Group, which is confident about this segment's potential, Berninet said. "Having the capabilities of transporting oversized and heavy-lift cargoes allows us to provide an all-in-one offer to our customers while taking large projects where most of the cargo is already loaded in standard containers," he said.
CMA CGM has shipped highly technical projects, he added, which is a "testament to the skill of our organization and operational capabilities."
Project cargo transport has included the maxi trimaran Banque Populaire IX, which was 32 meters long and 23 meters wide – as wide as the 900 20-foot equivalent unit vessel it was shipped on, operated on the Morocco-North East service. This was a tailor-made study and shipment including a private port call at the trimaran's home base in Lorient. CMA CGM has also transported a 44-meter-long crane jib from Shanghai to Algeciras, which pushed forward the line's project cargo capabilities.
"The heaviest piece we shipped was a rock dumping unit (for the subsea sector), which weighed 457 tonnes and had dimensions 30 meters long by 11 meters wide by 20 meters high. This was from Rotterdam to Singapore, using floating cranes at both ends," Berninet said.
Breaking Mindsets
Some project cargo forwarders still do not instinctively question container carriers for breakbulk rates because they are used to working with conventional heavy-lift and roll-on, roll-off carriers, Berninet noted. "So, keeping and raising awareness about CMA CGM's service capabilities and offerings is a major aspect of our business development strategy.
"We are operating 285 shipping lines with 530+ vessels covering over 420 ports of call across five continents. Thanks to this network and our ability to transship oversized and heavy-lift cargoes, we can offer to ship breakbulk and out-of-gauge cargo on all trades and almost all ports with regular and reliable sailings at reasonable transport costs. We also offer high-frequency and fast transit time, with a positive impact on the overall project financials by meeting construction timelines and delivery schedule."
CMA CGM is developing all areas, from spot shipments for one case to three-year long-term projects involving containers, out-of-gauge and breakbulk cargoes covering various origins and trades.
One of the biggest challenges for container lines handling project cargo is timing – including coordinating a collection of containers that need to arrive at the same time and place as the out-of-gauge cargo.
Hapag-Lloyd's Schlüter commented: "It is not just fitting the cargo physically. It is a whole lot of making sure of the initial plan, checking bases with a lot of different stakeholders, making sure the equipment is available, do we have space, are there going to be delays, transshipment issues; we need very close, practical hand-holding.
Of course, it is best to know as early as possible that you will have this breakbulk piece coming, so you can make sure you arrange everything and have the shipment build into the overall planning at the terminal.
"We would arrange the unloading of the equipment with the terminal – checking if the terminal is capable of getting the piece on or off the ship – do they need a floating crane, do they have one, what weight can the floating crane handle; all this is checked before the quotation is done for the customer."
Her view is that IT enhancements can support the whole process, but when it comes to breakbulk, every piece is individual: "You don't have standard costing, because everything is unique. That does make the quotation process more complex and manual, and driving efficiency is difficult." Having said that, Hapag-Lloyd is working on IT improvements when it comes to the costing process, and will be making costs available to customers through its website, she said.
Typical shipments by Hapag-Lloyd have included generators and propellers. Recently the line moved a series of subway cars from Italy to Lima, Peru, over a period of one year, which Schlüter recalled as one of the most spectacular transports she had seen.
Frequency and Range
Schlüter is in no doubt of the advantages that container shipping can offer to shippers in this segment. "We provide frequency and more ports. If you have a project accompanied by standard equipment, we sell the overall package alongside our global network. If there are urgent containers that are part of the overall shipment and have to go at the same time, we have ways to communicate this in the system."
Hapag-Lloyd does not have a specific target for share of non-containerized cargo. The line wants to grow, but with the acknowledgement that project cargo does take up a lot of space.
"That is space that you lose [for containers], so there is a breaking point where it doesn't make sense anymore," Schlüter said, adding that Hapag-Lloyd is still far from reaching that breaking point.
One question that often comes up for container lines carriage of project cargoes is whether lines can take last-minute oversized or over-dimensioned cargoes. Practically, the answer is yes, Schlüter said, but in the current times, the answer is no. "Everything is possible, of course, but you don't want to upset others and always commercial validation needs to take place."
Felicity Landon is an award-winning freelance journalist specializing in the ports, shipping, transport and logistics sectors.

Image credit: Wikipedia, Maersk and illustration by Mark Clubb