---
Mar 11 | 2021
Bigger. Better. Breakbulk.' to Boost Breakbulk Capabilities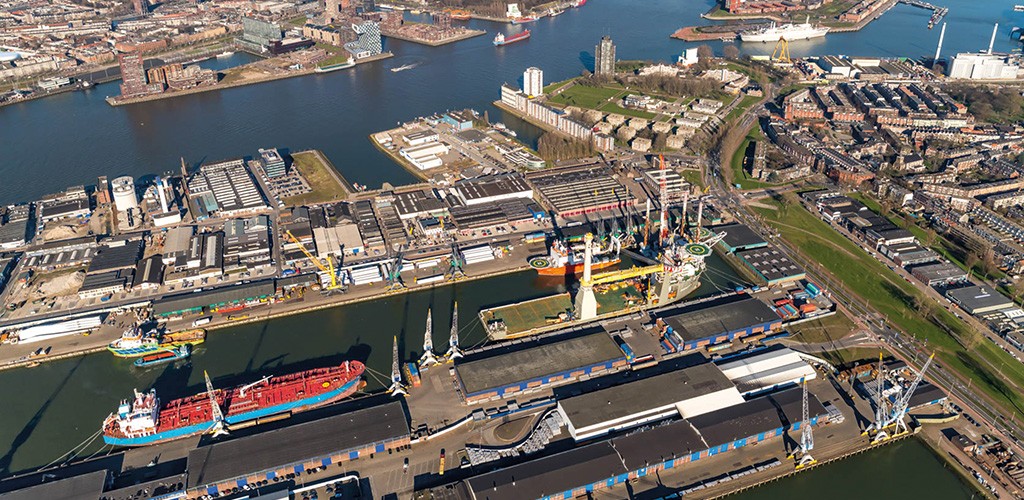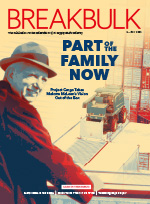 BREAKBULK ISSUE 3 PREVIEW CONTENT
By Malcolm Ramsay
As the global drive towards sustainability steps up in the wake of the Covid-19 pandemic the Port of Rotterdam, one of the largest breakbulk hubs in Europe, is preparing to move full steam ahead with new development as it navigates the changing demands for breakbulk handling in 2021.
Under the ports' Bigger. Better. Breakbulk. campaign the port plans a number of initiatives to consolidate and extend its breakbulk capabilities. Central to this is its work with partners to improve integration and handling capacity.
Twan Romeijn, business manager for breakbulk and offshore industry at the port, explained: "Bigger. Better. Breakbulk. is about maintaining a diverse portfolio and realizing a stable and future-proof market environment. We are focused on developing the connection to the existing maritime and offshore cluster and ensuring high-quality service companies are present in close proximity, from floating cranes and lashing companies to heavy-lift specialists and transport companies connecting Rotterdam worldwide."
With the port still partially restricted due to lockdown, Romeijn noted that there has been a negative impact across automotive, machinery, construction and steel shipments in 2020. But there have also been some silver linings with non-ferrous metals showing positive throughput in 2020 and forest products increasing slightly due to the demand for products related to hygiene such as protective gear/toilet paper.
"If the infection rate slows down and the vaccine programs are at full speed, we expect an economic recovery this year, with a positive impact on port throughput. There remain uncertainties, like possible longer lockdowns and slow vaccination rates, but in the second half of 2021 we should see a strong economic recovery and from 2022 onwards we expect to be back on the original growth path for the period 2020-2025."
Changing Demand
With hopes that lockdowns will ease in the second quarter, the port is focused on more than a return to "business as usual," however as it works with partners to develop the infrastructure to meet a changing market.
"I believe 'circularity' is not just a trending topic. The offshore wind business together with the coronavirus crisis have a tremendous effect and influence in the way people and politics are thinking," said Bart-Luc Olde Hanter of Rhenus Logistics B.V., part of the port logistics division of the German worldwide operating logistics service provider Rhenus Logistics.
"If the economic model can change in a way that only fully sustainable products are used for clean energy the whole planet benefits. These new developments will contribute to the further hybridization and integration of offshore and breakbulk business. I don't see anything bad in making money while making the world a better and cleaner place to live," he added.
Rhenus has a long history in Rotterdam and operates the breakbulk and heavy-lift terminal Rhenus Deep Sea Terminal at Maasvlakte with 800 meters of deep draft quay at the entrance of the port as well as the Rhenus Waalhaven Terminal close to the city center.
Energy Transition
Already recognized as one of the leading breakbulk clusters in Europe, the port authority plans to make additional space available for breakbulk-related services in 2021 through a range of innovative new approaches.
An example of this is the breakbulk 'carrousel' initiative, which involves shifting storage areas between multiple terminal operators to create economies of scale. Launched at the port's Waalhaven site, it involves an additional 12 hectares of industrial site and 1,155 meters of quay and is designed not only to provide an additional growth incentive for the sector, but also to improve sustainability of operations.
With the drive towards sustainability to be a defining theme across industries in 2021, Rotterdam aims to be at the forefront of the energy transition as it sees demand from on- and offshore wind energy rocket.
Another longstanding breakbulk firm operating at Rotterdam is Spliethoff. Peter Herkemij, deputy director at the firm, reinforced the importance of environmental impacts across all operations and Rotterdam's ability to offer "availability and flexibility."
"First of all our focus is on minimizing our environmental footprint," Herkemij explained. "Our secondary challenge is to find and keep flexible stevedores and terminals, able to overcome challenges, preferable in a healthy competitive playing field … We believe we can add value by being an efficient and reliable partner … and we highly appreciate the fast and short lines and way of working at Rotterdam – a general good feeling."
A core part of the Bigger. Better. Breakbulk initiative, sustainability means more than the replacement of polluting fuels or a drive to energy efficiency as the port seeks to build greater resilience for the future by offering supply chain integration and flexibility.
"The normal saying 'check before fixing' is not applicable to Rotterdam, since one can almost assume no difficulties in draft, congestion, strikes, etc. and port calls are usually uneventful," Herkemij added.
This outlook is echoed by Rhenus' Hanter: "Rotterdam is a complete port. Most other ports are container ports or bulk ports. Rotterdam has it all. A huge network of services both up and downstream to enable and speed up the energy transition."
Market Size Shift
With the increasing commoditization of breakbulk logistics the landscape has changed rapidly for fleet owners, with demand for bigger capacity vessels becoming prevalent and the need for infrastructure to support ever-larger loads now essential for ports.
"Where once you had two ship cranes of 100 tonnes, you were a specialized heavy-lift shipping company. Nowadays it's normal to have a coaster-sized vessel with two 250-tonne cranes on board. Breakbulk has become bigger, and this means investments in bigger terminals, heavier cranes and specialized project managers have become a necessity for a breakbulk stevedore." Hanter noted.
To meet this demand the port is planning a range of investments in new equipment, such as cranes and roll-on, roll-off facilities, as well as extensive plans to upgrade quay sides and supporting infrastructure.
"We are also making investments in sustainability, with plans to deploy new shore power connections, introduce new solar panels on warehouses, and increase the usage of greener fuels." Romeijn added.
"The breakbulk business is 'live and let live' and needs flexibility. That's why we work via the cafeteria model, where you can pick what service you want or need from us," Hanter said. "This can result in having a handymax vessel alongside bringing thousands of tonnes of aluminum or steel and at the same time at the same quay having a specialized offshore heavy-lift vessel preparing and assisting with one lift of 5,000 tonnes. But at the end it's all about the right price for the right service with equipment and a multidisciplined and flexible workforce."
Investment in the Future
To ensure this flexibility going forward, Rhenus plans investment in a range of new equipment that will meet not only the demand for larger capacity, but also sustainability goals of clients. This includes plans for electric terminal vehicles to reduce emissions, and the introduction of roll-stop systems of recycled plastics replacing wood for storing steel coils at its terminals at Rotterdam.
"At the terminal we follow the principle of reduce, re-use, recycle, meaning to lower our footprint wherever we can. It's all about minimizing the amount of waste we produce, dunnage we receive and remembering to recycle any materials that can be used for a new purpose," Hanter said.
In 2020, the firm invested in the first Dutch full electric Kone Gottwald mobile harbor crane, and this year plans to expand the operational range of the crane on the terminal, investing in a new power grid for electricity supply.
"Also part of the further electrification of our terminal is the solar panel project to have our warehouse roofs full of solar panels. In total 36,000 panels will be installed generating more than 10 megawatts. We are also further developing our offshore services, as the terminal is ideally located to the entrance of the port at the North Sea and thus perfect for supply runs and campaigning."
New lifting capacity is also on the horizon for another operator at the port, RHB, which sees benefits from greater flexibility.
"We recently invested in another Liebherr heavy-lift crane, making our daily operations even more flexible and efficient. Furthermore the use of these two Liebherr giants gives us the ability to lift even bigger and heavier units then before. Besides these cranes we make use of eight high-speed multipurpose cranes ensuring a smooth and quick operation," said Mike van der Pluijm, director of RHB.
Connectivity and Digitality
Alongside the port's internal development, another key factor for future growth is the links it maintains with other breakbulk hubs around the world.
"The port of Rotterdam has great connections to the rest of Europe and the world. Due to our unique geographical location, the port is easily reachable, no locks or any other obstacles, very well organized and is able to provide with all services which may be needed," van der Pluijm said.
Romeijn explained that a key task going forward is to "keep in contact with other breakbulk clusters, whether terminals, cargo owners, shipping lines, forwarders or agencies, to know what is happening in the market and how Port of Rotterdam can be of help."
To achieve this, a key element of the port's roadmap for development includes the rollout of new digital solutions that ensure the port remains at the center of global breakbulk trade flows.
"With the changing of the guard in the U.S., there is hope that the Biden government might have a different view on trade restrictions, which could be good news for steel trade. Also, as global container freight rates have spiked for various reasons this could additionally benefit breakbulk cargoes." Romeijn noted.
Based in the UK, Malcolm Ramsay has a background in business analysis and technology writing, with an emphasis on transportation and ports.

Image credit: Port of Rotterdam