---
Apr 27 | 2021
Breakbulk Movers to Define Circular Wind Role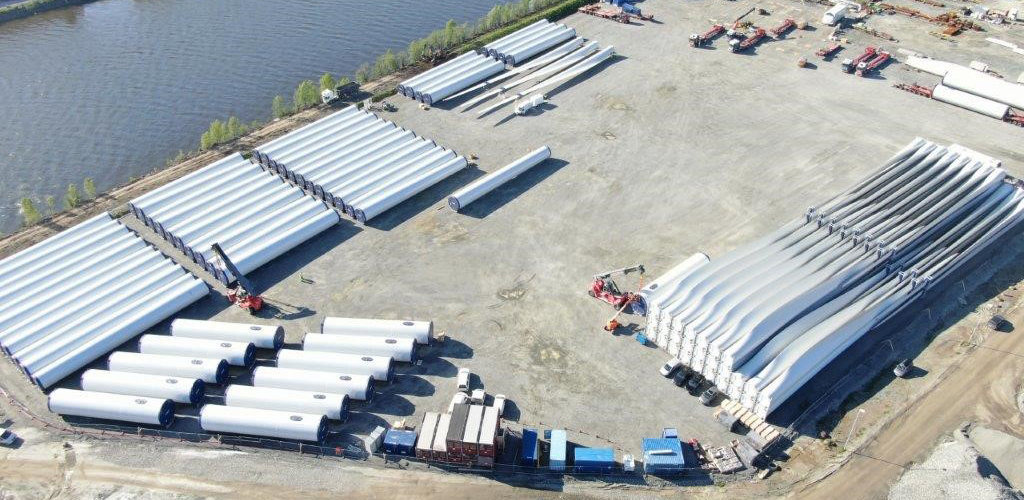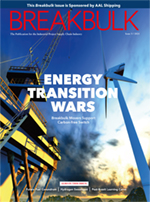 By Malcolm Ramsay

Following the first major surge of commercial wind farm development in the early 2000s, wind power has proven itself to be a vital element in the energy transition, and an immensely scalable resource. But as the size and the scale of the latest wind power projects increases, the first generation of wind farms pose a number of challenges for operators that must either decommission or upgrade.
With many of these early wind farms now nearing end of life, a vast number of wind turbines will be dismantled and removed over the coming decade and this presents opportunities for breakbulk providers.
"If you take a list of just those wind farms already installed you can see this market is going to be a huge industry," Brian Sørensen, commercial director for wind at Blue Water Shipping, told
Breakbulk.
"There is a far greater certainty with decommissioning old wind farms compared with commissioning new farms in that we know exactly how many turbines are there. For a new wind farm the proposal can change radically due to political or economic reasons making it hard to forecast the exact logistical requirements, but with an existing wind farm we can be reasonably certain exactly how many turbines need to be moved."
While estimates vary on the exact amount of capacity that will require decommissioning versus upgrade, the rapid rate of development over the last three decades suggests that there are many gigawatts of potential projects with the first of these beginning to emerge over the next five years.
Industry association WindEurope assumes that about 38 GW of wind energy capacity will reach the age of 20 or more operational years by 2025. "This is when in most countries most of these turbines will stop receiving guaranteed feed-in-tariffs," said Christoph Zipf, communications manager for WindEurope.
Those markets that were first to erect commercial wind farms will be among the first to face the challenge of decommissioning, with Europe at the forefront of a new industry approach dubbed Circular Wind.
"In 2020, some 203 wind turbines with a total capacity of 222 MW were decommissioned across Germany. This number is likely to rise sharply in the coming years as more than 1.5 GW of onshore wind farms were erected in 2000 and more than 2 GW were added per year between 2001 and 2003 – and the feed-in tariff support ends after 20 years," said Heike Winkler, managing director of German wind industry association WAB.
Research by the University of Kent suggests that the UK will have to decommission about 300 and 1,600 early-model offshore wind turbines by 2025 and 2030, respectively.
"The market for wind turbine dismantling and recycling is going to increase sharply. Most decommissioning activity will take place in Germany, the Netherlands and Denmark – some of the oldest markets for wind energy," Zipf added.
Blade Shipment Options
For many of the offshore wind farms erected in the early 2000s, the cargoes were moved in position, from factory to marshaling port, by small 3,000 to 8,000-tonne coaster vessels. These same vessels are expected do the reverse trips from marshaling port to the decommissioning port. If these components are then taken straight to port for recycling, this poses a question over what role breakbulk carriers may play in the decommissioning process.
Blue Water Shipping's Sørensen predicts that demand for breakbulk and heavy-lift services will primarily center around the carriage and re-use of blades. "I think a lot of the pieces will be recycled directly at the port, but we will see demand for breakbulk shipping, particularly when we consider re-use of components. The blades stand out as the primary driver with potential for breakbulk shipping to other countries for re-use. It is very much an emerging sector and I think we will only see the real need for these services start to develop in five years or so."
WindEurope likewise estimates that 80 percent to 90 percent of modern wind turbines can be easily recycled through existing recycling circles for steel and concrete, but also noted that the most challenging part are the blades. While blades are mostly re-used via co-processing in the cement industry today, Sørensen sees demand for breakbulk transport to other markets as one potential source of breakbulk demand with decommissioned components shipped internationally for re-use.
However, the supply chain for recycling and disposal of wind farm components remains nascent and the infrastructure required to process these components does not yet exist in many locations, posing challenges and raising the prospect of ancillary breakbulk demand.
When turbines reach the end of their guaranteed feed-in tariffs, Zipf predicts operators will face three main options:
• Repowering, where the existing infrastructure remains and the old turbines are replaced with new, more efficient turbines.
• Life-time extension, where turbines continue to operate and sell their electricity on the market or via power purchase agreements.
• Full decommissioning.
"Operators will have to answer the question of what to do with these turbines? Repowering, life-time extension or full decommissioning? We assume that around 7 GW will be fully decommissioned until 2025," Zipf said.
While the process of decommissioning and recycling components from oil and gas platforms or onshore industrial facilities is relatively well established, the potential for reuse of wind farm components is still very much developing.
Steve Ross, data and digital business lead at UK industry body Offshore Renewable Energy, or ORE Catapult, said that it is a lot easier onshore, and that topside offshore is seen as relatively straightforward, with some form of reverse engineering as opposed to construction. However, subsea is "another matter," he said. "Cables, piling and infrastructure need to be removed/cut and impacts on their removal or long-term impact on the ecosystem are being explored by organizations such as ORE Catapult. O&G decommissioning is not directly comparable – however some of the skills and technology can be adapted for the offshore wind market."
Defining Industry Standards
One key element in this new supply chain will undoubtedly be the need for regulation and standards to ensure the safe and environmental decommissioning of projects. Given the range of early designs and the huge difference between onshore and offshore wind farms, this process is likely to evolve in parallel with the growth in decommissioning projects.
"First, there must be a standard after which deconstruction and recycling can take place. This standard does not yet exist. For onshore there is a DIN SPEC norm in Germany, which when adapted might also be useful for offshore wind. The handling of the components then depends on the requirements and the fact that there must be a sustainable and at the same time very cost-efficient solutions," WAB's Winkler explained.
To meet these needs, WAB cooperation partner and German industry association RDRWind has developed DIN SPEC 4866, a new industry standard for dismantling, disassembly, recycling and recovery of onshore wind turbines.
"We are exchanging information for the further development of the standard, for the adaptation to offshore wind in a possible similar standard, as well as to planning to work together in joint wind industry research projects," Winkler said.
Plans also include a cooperative industrial cluster development for recycling management and the development of a quality seal. Later this year, the City University of Applied Sciences in Bremen and partners of the research project SeeOff are expected to publish a handbook to support the companies involved in the decommissioning process to identify project-specific efficient decommissioning strategies.
In the UK, industry initiatives are also starting to gather pace with ORE launching the Circular Economy for the Wind Sector Joint Industry Program last year, bringing together industry bodies to create a framework to support decommissioning.
Establishing Decommissioning Hubs
With most offshore wind components recycled locally at ports, landside congestion is a concern for hubs as the number of components needing to be handled increases exponentially.
Winkler said that it will likely be too expensive to use jack-up vessels to transport parts ashore for dismantling, and that ports will need sufficient equipment and space to handle and recycle a growing number of offshore wind farm components.
With the size and scale of new turbines growing, ports already face pressure due to limited storage space but as shipment of decommissioned components also start to arrive in number over the next decade this may drive consolidation and the emergence of decommissioning hubs.
"This will undoubtedly add pressure on port infrastructure, as in most cases it will be the same ports handling outgoing cargoes for new wind farms and incoming cargoes from decommissioned farms," Sørensen said. "In Europe we are probably only going to see five to eight key wind hubs that will encompass everything from turbine factories to decommissioning facilities.
This consolidation of resources may ultimately drive additional project cargo demand with bulkier components required to be moved to hub ports by breakbulk vessels to prevent congestion.
Based in the UK, Malcolm Ramsay has a background in business analysis and technology writing, with an emphasis on transportation and ports.