---
Apr 11 | 2021
(Europe) Wind Farm Developers Unveil Designs for Port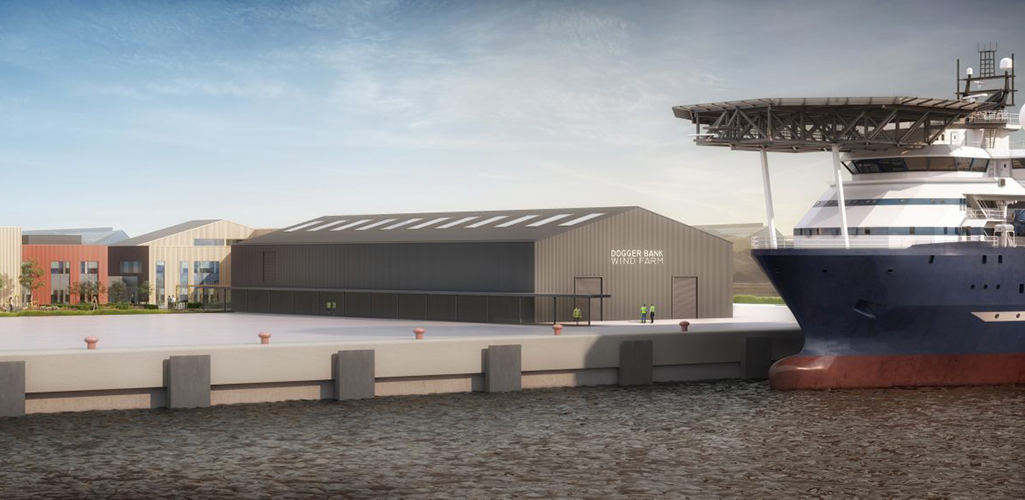 Dogger Bank Wind Farm developers have released designs for an operations and maintenance, or O&M, base to be constructed in the Port of Tyne.
Pending planning approval, the multimillion-pound O&M development will serve the world's largest offshore wind farm, which will eventually provide power for up to 6 million homes.
"Dogger Bank is set to have a huge impact in the North East of England," said Halfdan Brustad, vice president for Dogger Bank at Equinor, which will operate the wind farm over its 35-year life cycle. "On top of the hundreds of direct jobs the project creates, opportunities from the project will reach many others in the region from industry suppliers to catering companies."
Sustainability Stressed
Equinor worked with Newcastle-based international design practice Ryder Architecture to design the O&M base. Brustad said Ryder was selected to ensure the facility would be "both environmentally sustainable and future-fit."
The base will use environmentally friendly materials, EV chargers, solo panels and efficient heating systems.
"They have been designed to achieve net-zero cargo and provide one of the best workspaces in the northeast, helping Dogger Bank to attract the best talent," said Francesca Harrison, project architect at Ryder.
Steve Wilson, project director for Dogger Bank Wind Farm, said the O&M Base "will become the heart of Dogger Bank operations, in a region that will also reap the economic benefits of Dogger Bank Wind Farm in its construction phase. It's another important milestone for our project, but also for a region that is becoming a powerhouse for innovation and decarbonization."
Getting Started
Though the plans are awaiting approval of the South Tyneside Council, "the site is well underway, with ground and quayside improvements taking place," said Matt Beeton, Port of Tyne CEO. "The Port and the region are excited to see the start of Equinor's new facility which will not only provide much needed jobs but also start our journey to supporting the biggest offshore wind farm in the world."
A construction contractor is expected to be appointed in the coming months.
As well as offices for those based onshore and a warehouse to store spare parts for the wind farm, the design includes development of a new quay suitable for advanced service operations vessels, or SOVs, that provide accommodation, and transport for technicians to and from the wind farm. The vessels will call the port about twice a month for resupply and crew change.
Equinor has contracted with a Scottish company to build the three SOVs. Within the last month a new manufacturing facility was announced for Teesside, where the wind farm's 107-meter turbine blades will be produced, Brustad said.
Dogger Bank is being built in three equal phases of 1.2 gigawatts each. SSE Renewables is leading construction of the wind farm.
The first two phases, Dogger Bank A and B, are a joint venture between Equinor (40 percent) SSE Renewables (40 percent) and Eni (20 percent). The third phase, Dogger Bank C, is being developed on a different timescale and Equinor and SSE Renewables in 50-50 ownership.