---
Apr 20 | 2020
Marine terminal workers continue in the face of COVID-19
The Port of San Diego cargo operations continue at the Port's two marine terminals thanks to the marine terminal personnel working on the frontlines during the COVID-19 crisis. "We are proud of the work and dedication happening right now which help us continue to play a critical link in the national supply chain," Tracy Spahr, spokesperson for the Port of San Diego, told Breakbulk.
Last week, over 337 tonnes of cargo that originated from Shanghai, China, came through our Tenth Avenue Marine Terminal. With a total of 29 pieces, the heaviest was a 93.3-tonne transformer that will support a power plant in Mexicali and meet the electricity demand of the upcoming peak summer months.
"Under new health and safety measures, our terminal workers reporting to work onsite are being provided with personal protective equipment including face coverings and gloves, as well as means to sanitize their hands; and frequently-touched surfaces are being cleaned and sanitized in accordance with recommendations by local, state and federal public health authorities," Spahr said. "In addition, workers adhere to social distancing and other health requirements as much as possible."
Spahr also reported the port's two marine terminals are operating under normal business hours. Breakbulk volumes at the Tenth Avenue Marine Terminal have remained steady throughout the current situation and projected volumes for the upcoming months between May through September are strong with a plan to exceed its volumes year-over-year for these summer months.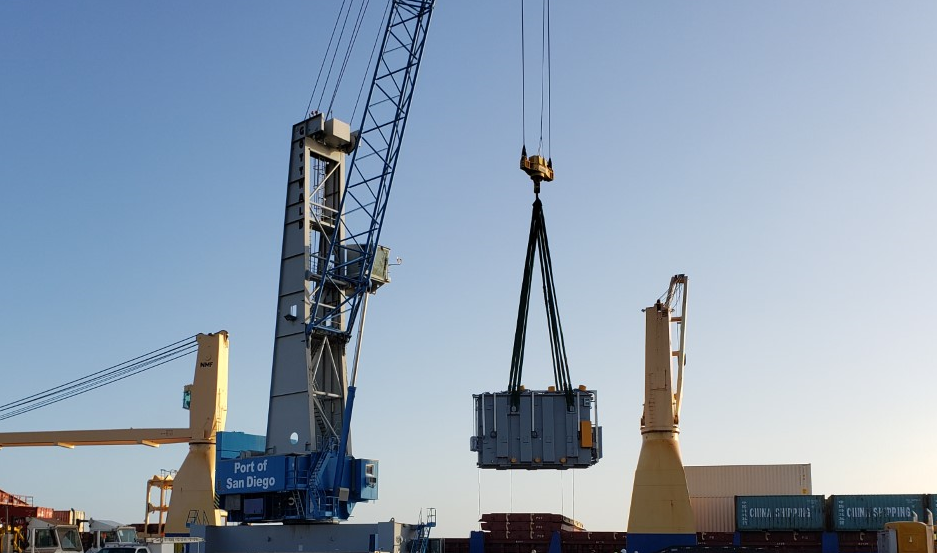 Photo: Courtesy of Port of San Diego