---
Oct 25 | 2020
Innovative equipment from PME offers solution to cost/environment quandary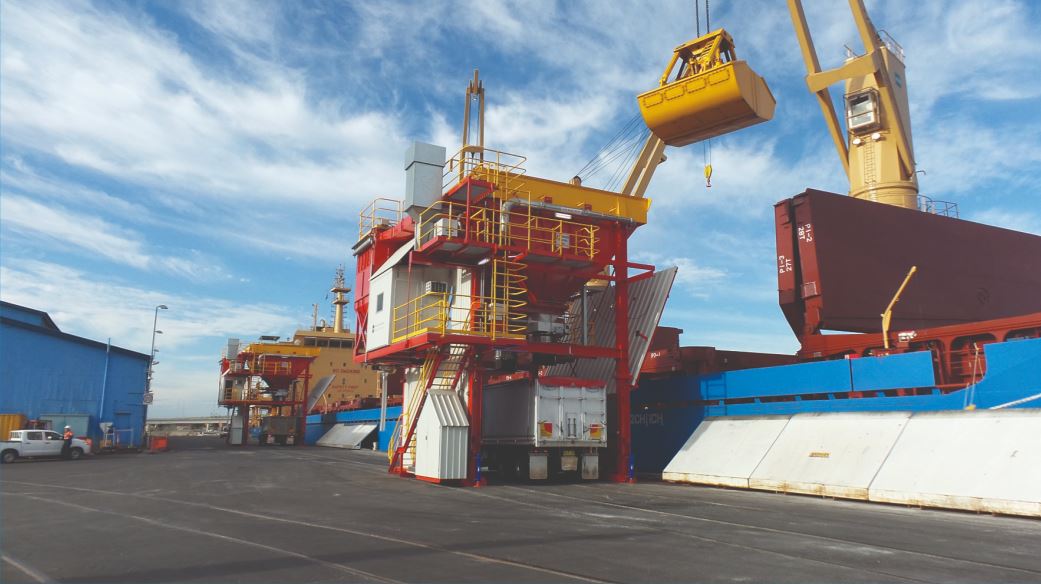 Above: Adelaide, Australia Enviro-Max50e Adelaide - Linx 1. Courtesy Page Macrae Engineering
This advertorial was first published in Breakbulk Issue 6 2020, written by Capt. Georges LaRoche. Page Macrae will host a special edition of the
BreakbulkONE Show on Thursday, Oct. 29 at 10:00 am CDT: "Tools to Achieve Port Growth and Protect the Environment
. Register for free now and be a part of the discussion.
Significant atmospheric dust arises from the mechanical disturbance of granular material exposed to the air. Dust generated from these open sources is termed "fugitive" because it is not discharged to the atmosphere in a confined flow stream.
Today's ports and terminals are under an ever-mounting burden to comply with air and water quality regulations when handling bulk materials such as cement, fly ash, coal, pet coke and other bulk materials. Fugitive dust escaping from dry bulk operations can also be an expensive annoyance to neighboring commodities that can be contaminated by these operations.
Cargo handling and movement to and from storage areas may cause runoff, spills or leakage of elements, which could possibly include toxic substances, biohazardous organic matter, or oily compounds.
Dry bulk operations can cause substantial damage to water quality – and therefore also to marine life and local ecosystems. These consequences may include bacterial and viral contamination of commercial fish and shellfish, depletion of oxygen in water, and bioaccumulation of certain toxins in fish.
Dust dispersal on land may cover vegetation and change local habitat conditions. If toxic or harmful substances are included in dust emissions, the health of working port employees and neighboring residential communities are threatened.
The potential health effects of particle pollution are related to the makeup and size of the particles. The smallest particles pose thegreatest health problems because they can be inhaled deeply into the lungs. The health effects of inhaling particle pollution include respiratory distress and increased severity of lung and heart disease, according to a New Hampshire Department of Health Services 2019 report. Fugitive dust can also reduce visibility, which can result in driving or work-site accidents.
Increasingly stricter regulations, air monitoring and public pressure has made it much harder to complete handling operations of dusty cargoes such as cement, coal and grain. Several port terminals around North America are experiencing a growing number of costly delays due to fugitive dust issues during the processes.
The introduction of new goods and valuable cargoes is a key component to the sustainability and growth of any port. With the major push to renew decaying public and private infrastructure in North America, and construction of new infrastructure, new cargoes such as cement and fly ash have become a valued addition to any port operations. The problem, however, is that many ports lack the equipment and infrastructure to handle such products while staying within the regulatory parameters. To date, pneumatic and "enclosed screw" systems have been the "go to" equipment, but the high cost and maintenance along with sporadic contracts has made this type of equipment almost obsolete in the North American market with its spe-cial characteristics.
A Look at Possible Solutions
So, what are the most commonly used and upcoming solutions for fugitive dust emissions in the ports? In North America, the most common method of dust suppression during the processes has been to use "misting," tarping and warehouse storage of the materials. Problems occur with these methods, as misting or watering down of the cargo can often not only damage cargo but produce toxic runoff into the water system.
Globally, some companies have tried new solutions, and an innova-tive and well-established company In New Zealand, has addressed fugitive dust in several ports around Australasia, Taiwan, South America, and now North America. In New Zealand and Australia, regulations tightened years ago so that only absolute minimal fugitive dust emissions are tolerated in most ports in both countries, where several have air monitoring stations. Page Macrae Engineering Ltd., a family owned company founded in 1955, recognized this issue years ago and set in motion the creation and production of Dust Suppressing Hoppers and Crane Grabs (unique patented grab seal), especially designed to minimize or eliminate any leakage of fine, dusty cargoes during handling. They are now the leading producer and supplier of Port Dust Suppression equipment in the world, as well as many other types of cargo-handling equipment, including automated container loading systems and remote release log lifters.
(Photo above shows Enviro-Max50e Lima, Peru​ / Page Macrae Engineering)
Port of Newcastle – Hopper Grab Solution
The Port of Newcastle is the largest port on Australia's east coast. In 2018, Page Macrae Engineering supplied two new Enviro-Max 50e eco-hoppers and mechanical chain grabs to the Port of Newcastle to be used for the unloading of a variety of products including phosphate, fertilizer and animal feed, therefore enabling the company to meet environmental compliance requirements.
"Page Macrae Engineering is committed to environmental protection and the principles of sustainable development," said Peter Swan, General Manager, Sales and Marketing, Page Macrae Engineering.
See Peter Swan's Breakbulk interview for more insight. Peter will also be a part of the upcoming special edition of the BreakbulkONE Show: Tools to Achieve Port Growth and Protect the Environment on Thursday, Oct. 29. Replay will be available following the live show.
The time to address the issues of particulate matter dispersion in both air and water is here, and these challenges are being addressed on many fronts. Where fugitive dust has not yet reached the priority level of carbon and other gaseous emissions in ports, the problems that do derive from the larger particles produced by fugitive dust are clear and evident.
About the author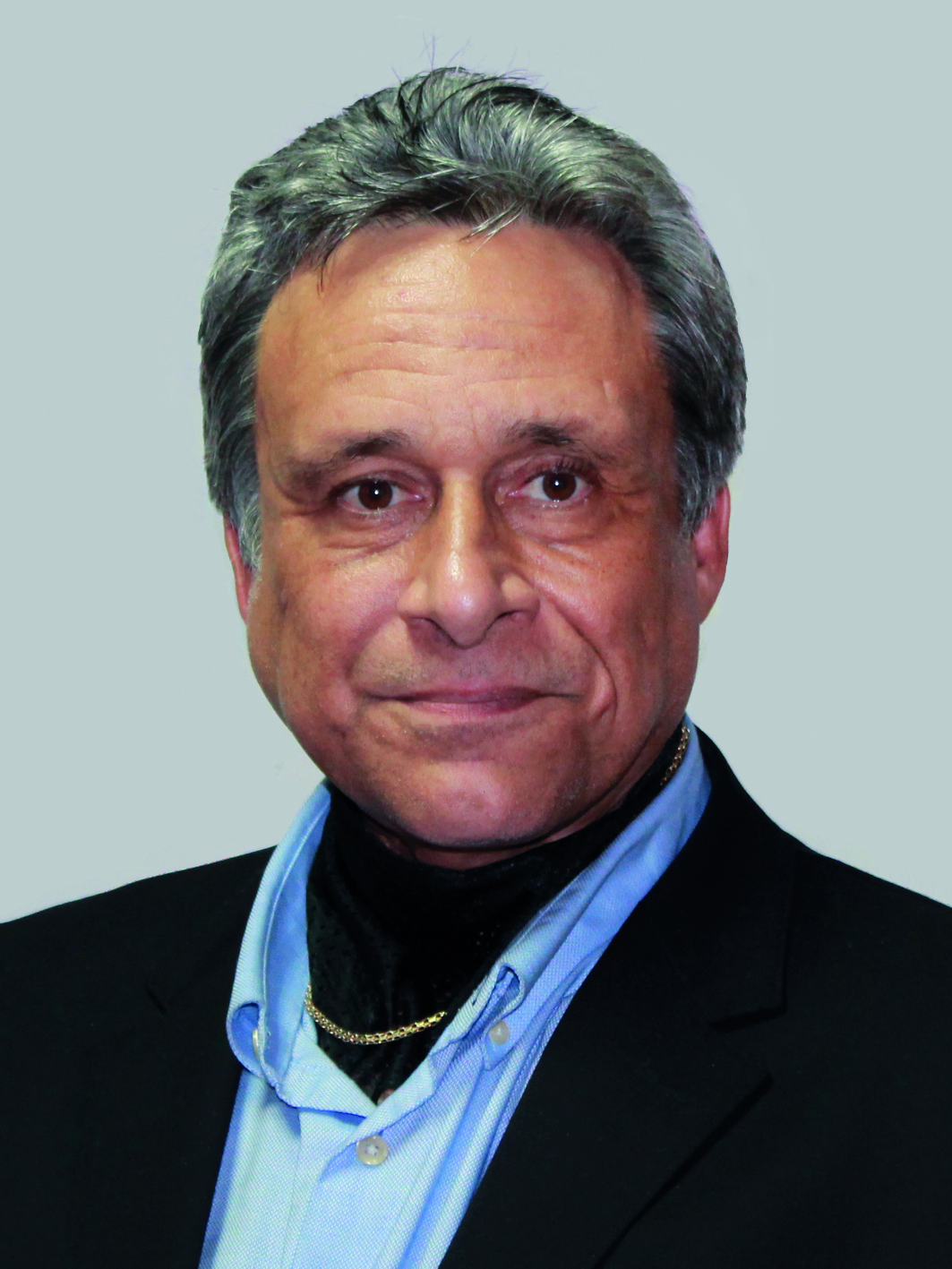 Capt. Georges LaRoche holds a Masters license and spent 30 years sailing internationally and on the Great Lakes. He lives in Ottawa, Canada and now works with Page Macrae Engineering.