---
Mar 28 | 2019
Belt Road Initiative Offsets Tariff Troubles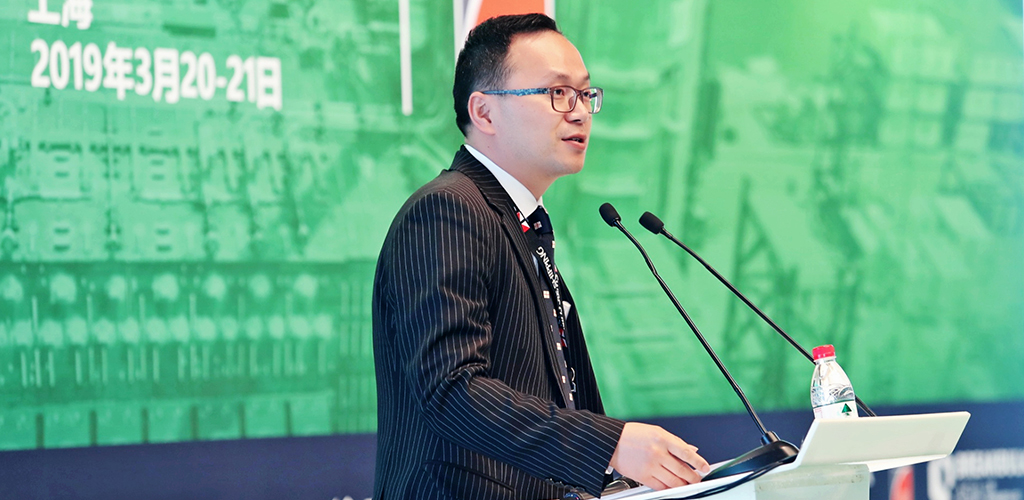 By Mike King
BREAKBULK ASIA 2019 COVERAGE –
China might be facing multiple economic headwinds, but the outlook for breakbulk and project cargo markets is bright, according to key speakers at Breakbulk Asia 2019 in Shanghai.
Chinese Premier Li Keqiang, China's top economic official, recently set this year's growth target at 6 percent to 6.5 percent. Although this would still be among the world's highest GDP expansion rates, it would represent a decline on last year's growth of 6.6 percent and mark a new three-decade low.
The drop-off in economic expansion has been exacerbated by the ongoing trade with the U.S., with talks between the two sides ongoing.
However, despite the challenging environment, keynote speakers and exhibitors at Breakbulk Asia were optimistic.
"One Belt, One Road means lots of infrastructure, equipment and project cargoes need to be shipped to all of these different locations," said Wei Zhuang, regional manager – Asia at shipping association BIMCO.
"In return, China is a big consumer in terms of trade. If you look at Africa and South America, there is a lot of EPC activity and that's generating a lot of breakbulk," Zhuang said.
Stephen Liu, sales director of specialist project forwarder Younger Niche Logistics, welcomed trade stimulus policies introduced by President Xi's government, which he said would offset slowing growth and the trade dampening impact of U.S. tariffs. "The government has announced it will cut down on road transportation tax in China and shipping taxes are being reduced substantially from April, so that will help all supply chains, and especially international forwarders."
However, Wei Zhuang admitted he was concerned about the headwinds afflicting the Chinese economy, not least the U.S.-China trade war, which was "causing choppy waters" and investment uncertainty.
"We don't know what will happen," he told
Breakbulk.
"Both parties are almost there, but on the other side they are very cautious. The U.S. is worried about China keeping its word. And China is worried about Mr. Trump being so unpredictable. So we'll have to see how it goes.
"But yes, breakbulk people are deeply concerned – tariffs are a killer for trade."
With the operating environment subject to such flux, adapting to changing times and embracing flexible operating models to meet the varied demands of shippers in China and beyond will be critical for the breakbulk sector in the years, according to Di Xu, chief engineer, Economic and Strategy Research Center, China Waterborne Transport Research Institute.
He said there remained many opportunities for the breakbulk industry in China, and was optimistic U.S.-China trade talks would prove fruitful – the world's two largest economies were interdependent, he noted, while many U.S. companies were major investors in China, either via direct investment or via existing Chinese subsidiaries.
According to Di Xu, the breakbulk sector has been most impacted by the second tranche of U.S. and China tariffs introduced in July 2018, which saw tariffs of 10 percent to 25 percent applied to US$200 billion of imports from China and US$60 billion worth of tariffs imposed by China on imports from the U.S.
"These were more targeted at consumer goods and machinery," he said. "Increases in tax and trade friction impact U.S. companies as well as Chinese companies.
"Trade negotiations are ongoing … we have to be optimistic."
In China's domestic breakbulk shipping markets, he said breakbulk accounted for about 10 percent of overall port throughput, but was declining as other sectors saw larger volume increases year-on-year. He said the steel and wind generation sector both offered good growth potential, but called on the breakbulk industry to become more competitive if it was to manage bumps in the trade cycle and fend off competition for cargo.
"There are opportunities for MPVs and heavy-lift, but the breakbulk market is highly diverse and we have to understand the specific features of demand and set up networks that can compete with container and bulk shipping," he added. "We need to make best use of our advantages to reduce costs and use the latest technologies to find a competitive edge.
"By using technology to innovate and train personnel for the future, I believe we can create a platform that will meet the multiple demands of customers."
Photo: Wei Zhuang, regional manager - Asia at shipping association BIMCO, moderating at Breakbulk Asia 2019.