---
Oct 05 | 2020
(Americas Digital Special) Ørsted Energy's John O'Keefe sees big potential in this market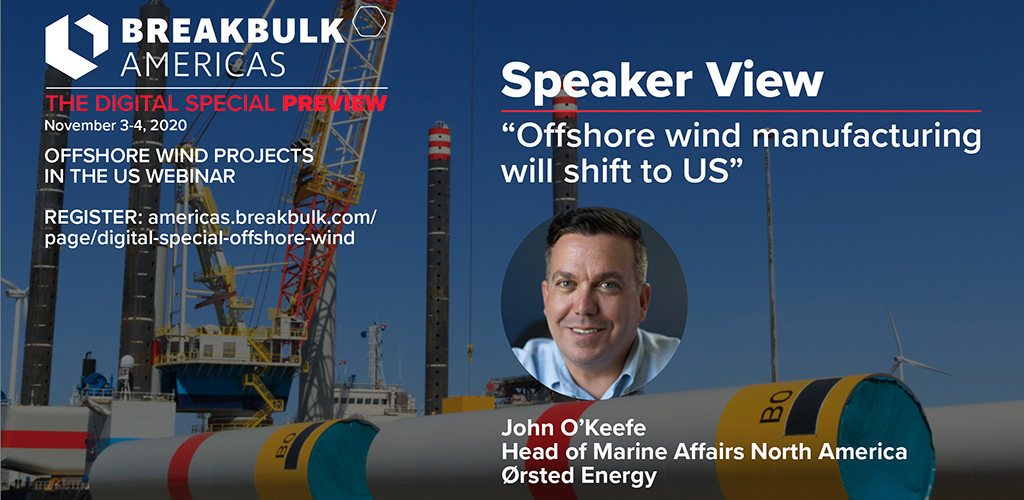 Q&A with John O'Keefe from Ørsted Energy and Breakbulk's Leslie Meredith. John will participate in the upcoming webinar "
Offshore Wind Projects in the US,
" part of
Breakbulk Americas: The Digital Specia
l. A Danish firm, Ørsted Energy is a pioneer in wind energy, but the company didn't start out that way. Let's hear the story from John.
Leslie:
Ørsted Energy was recently named the most sustainable corporation in the world by Corporate Knights. How did the company move from being focused solely on oil & gas to renewables?
John:
Ørsted Energy decided early on that this transition was going to be necessary and they decided to do it with the mindset that if we're going to do this, we're going to do it right. "We're going to do this all the way and they envisioned a world that runs entirely on green energy. We've made huge strides to get where we are today and we're excited for the future.
Energy transitions historically are not an easy transition. While some view it as competition for other energy sources and job loss, we see this is an immense opportunity. We're taking all of the knowledge out there and using whatever existing oil & gas resources that can be retrofitted for use in offshore wind.
We have this great workforce and these these fleets all around the world. We want to make sure they're all involved in in this transition as we go from fossil fuels to renewable energy.
Leslie:
Tell us more about reusing available assets, moving them from oil & gas projects to offshore wind.
John:
When we look back to Block Island wind farm, which has now been over four years since we built the nation's first offshore wind farm right here in Rhode Island. In the construction process, we did look to our existing oil & gas assets and resources. Some of the labor was used to build the foundations because that knowledge and that labor needed for Block Island were very similar to oil and gas operations.
Vessels were another element that we could transition. Today, we're still in a position where we don't have necessarily all the right vessels that that are needed in the supply chain, so we make use of what we have. Some vessels are retrofitted and some are using their capabilities. For instance, jack-up vessels were an integral part of the Block Island construction process and I see jack-up vessels that are now used in the Gulf being used for offshore wind in the years to come.
Leslie:
What projects are in the Ørsted Energy pipeline?
John:
It's a pretty exciting pipeline if we look at the East Coast of the US. It depends on who you ask on what day: it could be it could be 25 gigawatts or 30 gigawatts here in the next 20 to 30 years. That's a massive amount, especially when you compare it to what currently exists in the water, which is a mere 30 megawatts.
And it means a huge amount of investment and opportunity for mariners and the land-based supply chain.
In the near term, we have almost three gigawatts in our pipeline right now. We are in various stages of development on all the projects and right now we're working our way through the federal permitting process.
Leslie:
You spoke about opportunity for the supply chain players. Let's try to quantify that.
John:
These projects are complex, and as you can imagine, large-scale commercial wind farms require involve quite a bit of the supply chain and have many moving pieces.
When you look at the major components that are involved in an offshore turbine you have the submarine cables that connect the towers and the turbines themselves to substations and then back to the power grid on land.
Then you have the foundations which could be monopiles similar to Block Island or gravity-based, etc. Regardless of type, foundation pieces are large and have to be to be manufactured and moved, and then you have the tower pieces themselves, along with the nacelles that are getting bigger and bigger. And then there are the blades, which are probably the biggest pieces in terms of size, not weight, and are now are reaching pretty fantastic sizes. Finally there are all of the smaller pieces.
There's also equipment like cranes that are needed to discharge the wind cargoes. Currently, pieces are coming in globally, whether it's from Spain or France, or another location. General Electric supplied the Block Island wind farm with its turbines and those came from France.
However, I think we'll see more stateside manufacturing aswe've already seen submarine cables. There is a submarine cable factory in Charleston, SC, that's just recently opened. There are plans for foundations and other components to be built here in the US. But we have to get some more project certainty before we get there. For Ørsted, we're looking probably around 2022 for real major construction activity.
Leslie:
Do you think we'll see offshore wind constructed in other waters? Maybe the West Coast or the Gulf, or even the Great Lakes?
John:
Yes, I do. Right now the main focus is on the East Coast because of the "trifecta for development" with the right water depths (shallow water depths on the outer continental shelf), huge demand in the energy corridor from D.C. up to Boston, and the wind speed that is present off the East Coast. It's the Saudi Arabia of offshore wind.
Development will look to the West Coast and possibly the Gulf, but the water is deeper. There are solutions that are commercially viable in the floating sector and fixed platforms are coming along. You do have that incredible energy demand on the West Coast and you have excellent wind speeds, you just have that added challenge with the water depth. But that challenge can be absolutely be met.
The Gulf is overlooked right now, probably because it's known for oil & gas activity, but there is tremendous opportunity in the Gulf as well.
Learn more about the opportunities for suppliers to offshore wind by registering for the Breakbulk Americas Digital Special session on US wind projects.
Watch the full interview with John O'Keefe

---
Subscribe to BreakbulkONE and receive more industry stories and updates around impact of COVID-19.