---
Mar 29 | 2021
Project Cargo Services Delivers Ballast Wagons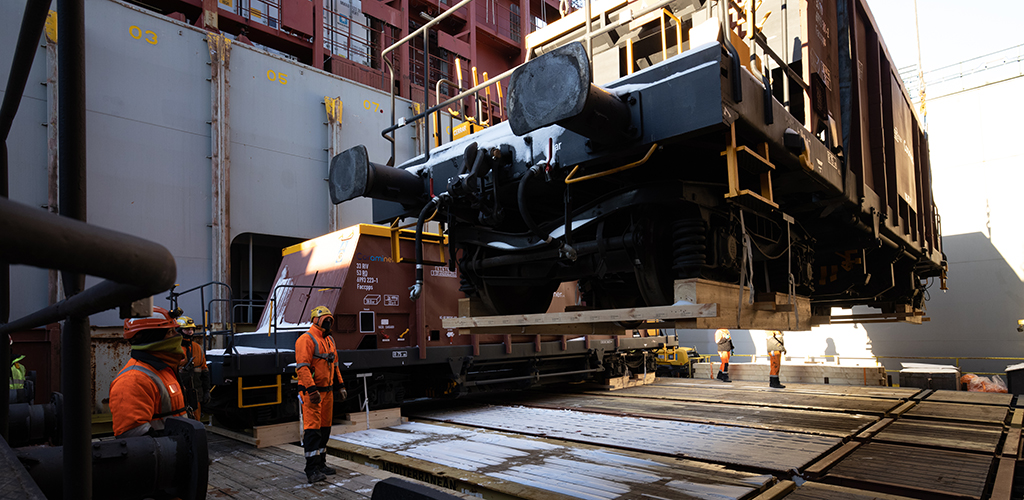 MSC Project Cargo Services recently demonstrated its project-handling prowess in delivering vital components for a viaduct project in the port of Montevideo.
MSC hauled 11 ballast wagons from Antwerp to Montevideo aboard the
MSC Sofia Celeste,
as part of the carrier's NWC String I service. The ballast wagons were each 14 meters long, more than 3 meters high and had a combined weight of 290 tonnes. They are components to build a viaduct as part of Rambla Sudamérica, "a project that is futureproofing the port of Montevideo," an MSC spokesperson said.
The viaduct, which will be about 1,800 meters long with three entry and exit lanes and a 160-meter long arched bridge, will support the circulation of loaded trucks and passenger cars. The port is expected to gain nine hectares of surface area with the project, create two-lane rail access to the port and improve traffic fluidity.
MSC created a bed of 24-foot by 40-foot flat racks aboard the
Sofia Celeste
to generate a surface area of nearly 675 square meters on which the wagons were stowed, said Ben Collins, global project cargo manager.
The project units were delivered safely in Montevideo on March 9, benefitting from MSC's expertise in customizing project solutions, while offering safe and secure delivery, as well as fast liner transit times and cost-effective services, the carrier said.
Collaboration Key
Despite the pandemic and major disruptions of the global supply chain, "our project cargo team is going above and beyond to ensure the planning and execution of special loadings continue uninterrupted, offering the maximum safety and security for each and every cargo project," Collins said.
Despite well-documented congestion at key trade centers worldwide, MSC managed to secure a dedicated 1,000 square meters of terminal space to store cargo at the MPET terminal in Antwerp to prepare the load prior to the
MSC Sofia Celeste's
arrival.
Collins also credited close collaboration between MSC's Belgium and Uruguay staffs, along with customer offices and terminal operators in both countries to ensure the project was a success.
"MSC's project cargo team brings customers first-class project cargo management. We have the experience to provide safe and successful planning and execution of special loadings, which ensures dedicated and individual focus for each and every breakbulk shipment," Collins said.
MSC is a Global Events Partner for Breakbulk events and is the Main Event Sponsor for
Breakbulk Europe Connect21
, May 19-20.