---
Sep 11 | 2020
Industry Associations Morph to Aid Members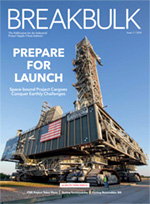 By Malcolm Ramsay
Dramatically disrupting supply chains around the world, the Covid-19 pandemic has also had a lasting impact on those that lobby for and support breakbulk companies.
These mode-specific industry organizations have been forced to rapidly evolve. While it has been a steep learning curve for many, this adjustment is starting to bear fruit for some associations, as new methods of working emerge and the role of collaboration in recovery becomes evident.
In Europe, strong relationships between freight forwarders and industry bodies have helped businesses to stay afloat and raise their collective voice, due to cross-industry support. As Nicolette van der Jagt, director general of the European Association for Forwarding, Transport, Logistics and Customs Services, or CLECAT, explained: "The crisis has demonstrated the crucial role that transport plays, with interrupted transport and logistics routes across all modes hitting our value chains and economies … looking at the recovery and support measures for industry, there is overall recognition that the global crisis caused by the pandemic will be long and transformational."
Matthias Maedge, director of advocacy at the International Road Transport Union, or IRU, also acknowledged the profound impact of the crisis on breakbulk carriers. However, there are upsides emerging: "The crisis has brought the industry together and shed light on the importance of commercial road transport when it comes to keeping goods and essential workers moving."
Unprecedented Challenges
The unforeseen challenges that Covid-19 presented in the first half of 2020 starkly exposed the vast web of regulatory frameworks that breakbulk forwarders navigate as existing trade routes closed and cargoes faced significant delays and rerouting.
Jordi Espin, maritime policy manager at the European Shippers' Council, or ESC, highlighted the "severe hit" that members faced with all aspects of transport flows affected through altered traffic densities, relocation of loading and offloading points and national transport barriers. "The breakbulk industry is usually less affected by seasonality demand since production tends to be pushed out in a natural cycle, and is also affected with peak production curves. The current pandemic situation, however, has clashed with the intermediate stock warehouse positioning, and has tensioned the supply chain flow to extreme points," Espin said.
Stéphane Graber, director general of the International Federation of Freight Forwarders Associations, or FIATA, agreed, noting that the "pandemic has had a profound impact in communities, businesses and economies." He added that FIATA members were particularly hit by the restrictions on trade and closing of international borders.
One of the most immediate impacts for Europe-wide industry associations has been a rapid reconfiguration to bring greater clarity on issues at a national level. Where industry themes had tended towards international alignment prior to Covid-19, the sudden closing of borders created a more fragmented landscape for many breakbulk operators, requiring industry associations to provide targeted regional information.
IRU's Maedge highlighted this shift in priorities, with members focused on information about regulations, restrictions and financial aid. "We responded to these shifting needs with real-time updates for our members and the wider community, targeted lobbying activities and by contributing to the creation of tools such as the Green Lane app."
The role of industry associations in developing the EU-wide "green lane" border initiative is one clear example of the evolving nature of these relationships, as industry-wide collaboration helped secure uninterrupted breakbulk transport across the continent in record time.
"In close cooperation with members, CLECAT was, early in the crisis, in close contact with the [European] Commission, urging for a green lanes initiative and other harmonized solutions," CLECAT's van der Jagt explained. "We also highlighted that the free movement of workers, administrative paperwork and economic damage across the transport sector required immediate action. There was overall recognition from policy makers that keeping cargo flows running is vital for public health and the economy."
Solution-driven Exchanges
Alongside the impact on the day-to-day business of breakbulk transport, Europe-wide lockdowns have also had a profound effect on how members interact with industry representatives. The need to rapidly integrate remote working and new technologies has reshaped the dynamic of many relationships, accelerating a shift away from face-to-face meetings.
"We have seen more members joining online meetings, which allowed the CLECAT team in Brussels to voice the messages and the concern of the industry to the European Commission," van der Jagt noted. "We hope to have more physical/live meetings again in the second half of the year, but with the uncertainties this may not happen. In any case, members are very pleased with the online meetings."
With a huge number of meetings taking place via online videoconferencing tools, one advantage has been that members can catch up with meetings that they were unable to attend initially. IRU's Maedge noted the huge benefit of webinars both for member communication and for meetings of member groups, advocacy meetings with governments, the EU and international organizations, and for public webinars.
At FIATA, the pandemic required the association "to be agile and rapidly implement new technologies to allow members to enhance solution-driven exchanges," Graber explained. "As a federation, FIATA was there to support the needs of its members by providing them with timely resources which could be shared and integrated within their national contexts. Through a dedicated Covid-19 online platform, these addressed the impact of the virus on trade and provided guidance.
"Many of these topics were already regularly dealt with, but they increased in prominence during the crisis. Providing FIATA members with the tools for logistics connectivity during times of crisis was – and continues to be – a priority."
Outlook
With projections for global breakbulk operations suggesting an extremely challenging year ahead, the case for stronger industry collaboration seems only set to grow. As CLECAT's van der Jagt noted, the focus of the European Commission is on its recovery plan, which centers on support measures around green and digital transformation priorities. It is hoped that the agreement for a record Europe-wide bailout of more than €750 billion in July will support accelerated public investment in transport infrastructure across the continent, kickstarting the recovery of the transport sector in tandem with the development of cleaner and more sustainable mobility.
New transport routes, emerging in the wake of the pandemic, are also expected to reshape the sector and focus on industry associations. ESC's Espin noted that China has been severely hit by Covid-19, and this has triggered protectionist tools in countries to protect against Covid-19 infected territories. New sourcing areas have also created new transport flows that the industry was not prepared for.
"Natural calendar cycles already are an asset for the breakbulk industry," Espin said. "This, in combination with the Covid-19 [pandemic], has set out an uncertainty scenario that has translated to impacts for short-term planning." He sees dry port areas increasing in many territories to reduce risk and to be able to respond to shippers and industry needs in terms of warehouse flexibility.
Looking to new European Union initiatives, such as the Sustainable and Smart Mobility and Aviation Services packages expected in the fourth quarter 2020, CLECAT's van der Jagt remained optimistic for the long-term prospects: "Apart from the gloomy picture of the near future, it is hoped that the crisis will impact the freight forwarding industry in a more positive way, building on indicators for increased resilience, visibility and sustainability."
Based in the UK, Malcolm Ramsay has a background in business analysis and technology writing, with an emphasis on transportation and ports.

Image credit: Shutterstock