---
Oct 23 | 2020
History in the Making at NuScale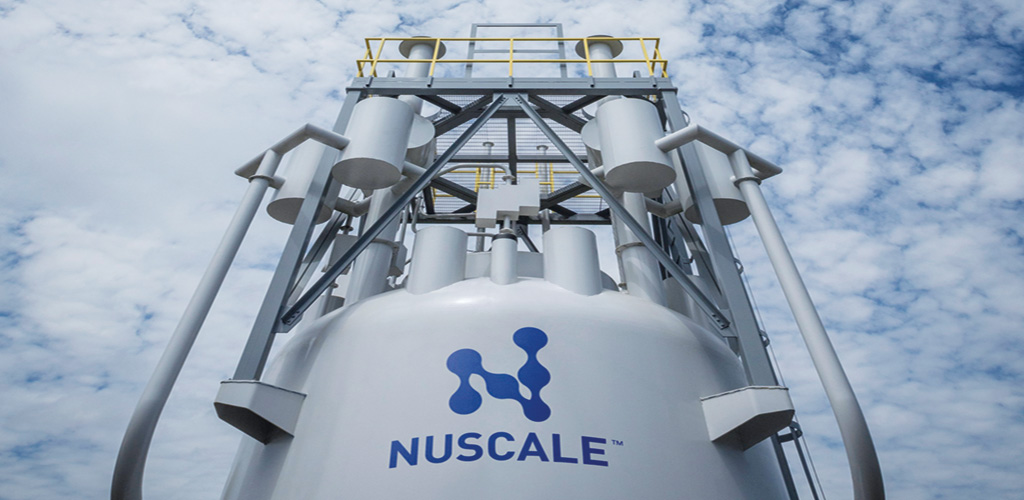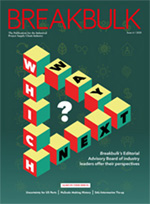 By Lori Musser
Modularized power plant components are giving stick-built developments a run for their money.
Labor, construction costs, equipment rentals, site facilities and supplies – all may be reduced with prefabricated elements, which, proponents say, can offset increased engineering, transportation and structural costs. The result can be better power-generation solutions, completed more quickly. However, in the U.S. in the last few decades, nuclear energy has been mired in controversy, largely left out of the clean energy investment game and the modularization trend.
That changed in late August when Oregon-based NuScale Power garnered international attention as its small modular reactor received design approval from the U.S. Nuclear Regulatory Commission. The NRC completed the six-phase (technical) review, which is the last and final phase of the Design Certification Application, or DCA, for the company's small modular reactor, or SMR, with the issuance of the Final Safety Evaluation Report.
"With this final phase of NuScale's DCA now complete, customers can proceed with plans to develop Nu-Scale power plants with the understanding that the NRC has approved the safety aspects of the NuScale design," said Scott Bailey, vice president of supply chain for NuScale.
The initial concept for the SMR technology was developed from 2000 to 2003 at Oregon State University, with starter funding provided by the U.S. Department of Energy. NuScale has been working to commercialize it since 2007.
Bailey said: "To date, NuScale has invested over US$1 billion in our technology development and licensing, which includes federal support from the U.S. Department of Energy of over US$300 million in cost-shared funding."
The energy department's investment undoubtedly reflects the economic and national security significance of successfully bringing the first U.S. small modular reactor to market. "The zero-carbon energy of the future is no longer a distant dream," Bailey said.
The NRC go-ahead is a milestone. The U.S. Energy Information Administration reports that the average age of U.S. commercial power reactors runs about 40 years. Aside from the Tennessee Watts Bar Unit 2, which began operation in June 2016, the next-youngest operating reactor is Watts Bar Unit 1, which entered service in May 1996.
Customers to Proceed
With NuScale's design now deemed safe, commercialization can move forward. The technology is expected to have international appeal. NuScale has about 550 patents granted or pending in nearly 20 countries, according to Bailey.
Some entities are already interested in converting non-nuclear plant sites, Bailey said. Customers now going ahead with plans to develop NuScale plants won't go it alone. Prospective modularized nuclear plant owners require a great deal of support in planning, licensing and developing new facilities.
Engineering, procurement and construction companies that have offered modular construction options to clients in power generation now have a new solution to offer. Fluor Corp. is already on board: in 2011, it became majority shareholder in NuScale.
NuScale's SMR-generated power is considered clean energy. It is carbon-free, and requires a far smaller land footprint than wind, sun or hydropower generation, according to company literature.
As currently conceived, a NuScale plant would be scalable up to a dozen 60 MWe (electric power megawatts) modules capable of powering roughly 540,000 homes in the U.S.
Bailey said a NuScale plant can provide reliable power for mission-critical facilities such as hospitals, military bases and data centers; support hydrogen production for fuel cell vehicles, industrial processes, or energy storage; and provide energy for oil and chemical refining to reduce the carbon footprint of certain refining activities using fossil fuels by more than 30 percent.
Because the NuScale plants don't require incoming power, they may be suitable for remote sites, connecting out to a grid, in a sort of microgrid situation.
A NuScale plant can also extensively "load follow" to complement intermittent power generation from wind, solar and hydropower. Three ways to change power output from a NuScale facility include:
• Turbine bypass, which, as the name implies, bypasses turbine steam to the condenser over a period of seconds/minutes/hours.
• Power maneuverability, which allows reactor power to adjust over a period.
• Dispatchable modules, which takes one or more reactors offline for a period of, say, a day or more. The operational flexibility of the plant can balance power supply on the grid, regardless of the time of day, season or weather.
Working with Weather Vagaries
The technology offers resilience for hurricane- or other disaster-prone areas. According to NuScale's built-for-resilience webpage, following a loss of offsite power event, a NuScale SMR can be "black-started" from cold conditions and continue to power an entire plant without the plant being connected to the grid. This is referred to as operating in Island Mode. The NuScale plant can provide power to the main grid in 60 MWe increments as soon as the grid is restored.
But when asked if the technology could in any way be used for temporary disaster-recovery efforts, Bailey said: "This is not a throw it-in-the-back-of-the-truck generator. It is not portable, but it is extremely robust."
The SMRs can do more than send power out to the grid, Bailey added. When Jose Reyes, co-founder and chief technology officer of NuScale, introduced the NuScale Diverse Energy Platform back in 2015, he highlighted the SMR technology as a nuclear "plug-and-play" solution that provides reliable, flexible power to diverse applications. "Our SMRs facilitate decarbonization across non-electrical applications, including water desalination, district heating, hydrogen production, and oil refining, as well as serving electricity customers that require flexible, safe power with renewable load-following capability," Bailey said.
Some of NuScale's cogeneration research collaborations have delivered impressive results. A 6-Module NuScale plant could produce about 240 tons per day of carbon-free hydrogen for an ammonia plant, and an 8-Module NuScale plant could produce 60 million gallons per day of clean water plus about 400 MWe to the grid – enough electricity and clean water for a city of 300,000 people.
Rollout
As of August 2020, NuScale had signed agreements with entities in the U.S., Canada, Romania, the Czech Republic, and Jordan. It has similar agreements in other locales in the works.
By the end of this decade, a NuScale 12-module power plant will become part of the Carbon Free Power Project, which is an initiative of the Utah Associated Municipal Power Systems public power consortium. The first module of the 720 MWe plant is planned for operation as early as mid-2029. All 12 modules are expected to be operating by 2030.
Modularized Components
The NuScale Power Module, or NPM, NuScale's flagship small modular reactor, will be fabricated in a factory, shipped by truck, rail or barge to the plant site, and housed in a reactor building. The module's main components are a reactor vessel, steam generators, and pressurizer, contained in an integral package. The main components range in size from 8 tons up to 195 tons and limiting dimensions range up to close to 19 feet. The components are small enough to be factory built for easy transport and installation.
To utilize the best and most efficient mode of transport, NuScale is reaching out to a cross-section of supply chain experts to facilitate future transportation and logistics.
"We are beginning the transportation and assembly process. We're several years away from moving things, but have already begun to engage the transportation industry to optimize the final design to incorporate transportation standards. We call it Design for Manufacturing Assembly and Transport, or DFMAT," Bailey said. Seeking out transportation companies for input on design is expected to make it easier to manufacture, assemble and transport.
"Involving the suppliers and those that have to assemble the components puts us one step in front," Bailey said.
He anticipates using barges as much as possible, but that won't always be possible. The company's first project is in Idaho – 500-600 miles from the nearest port of access. "So trucks will be important and necessary," Bailey said.
While most components will be made in the U.S., Bailey said NuScale is also working with fabricators in Canada and South Korea.
Where No One has Gone Before
"We are 'The little engine that could,' " Bailey said. "In spite of those that thought this could not be done, we have persevered. Taking an idea that was born at a university almost 20 years ago, starting a company with the single purpose of deploying this technology, and we are now on the verge of making it real through our first deployment in the United States."
NuScale's technology is new, and the movement of its reactor components will be new business for the transportation and logistics industry, but the process of loading, carrying and offloading the components may not be the biggest challenge for heavy haulers.
Because there are several large NuScale Power Module components that need to arrive on site with schedule precision, and there may be as many as 12 modules per plant, there will be dozens of large shipments per 12-unit power plant. "It will be like building 12 separate power plants on one site, each with its own steam turbine, etc. And, weather may be a consideration. Shipments will span about two years or more, meaning the winter months will need to be addressed.
"Tracking and transportation management with multiple subcomponents coming from multiple places will be extraordinarily important to us. There must be a well-choreographed transportation plan," Bailey said.
While NuScale will provide the SMRs, Fluor, as lead investor and EPC constructor, will supply the rest of the plant and have even greater transportation needs, handling essentials such as the steam power plant and equipment, according to Bailey.
"Visibility and firm delivery dates are critical. Components need to come in a predictable manner. We are really relying on the transportation industry to help us find ways to do it faster, better, cheaper," Bailey said, citing, for example, the need for customized cradles. He said he will seek creativity to continually optimize the cost and schedule.
NuScale's philosophy embodies creativity, reinventing things in better ways, pushing to make things more efficient. Bailey said the company's employees have a calling to make the world a better place, preserving natural resources for future generations. Modularized nuclear is NuScale's pathway.
Based in the U.S., Lori Musser is a veteran shipping industry writer.

Image credit:
NuScale