---
Jan 21 | 2021
New Energy Push Powering Project Opportunities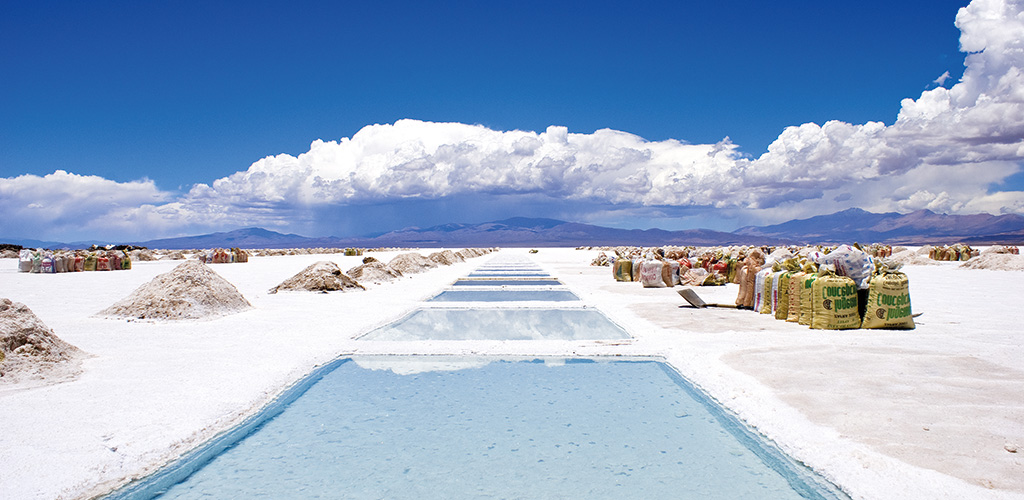 By Paul Scott Abbott
The worldwide push toward cleaner energy, including a shift to electric vehicles, is powering a dramatic rise in global mining opportunities and concomitant demand for project cargo moves.
In a world rocked by the Covid-19 pandemic and committed to greater supply chain self-sufficiency, new mines are anticipated to be developed in places beyond longstanding sources, resulting in a need to bring oversize equipment to sites nearer to end users of lithium and other critical minerals. Furthermore, additional infrastructure, such as rail lines and natural gas pipelines, may have to be built to support the new activity.
A World Bank Group report released in May 2020 projects production of minerals such as graphite, lithium and cobalt could increase by nearly 500 percent by 2050 to meet growing demand for clean energy technologies, which rely much more heavily upon minerals than fossil-fuel-based power generation. The report estimates that more than 3 billion tons of minerals and metals will be needed to provide energy storage and deploy wind, solar and geothermal power.
Demand 'Snowballing'
"It's really something that's snowballing," George Miller, an analyst who handles assessments for lithium and related materials for London-based Benchmark Mineral Intelligence, told
Breakbulk
.
"We're looking at huge compound growth rates in terms of material mined for a wide variety of critical minerals – ranging from graphite, nickel, cobalt and lithium to manganese and lead – that at the moment are not mined as commodities in a large sense whatsoever," Miller said.
For example, he said, the amount of graphite mined worldwide for the electric vehicle sector alone is expected to rise from 180,000 tons in 2020 to 1 million tons in 2025. Over the same five-year span, annual electric vehicle demand for lithium is predicted to go from 150,000 tons to 700,000 tons, and it portends to reach 1.5 million tons by 2030.
Meanwhile, according to Miller, the number of lithium producers globally has grown from 16 in 2016 to 26 currently, with 48 new projects in the pipeline to go into production over the coming decade. Worldwide, the number of mega-factories making electric batteries has increased from 28 in 2016 to 88 now, with 72 expansion projects and at least 29 new plants in the offing over the next 10 years.
"For the next 20 years, this is going to be potentially a quite important focus for project cargo participants, very much so for those engaged with critical minerals and electric vehicles," Miller said.
"In terms of shipping the equipment needed to build those mines, the demand is going to absolutely be huge," he said, adding that, further downstream, there will be skyrocketing demand for processing of minerals, cathode and anode production, cell manufacture and making of electric vehicles, as well as recycling. "There's a whole new supply chain that needs to be built around these critical minerals, and that would certainly play into the hands of those focused on project cargo."
The equipment involved, Miller said, is "incredibly expensive and voluminous, and that has to move all over the world."
Primary lithium suppliers are now in Australia and South America, but he said: "There's more of a trend toward supply chain localization as well. People are interested in building lithium mines all over the world. Graphite mines, too."
Miller said projects for mining lithium and related minerals are under way in such diverse locations as Serbia, Sweden, the Canadian province of Quebec and the U.S. state of North Carolina. In each case, deposits have been pinpointed.
"These resources are quite common geographically but just really haven't been exploited until now and haven't been looked at as commercially viable until now," he said.
"Genuinely, I would say there's no regional geographic focus of the supply chain," Miller added. "Nowadays, people are looking to develop these minerals within the end markets for electric vehicles. That way, you can keep the supply chain localized and cut down on some of the shipping costs. That would increase the proportion of equipment being shipped around the world."
Lithium 'Here to Stay'
Andrew Bowering, founder and director of American Lithium Corp., based in Vancouver, British Columbia, Canada, told Breakbulk that two trends are advancing simultaneously on the lithium front – rapidly escalating overall demand and a propensity toward development of resources closer to end users.
"Lithium is here to stay," said Bowering, who has been involved with numerous mineral exploration and development undertakings over the course of three decades, including as founder of Millennial Lithium Corp. and executive vice president of Prime Mining Corp., both also headquartered in Vancouver.
"It's very clear that the United States does not want to be dependent on the Asian economy for their future with lithium, as it has been with oil" from other nations, Bowering said.
Not surprisingly, then, lithium production ventures are springing up in Nevada, within a couple hundred miles of the Tesla battery gigafactory just outside Reno, Nevada. Tesla, launched by Elon Musk, the same South African-born magnate behind SpaceX, made 81 percent of battery electric vehicles sold in the U.S. in the first half of 2020.
"There will be some big equipment moving into Nevada," said Bowering, who said construction of lithium mining operations is likely to be augmented by building of natural gas pipelines and perhaps, to handle mineral shipments, railroad lines as well.
More Mines Needed
A recent report prepared for U.S.-based not-for-profit Earthworks by Australia's Institute for Sustainable Futures at the University of Technology Sydney, also cites burgeoning demand for lithium and other metals required by cleaner energy technologies. Lithium is a key raw material in manufacture of lithium-ion batteries, which are used in laptop computers and smartphones in addition to electric-powered vehicles.
"The transition toward a renewable energy and transport system requires a complex mix of metals – such as copper, cobalt, nickel, rare earths, lithium and silver – many of which have only previously been mined in small amounts," states the report, co-authored by Elsa Dominish, Sven Teske and Nick Florin. "Under a 100 percent renewable energy scenario, demand for these metals could rise dramatically and require new sources of primary and recycled metals."
According to the report, batteries for electric vehicles are the main driver of such need, with rapidly increasing demand for cobalt, lithium and rare earths far exceeding availability via recycling, and thus precipitating the need for more mining. The report also cites a trend toward a greater globalization of sourcing to help secure ongoing worldwide supply while reducing vulnerability to price fluctuations.
On the flipside, mining and processing of metals, if not managed responsibly, can have significant negative environmental repercussions. In the case of lithium, water contamination is of great concern in the traditional South American "ABC" mining triangle of Argentina, Bolivia and Chile. Therefore, new ventures may be subject to intense environmental scrutiny.
Europe Takes Action
In September, the European Commission launched a new industry alliance for building a complete European Union supply chain for lithium and other raw materials seen as critical for the bloc's digital and green transitions. Environmental sustainability is one of the new alliance's cornerstones.
In announcing the establishment of the European Raw Materials Alliance, with more than 150 stakeholder partners, Maros Sefcovic, vice president of the European Commission, said: "Our strategic foresight shows clearly that the demand for critical raw materials is only going to rise, especially given the ongoing transition toward a green and digital economy.
"The pandemic has also highlighted the criticality of raw materials for our recovery," he continued, adding that, in addition to rapidly rising demand driven by electric vehicles and energy storage, demand for rare earths critical for products like wind turbines could increase tenfold by 2050. "To secure a sustainable supply of raw materials, we need to join forces across Europe, as we have done for the EU Battery Alliance."
Whereas top lithium producers and refiners worldwide are now primarily outside Europe, including in Australia, Chile and China, Sefcovic said Europe could be "pretty self-sufficient" by the middle of the current decade.
Portugal is Europe's main lithium producer, but costs there remain comparatively high. Thus, the race to electrify Europe's vehicle fleet has triggered a flurry of plans to open new mines. For example, in April, investors gave the green light to a lithium and tin project in the Czech Republic.
US Eyes Self-Sufficiency
In the U.S., which relies upon China for about three-quarters of its supply of rare earths, the push toward self-sufficiency in sourcing of lithium and other commodities also is intensifying – along with the desire to advance more environmentally friendly technologies.
With Joe Biden assuming the U.S. presidency from Donald Trump, the nation is focusing on a far-less-carbonized energy future, as indicated by the naming of John Kerry, who served as U.S. secretary of state from 2013 to 2017, to the new post of U.S. special presidential envoy for climate under the Biden administration. Biden also is returning the U.S. to participation in the Paris Agreement on climate, from which Trump had withdrawn the nation.
Biden is an advocate of boosting domestic mining while promising federal spending of US$1.7 trillion over the next 10 years to support build-out of American clean energy infrastructure as part of efforts to achieve a 100 percent clean energy economy – with net zero emissions – by 2050.
Biden's US$700 billion-plus "Buy American" initiative plans to shift to the U.S. more production of numerous commodities, including batteries used in electric vehicles. At present, according to Benchmark Mineral Intelligence, China has 130 mass-scale battery mega-factories in operation or in the pipeline, while Europe has 16 and the U.S. just 10.
Mainstream U.S. automakers, with GM and Ford leading the way, have pledged to work with Biden to reduce climate-warming emissions from cars and trucks by delivering "an all-electric future." GM, for example, announced in November plans to launch 30 new electric car models by 2025 as part of a US$27 billion commitment to electric and autonomous vehicles, including a US$4.2 billion investment to build electric cars in Detroit and in Spring Hill, Tennessee.
And the electric battery market optimism is by no means limited to passenger vehicles. London-based market research firm Interact Analysis reported Nov. 11 that, after a Covid-19-induced 7 percent decline in the market for battery electric commercial vehicles in 2020, continuing a downward trend in 2019 related to Chinese subsidy policies, the sector is poised for a stunning 47 percent growth in 2021, driven by big gains in Europe and North America.
Tilting Away from China
According to an Oct. 21 report from Scotland-based global natural resources consultancy Wood Mackenzie, more than US$1 trillion of investment will be needed in key energy transition metals such as aluminium, cobalt, copper, nickel and lithium over the next 15 years just to meet the growing demands of decarbonization – almost double the figure invested over the previous 15 years.
Julian Kettle, Wood Mackenzie's vice chairman for metals and mining, told
Breakbulk
he expects much of the growth to be focused on China, which typically supplies more than half of global demand for these energy transition metals.
"But," Kettle said, "as New Green Deal-type consumption starts to build in developed nations – including the EU, U.S. and Japan – these countries will pick up the mantle. There will also be a tilt away from China supplying critical raw materials and products given an increased desire for supply security post-pandemic.
"There will be a tilt during the second half of the decade toward self-reliance and the extraction and processing of raw materials in the West," he said, "so we will potentially see raw materials trade flows rising within the rest of the world, as opposed to between the rest of the world and China."
Project Moves to Rise
Clearly, what all of this means is that the mammoth equipment used for extraction and processing of these high-demand minerals will need to be transported to a growing number of sites throughout the world, including locations where such operations have not before now been present.
Among project cargo transport leaders expressing sanguinity is Ivan de Souza, corporate vice president for global key account management for the mining and metals sector at Germany-based specialized freight forwarder deugro group.
"We should expect an increase in the demand for rare earth elements, or REEs, since these are essential raw materials for emerging renewable energy resources and smart electronic devices," de Souza told
Breakbulk
.
"Additionally, the current high growth worldwide in renewable energy projects as well as the increased demand in smart electronic devices will require a steady supply of REEs."
Today, China represents about 85 percent of global REE production, de Souza said, commenting: "It is a monopolistic supply situation."
Global production of lithium, driven by electric vehicle sales, is expected to double by 2024, he said, with China leading global demand due to the increase in lithium-ion battery manufacturing capacity within China. Lithium demand also will continue to be driven by electric vehicle sales.
"There is definitely growing demand for lithium, and forecasts show that the market is going to experience increased demand over the next couple of years," de Souza said. "Consequently, there will be a necessity to build new lithium mines around the world. The construction of these projects will require the movement of heavy and over-dimensional project cargo, to be executed by well-experienced freight forwarders."
A professional journalist for nearly 50 years, U.S.-based Paul Scott Abbott has focused on transportation topics since the late 1980s.
Image credit: Shutterstock