---
Nov 23 | 2020
What happens when a travel mogul and a visionary heavy lift expert get together?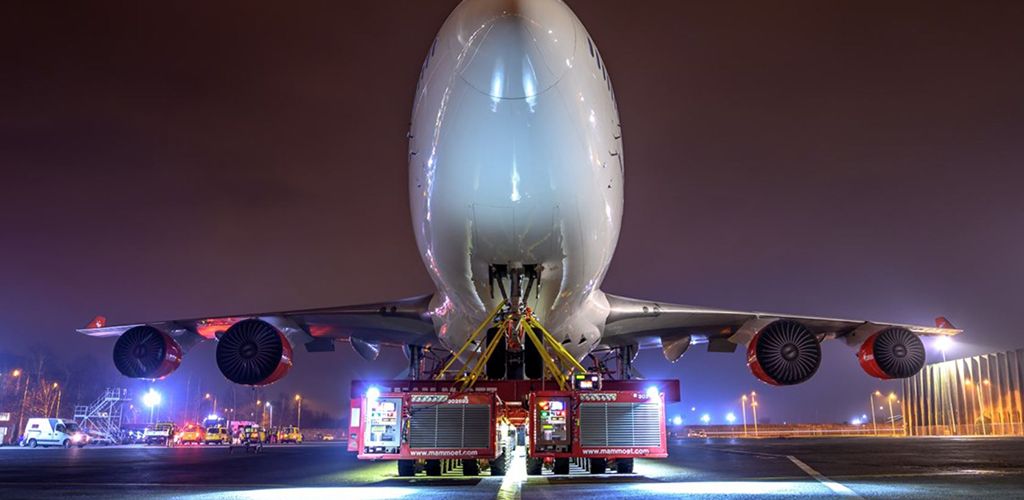 When Mammoet was tasked with transporting a Boeing 747 from Schiphol Airport to the Corendon Village Hotel, this meant bringing together a range of stakeholders as diverse as government, airlines, and local farmers. Sometimes, a successful project relies on getting its people– and load–pointing in the right direction.
It started with a chance meeting in 2018 between travel baron and hotelier Atilay Uslu and Mammoet's CEO Paul van Gelder who conceived of an ambitious project: to install a Boeing 747 passenger plane directly into the garden of the Corendon Village Hotel.
"It was a great idea, but basically impossible to put into practice," admits Uslu. "To transport the plane 12.5km from Schiphol Airport to the Hotel, we would need to build 17 bridges, close the A9 motorway and the provincial highway Schipholweg, and also build temporary roads across farmland."
"Various businesses pitched for the transport, suggesting all kinds of crazy plans, such as cutting the plane into pieces and flying it in by helicopter. It wasn't until Paul called that I really felt this could happen. He said that Mammoet would find a way, with a no solution, no pay guarantee, and I felt I could put my trust in him."
There were nearly 20 stakeholders involved, with three main groups that required reassurance before the project could go ahead: the local government, Dutch national airline KLM and all landowners along the transport route. So, Mammoet and Corendon began the complex task of persuading each one that the project could be completed safely, carefully, and within a defined time window.
Mammoet Project Manager Maarten Hegeman explains, "On the surface, transporting a 160t plane over highways may seem like a tall task in and of itself. Primarily, this project was an exercise in coordination. By this, I mean that when working with key stakeholders, each with different priorities and procedures, everyone must be aligned in thought for the operation to progress smoothly."
"But, for Mammoet, the most challenging aspect of the project was what happened leading up to this point to make it possible."
Mammoet is familiar with working alongside officials during projects such as this, and this can often be a time-consuming process. However, Senior Supervisor Jan van Wees Jr. had a plan.
"We worked with Corendon, leveraging its influence to speak to the relevant officials as soon as possible," van Wees Jr. Said. "Mammoet could then present detailed plans for the operation, including considerations for emergency vehicles and the structural capacity of the roads.
"As a result, highway use was limited and a narrow night-time window was granted to cross the A9 route, keeping disruption to the public to a minimum."
At other points, where the path intersected other busy roads, Mammoet had to gain permission from the local government to close them temporarily so that they could be crossed safely.
Persuading the owners of the farmland was more challenging. This was heightened as, when Mammoet was first contracted, the landowners had not yet been identified.
"Transporting a plane over fields like these may be technically feasible, but it is impossible if you don't have the permissions to do so," Hegeman said. "Mammoet and Corendon worked together to negotiate with the 15 landowners and convince them to provide permissions so the project could ahead."
Most of the owners were initially receptive. However, some were nervous about the potential damage that a load of this size could cause to their land and livelihood. There were concerns that infrastructure such as underground irrigation systems could be damaged under the pressure of a plane and SPMTs - weighing a total of 204t.
"To reassure the landowners, Mammoet analyzed all the subject infrastructure and reinforced the route to ensure no damage would be done. One by one, the landowners gained confidence that the project could be completed safely," Hegeman said. "Once all had given the green light, transport was cleared to proceed."
With the local government and landowners in alignment, the last piece of the puzzle involved the heavy lift of the 747 itself. The plane needed to be lifted onto SPMTs, however, Mammoet needed to prove to its owner, Dutch airline KLM, that this operation could be completed safely.
Aircraft are not designed to be lifted 1.8m into the air—all manuals are limited to the 20cm jack-ups required for maintenance and landing gear tests. As no protocols had been designed before, Mammoet completed the engineering studies and calculations itself to prove that a safe jacking operation was feasible.
"Our detail demonstrated to KLM and Schiphol Airport that the lift could be completed with nothing added or adjusted to change the structural integrity of the plane, and so the lift was approved," Hegeman said. Now that all stakeholders had been reassured, his team could move onto the actual transportation.
Months of planning had led to this moment. Lining the route were 6,000 aviation fans and spectators who had gathered to watch. They were joined by thousands more following a live stream online, as the plane was maneuvered across highways and farmers' fields towards the back yard of the hotel.
Many preparations had been made to ensure the move passed off without a hitch. Ditches had been bridged and street furniture removed from tight turns. Where required, steel bridges had been constructed to raise the plane above the main drinking water and fuel pipelines supplying the airport, preventing damage to crucial infrastructure.
Traffic had also been closed at the interchange of the A4 and A9 highways, to allow space for this ultra-wide load, while the movements themselves were staggered to have the lowest possible impact on nearby residents.
The final stage of the process involved squeezing the 747 through a tight gap at the entrance to the back garden of the Village Hotel. "From our planning, we knew that it was possible to get the plane into position – just," Van Wees said. "These planes are designed to land on mile-long runways, so delicately moving them near busy roads and buildings is an unusual challenge.
"In the end, there was only 20cm between the plane's wing and the hotel. This highlights that precise planning and execution go hand in hand. The work done in preparation for this kind of transport is only possible if the operator's execution matches it and vice-versa."
In the early hours of the morning, the aircraft was inched into position. Testament to his hands-on approach, Uslu was there to bear witness to this success, made possible by the trust built during that first meeting. "We're all professionals, we all love our work and we have mutual respect for each other. Through clear communication and honesty, we built an ambitious but successful plan," Uslu said.
"This wasn't an easy project by any stretch of the imagination; we were moving a 170t jet with a 60m wingspan through a 52m wide hotel entrance. But with a 53-point turn and a clearance of only 12cm, the plane slid into place."
"We had a control room set up with the fire brigade, police, military police, local government, Schiphol Airport personnel and security experts present and, honestly, it was a work of art seeing the maneuver take place."
Wise words
The transport of a cargo like this will live long in the memory of those who witnessed it. What couldn't be seen, though, was the painstaking planning and negotiations that had been required behind the scenes to make this a reality.
Mammoet understood Corendon's vision and, most importantly, was able to convey this to the key stakeholders. Regardless of how skillful the transport solution was, without negotiations with the government, cooperation with the landowners and the efforts to assure KLM, Corendon's garden would have remained empty.
Most importantly, the move has made a real difference; both visual and financial. ""The 747 has put Corendon Hotels on the map," said Uslu. "Everyone wants to hear the story of the plane in our garden and it has converted in monetary terms too.
"We couldn't have done that without our Mammoet colleagues, and we've sparked a lifelong friendship. Mammoet has certainly adopted the Corendon Village Hotel and I always see team members staying here."
---
Subscribe to BreakbulkONE and receive more industry stories and updates around impact of COVID-19.