---
Aug 25 | 2020
(Europe & Americas) First LHM420 Assembled Remotely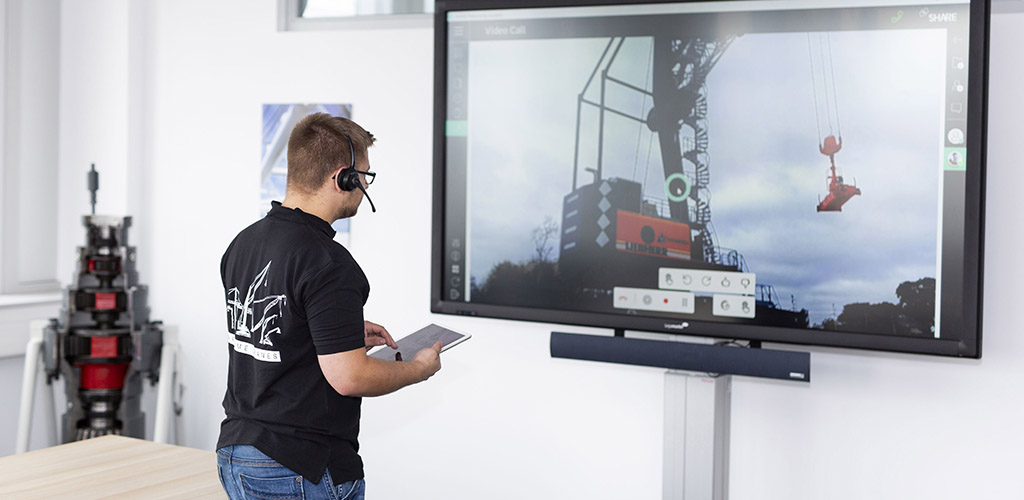 Crane manufacturer Liebherr has completed full assembly of its first mobile harbor crane ever using its new Remote Service tool.
The new technology integrates audio and video calls, chat function, screen sharing, image and document exchange, as well as whiteboarding functions to enable collaboration on handling of breakbulk crane components.
"From my side, I can tell you that this commissioning job has been a great experience and a great challenge for us, and we are pleased to deliver the crane to the customer according to the initial schedule and without any trouble. The Remote Service Tool certainly contributed to this," said Benoit Cibert, engineer at Liebherr.
LHM 420 Assembly
The tool was used for the assembly of an LHM 420 crane in Argentina, with cameras installed on site and daily virtual meetings held to guide the project and input from engineers at the firm's head office in Germany.
"Thanks to the high level of cooperation Liebherr could hand over the new LHM 420 to Euroamérica despite the current challenging global situation," a spokesperson for Liebherr said.
The new remote tool was developed by Liebherr subsidiary Liebherr-MCCtec Rostock a leading manufacturer of maritime material handling solutions.
Accelerated Deployment
Current restrictions on travel around the globe have led the firm to hasten its plans to launch remote services as customers face new operating paradigms in the wake of Covid-19 lockdowns.
"Due to the current pandemic situation worldwide, Liebherr has accelerated the market launch of Remote Service in terms of an extended test phase," the firm said in a statement.
Liebherr said that all customers with maritime cranes, deep foundation equipment and crawler cranes up to capacities of 
300 tonnes can now use the Remote Service App free of charge until the end of 2020.
Headquartered in Germany, Liebherr Group employs more than 46,000 people worldwide and is one of the world's largest manufacturers of construction machines. The group is an exhibitor at Breakbulk Americas.
---