---
Mar 06 | 2019
Don't Sidestep Mental Health Issues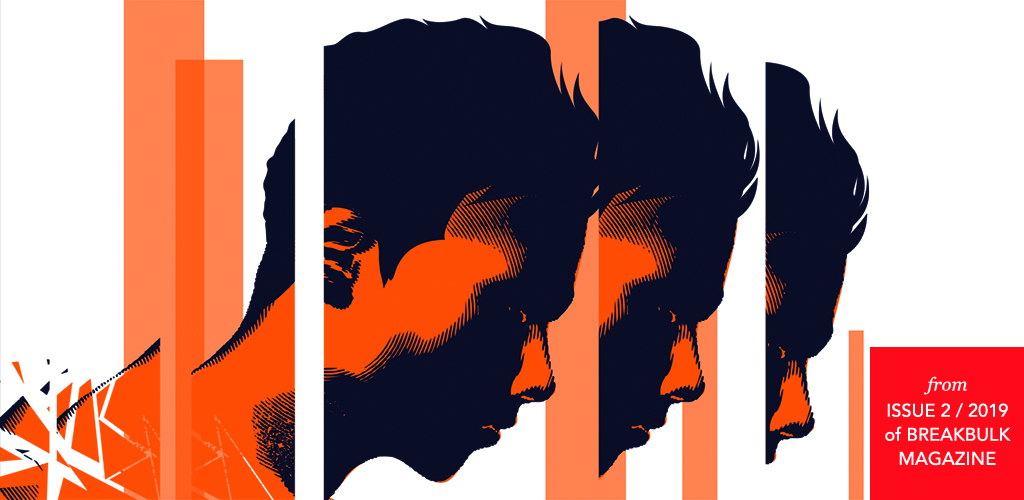 By Carly Fields
It has long been a taboo subject, but employers in the project cargo and breakbulk industries are having to face up to the reality of addressing mental health issues in their workforces. With the heavy demands and stressful nature of the project logistics sector, focus is turning to early detection, better communication and greater transparency to deal with mental health challenges.
Face-it Foundation founder Mark Meier has particular experience of mental health issues in men, the dominant sex in the breakbulk and project cargo industry despite a concerted drive to bring more women into the industry.
He said that statistics reveal that one in 10 men experience depression, but fear, shame, and a lack of understanding about depression prevents many from seeking help.
"Men often feel pressured to simply 'man up' and 'get over it.' There's the fear that admitting to a struggle or asking for help will be seen as unmanly, and men often reject the idea of taking antidepressants or seeing a counselor," Meier said. Worse still, some men are not even aware that they are depressed — they only know that life has become unmanageable. Tragically, in the U.S. more than 35,000 men die by suicide each year, often due to depression, he said.
Meier has a master's degree in social work and has taught and lectured on depression to mental health professionals across the U.S. Seventeen years ago he attempted to take his own life. It's this personal experience with depression that prompted him to found the Face-it Foundation in 2009 with a goal to help men understand and overcome depression, and reduce the rate of male suicide. The foundation provides men's support groups, one-on-one peer support, outreach events, public education, and training for mental health professionals.
"The stigma and shame of being a man is alive and well in the U.S.," he said. "Here – and I would imagine in most industrialized countries – about 17 percent to 18 percent of the population suffer from anxiety, and about 10 percent suffer from depression." The majority of these two groups will be in employment. "By and large the workplace represents society, so these figures are significant." Suicide, he added, is on the rise globally in industrialized nations and he sees profound pressure on men that was not there just one generation ago.
Ignorance is Not Bliss
The worst thing a breakbulk or project cargo company can do is ignore a mental health issue. Still, too many employees – and employers – see mental health challenges as a weakness. Through their approach to mental health, companies need to demonstrate that it is no different to a physical illness.
Vigere Managing Director Colin Payne spent 11 years as human resource manager at Swire Pacific Offshore. He brings medical expertise to the mental health problem through his training as a clinical neuro-psychotherapist. "A company would get upset if an employee were to come to work with an illness that might affect others or have the potential to cause injury to themselves or others," he pointed out. "Why would this be any different to mental health? My view is, put your head in the sand at your peril.
"We now have the tools to understand the challenges, the skills to make life better for everyone, and to get the subject on the table and talk about it like adults. A great many celebrities and leaders have come forward in the past few years to show that it is OK to speak about this and to show vulnerability. Until we recognize the challenge and accept it we will never make inroads to solving it."
Andrew Turner, proposition manager, benefit consulting, at JLT Employee Benefits, pointed to a September 2018 policy paper produced by the Sainsbury Centre for Mental Health that found that 40 percent of days off per year in the UK are attributed to mental health problems, costing businesses £8.4 billion. Further, mental health was found to be the leading cause of sickness absence in the UK by the Business in the Community in its Transforming the Role of Line Managers report, costing an estimated £25 billion per annum. JLT is a specialist insurer offering coverage of the project cargo sector through its member group unit JLT Specialty.
Turner sees mental health as "a continuum" that can be triggered by individual events or the buildup of stresses. Specialist charity MIND calculated that at any one time 25 percent of the workforce will be suffering from a common mental health condition, such as stress or anxiety. "However, many bottle this up," he said. "The impact for businesses will then be increased attrition and increase need for recruitment – and all the costs associated with this. Business should work to create a culture in which employees can feel safe to disclose their mental health and ensure that the board and senior management are committed to this. This can demonstrate their commitment as a supportive and inclusive employer, enhance their employer brand and also positively affect their staffing and recruitment costs."
Risks in Trucking Sector
Multimodal transportation services and third-party logistics company C.H. Robinson supports Meier's Face-it Foundation and the stigmas it addresses. "Face-it positively impacts our community by helping men overcome depression," said Angie Freeman, chief human resources officer and president of the C.H. Robinson Foundation. "We have supported the non-profit for five years and are proud to be a part of furthering their great work. C.H. Robinson's philanthropic efforts are driven by the talents and passions of our employees, and we are proud to support the issues that matter most to our people."
C.H. Robinson, a household name in the trucking sector, has a bona fide reason to support such charities. In his own research, Meier has uncovered a high rate of anxiety and depression in the trucking industry, which he is unsurprised by.
"Trucking is a very lonely and isolated industry. The nature of the work contributes to high rates of depression. Companies employing truckers have a responsibility to address wellness," Meier said. This responsibility has to be driven from the top-down because, as Meier put it, "if top management don't believe in it, it doesn't go anywhere."
He once delivered a session on mental health to a Fortune 500 company where the CEO made it clear that he wanted to introduce Meier to the workers. "That CEO carried more weight in his four minutes of introduction than I did in my whole speech, because he sent a clear message that he believed mental health was as important as everything else the company did."
Meier also has experience of companies telling him that mental health isn't their problem. "I tell them to look at how much they are spending on drugs. Then they realize that there is a problem."
Further, suicide costs companies hundreds of thousands of dollars in insurance payouts, lawsuits, lost earnings and so on, yet prevention can be relatively inexpensive. "All of life boils down to one thing: do you care or don't you?" he asked.
Top-down Support Essential
The need for top-down support of workplace mental health initiatives is echoed by Dr. Ralf Franke, head of environmental protection, health management and safety and corporate medical director at Siemens. Franke has been instrumental in setting up a number of mental health projects over his 10-year career at Siemens, and was personally responsible for the establishment of the department he now leads. Like Vigere's Payne, he also brings specialist expertise to the table. A trained medical doctor, Franke benefits from clinical understanding as well as emotional and corporate appreciation of mental health issues.
"At Siemens I made this a cultural topic," he said to Breakbulk. "Changing the culture from a company where psychological topics were a taboo to a company engaged in mental health awareness needs buy-in from the top. Those at the top act as role models and clearly lay out expectations so that everyone knows what's the right behavior."
Siemens adopted a two-prong approach to the problem. The first was to systematically identify and evaluate stress in the workplace. It then made any necessary and appropriate changes. "We call this psycho-social risk management. Here we use our global employee survey as a regular screening tool. We have 13 questions embedded in our employee survey dealing specifically with mental health."
The second approach sees Siemens maintain a portfolio of local services offering free information, training and consulting to develop and promote health education for employees and managers. The OEM has also created videos with personal reports from employees, managers and the CEO speaking about their problems. These have been shared openly with staff, which, Franke said, "personalized and destigmatized mental health issues."
MPV Workforce
Vigere's Payne gives his top three recommendations to tackling mental health:
• Put resources into managing the topic.
• Understand your workforce and their issues, perhaps through forums or feedback forms.
• Engage regularly with your workforce and help them to feel part of the total corporate community, not just hourly labor.
Looking after seafarers is seen as particularly pressing when it comes to mental health. Roll-on, roll-off ship operator Wallenius Wilhelmsen ensures that:
• All its vessels have access to free Internet onboard so that the crew can communicate with their families and friends on a daily basis.
• All owned vessels are equipped with a gym/sports room.
• Healthy food options are available on board.
• Extra medical is provided above and beyond what is mandated by regulation.
The company states in its corporate social responsibility, or CSR, literature that it prides itself in being a responsible employer, providing a safe, challenging and fulfilling work environment. It also supports seafarers' families through support for social initiatives, like family days and spouse clubs, and through the provision of insurance programs.
For the MPV seafaring workforce, Payne suggested helping the master manage the community on board, training them up and establishing some corporate initiatives to run across the company or between vessels. "Personally I think building positivity is critical to counter the global drive of negativity. Managing both sides of a continuum is necessary or the continuum gets shortened to a less rich and less valuable one," he said.
The breakbulk and project cargo sector also offers particular buttons for stress with its requirement for overseas travel at virtually every level and on-site project roles that can take employees away from friends, family and their secure social network for extended periods of time. JLT's Turner said that surveying employees to understand what stresses they face at an individual level is critical in these instances. Then strategies and solutions will need to be built to support employees in managing those stresses, for example:
• Flexibility around shifts.
• Resources to support them and families with caring responsibilities.
• Availability of Skype-type facilities (even simply access to the Internet) to support face-to-face contact when away.
• Building digital communities and forums to help share stresses and concerns.
If money were no object, Payne recommended coaching for each and every employee. "We need to teach people to live in this new world. We don't just need what they call 'grit,' we need people to thrive in a world of disruption."
He added that leaders need to help employees understand the role and direction of social media and its often underappreciated negative side.
More to Be Done
There is much more that breakbulk and project cargo companies can do to address, alleviate and mitigate the problems associated with poor mental health. As well as some of the initiatives already detailed, Siemens explains how it has partnered with MIND to support the charity's aims through different channels.
First, Siemens' CSR vision has a "business to society" function which encourages it to support businesses such as MIND. Second, it supports MIND's information and advice info-line. Lastly, Siemens supports its employees in their fundraising for MIND with two days of volunteering leave annually.
JLT has offered an Employee Assistance Program for a number of years, with face-to-face counseling available through this service. In addition, it has trained more than 60 employees to be mental health First Aiders across its national office base and publicized this to every employee through posters and desk drops. Wellbeing weeks and wellbeing days are promoted, on-site massages are offered, team walks are encouraged, visits from guide dogs are arranged, and stretching and meditation classes are offered. An intranet portal outlines what is available to employees. JLT also offers training for line managers on stress awareness and a financial wellbeing program in appreciation of the link between finance and mental health. This includes a financial education portal, a mortgage advice service and financial education seminars.
But while some breakbulk and project cargoes have evidently stepped up to the challenge of addressing and managing mental health issues, those efforts might only deal with the tip of the iceberg. Siemens' Franke explained why the digital transformation of work is increasingly affecting employees in the mental health arena. "Employees will have shorter and shorter innovation cycles and will have to digest information faster," he said. "More and more will be unable to cope with the speed of change. Also, the border between work and leisure will blur, which creates a risk that those employees that are engaged and motivated do not stop and take breaks when it is necessary."
This will affect both blue- and white-collar workers in the breakbulk industry. While blue-collar workers may not be able to "take their work home," they still face the stress of compression of work, and constant pressures on cost and quality. White-collar workers will suffer from the soon-to-be unavoidable inability to "switch off" as digitalization continues to stimulate the speed of work. Consequently, mental health challenges will only grow and companies that do not take their responsibilities seriously will suffer operationally, financially and reputationally.
Carly Fields has reported on the shipping industry for the past 19 years, covering bunkers and broking and much in between.
Image credit: Catherine Dorrough / Shutterstock