---
Jul 30 | 2020
(Asia) First Domestically Produced Wind Turbine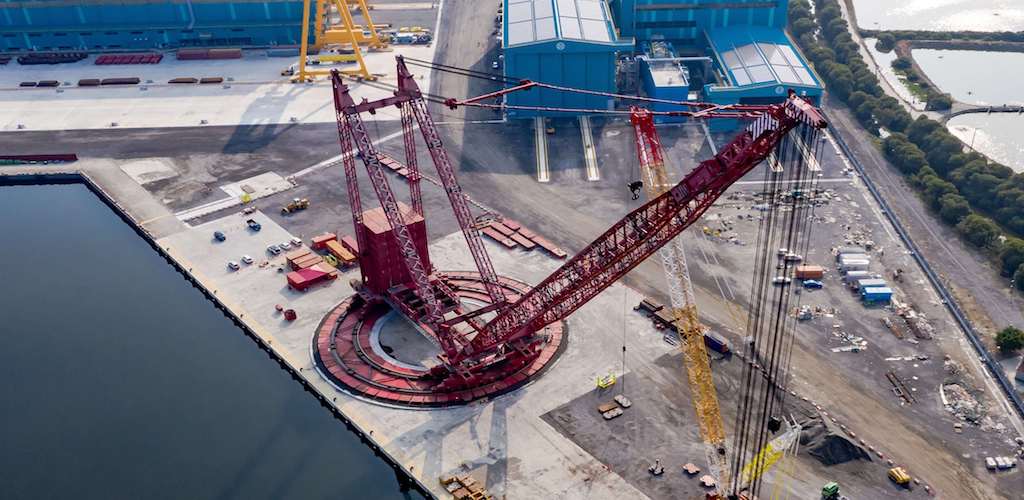 A joint venture comprising engineering specialists Mammoet and Giant Heavy Machinery Services has begun work on breakbulk transport planning for Taiwan's first locally fabricated wind turbine jacket foundations.
The partners are working with manufacturer Sing Da Marine Structure Corp. to provide assembly, transportation and load-out services for the giant units, which will form the basis for Taiwan's new wind power infrastructure.
"We are excited to leverage Mammoet-Giant JV's engineering expertise to assist us with the design of lifting arrangements that will ensure efficient and safe operations. Mammoet-Giant JV's wide range of lifting and transport technology is enabling time and cost efficiencies for this project," a spokesperson for Sing Da Marine Structure Corp. said.
72 Axle Lines of SPMT
Components will be fabricated in Taiwan at Sing Da Marine's facilities, with each huge jackets weighing about 1,200 tonnes.
Mammoet and Giant JV will perform the assembly, transportation and load-out of the jackets, ensuring safe transport from the fabrication line to nearby storage area. The 1,200-meter journey will be completed using 72 axle lines of self-propelled modular transporter.
"The PTC200-DS Ring Cranewill assemble the jackets by first upending the lower jacket structure before installing both the upper structure and transition pieces at a single location," Mammoet explained.
PTC200-DS Ring Crane
Four jackets will be simultaneously assembled near the PTC200-DS Ring Crane while the crane will also complete multiple heavy lifts to load-out each jacket onto the barge, increasing time efficiency for this project.
The offshore wind power project is under development by SDMS and renewable energy company Ørsted, and aims to provide the basis for growth in Taiwan's offshore wind supply sector through knowledge transfer and skill localization.
Headquartered in Schiedam in the Netherlands, Mammoet provides a range of services from transportation and logistics planning to heavy lift and crane rental. Headquartered in Xinfeng, Taiwan, Giant Heavy Machinery Services provides logistics solutions from small lifts to major turnkey project, on land and offshore.
---
Subscribe to BreakbulkONE and receive more industry stories and updates around impact of COVID-19.