---
Feb 17 | 2021
(Europe) Prototype Sander Speeds Maintenance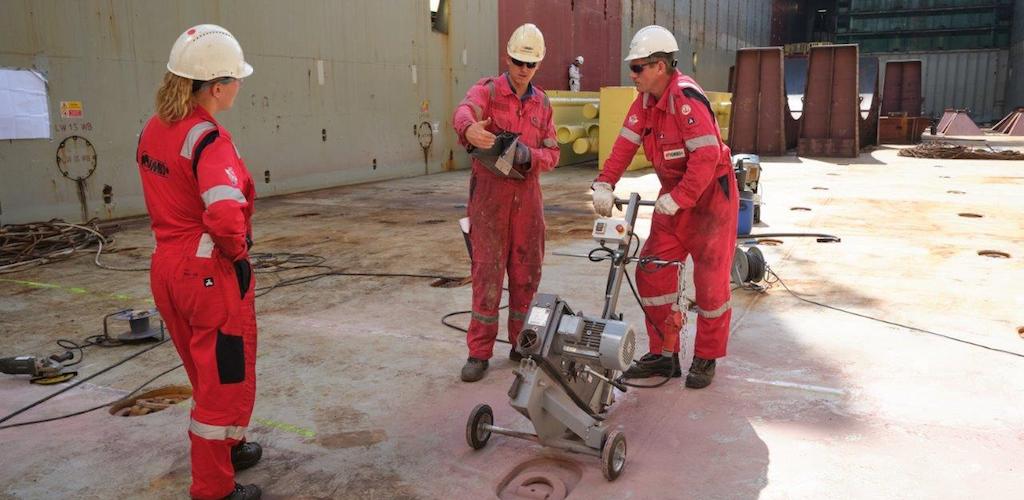 Breakbulk shipping firm Jumbo has introduced a new prototype solution to reduce flash rust on heavy-lift vessels.
The belt sander tool was developed in-house by the firm's Chief Officer Bob Heikoop and offers the potential to speed up the removal of temporary weldings.
"I wanted to combine a practical problem that Jumbo was facing with a subject that was important to society in terms of sustainability. Solving the flash rust problem could achieve both of these. First, reducing our environmental footprint by reducing the release of paint and steel particles. Second, preventing, or at least reducing the rusty appearance," Heikoop said.
Unblemished Reputation
The new solution was designed to tackle flash rust, which regularly tarnishes Jumbo's fleet of nine heavy-lift vessels. Caused by the corrosion of steel particles dispersed during the removal of temporary welded securings, flash rust does not affect operation, but has "the potential to be detrimental to Jumbo's reputation" for the proper management of its assets.
"The steel and paint particles formed during the removal process can also be harmful to the environment and to human health. Further adding to the list of negative consequences, the removal of the temporary welded securing is a time-consuming and uncomfortable task for the ships' crews," Jumbo states.
Fein GIMS-75 Belt Sander
To solve this problem, Heikoop modified a Fein GIMS-75 belt sander, with the addition of a spark/molten steel particle catcher, an extraction system, and a collection container.
The performance of the resultant prototype device was then verified within four separate parameters: removal of paint layer, removal of top part of temporary welding, removal of bottom part of temporary welding, and flattening of surrounding paint layer.
"We were very enthusiastic about the outcome ... But it is also much faster than the current way of working – on average, three times as fast – which makes it very interesting commercially. For the person using the existing method, this meant spending the whole day working on your hands and knees with an angle grinder on the deck of the ship. Whereas users can walk behind this prototype in a standing position. It is better ergonomically and it produces far fewer vibrations," Heikoop explained.
Based in Schiedam in the Netherlands, Jumbo provides heavy-lift and project cargo services worldwide and operates a fleet of heavy-lift vessels with lifting capacity from 500 tonnes up to 3,000 tonnes. The firm is an exhibitor at Breakbulk events.
---
Subscribe to BreakbulkONE and receive more industry stories and updates around impact of COVID-19.