---
Oct 15 | 2020
(Europe) Shipment to Immingham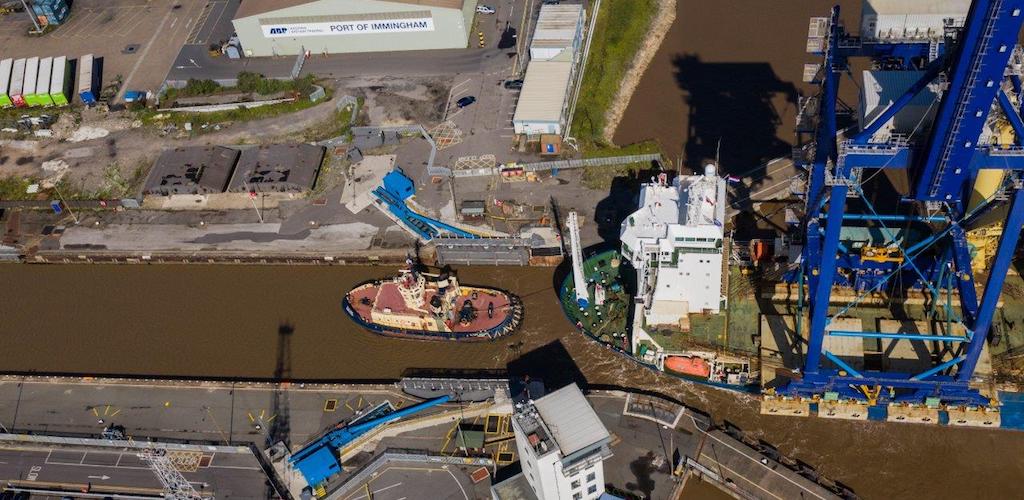 Breakbulk shipping line Jumbo Shipping has completed a record shipment of two giant ship-to-shore container cranes from China to the Port of Immingham in the UK.
The two cranes were delivered on behalf of Chinese crane manufacturer Nanhua International and weighed more than 1,500 tonnes in total.
"Transporting two cranes of this size in one go; that is indeed a cost-effective solution. But in order to successfully pull off a job like this, you need cooperation from all parties. As well as the cooperative thinking that we had with our client, we would like to praise the Immingham Port Authority for their help and willingness to consider this transport," said Laurens Govers, commercial manager, Jumbo Manager Commerce Shipping, said.
J-class Heavy-lift
The cranes were loaded aboard Jumbo's J-class heavy-lift vessel the
Fairpartner
in Taicang, China. Both units measured nearly 75 meters high, with the larger weighing 810 tonnes and the other weighing 788 tonnes.
"We used the vessel's own deck-mounted cranes to lift the first container crane onto temporary rails placed in the middle of the deck. We then moved the container crane forward to its stowage position behind the ship's accommodation," said Otto Savenije, Jumbo's senior project engineer.
Based in Schiedam in the Netherlands, Jumbo provides heavy-lift and project cargo services worldwide, and operates a fleet of heavy-lift vessels with lifting capacity from 500 tonnes up to 3,000 tonnes. The firm is an exhibitor at Breakbulk events.
Lock Challenge
The
Fairpartner
made the voyage to Immingham in 36 days, staying below air draft restrictions under the Mubarak Peace Bridge on the Suez Canal by lowering the jibs of the container cranes. Upon arrival at the Port of Immingham, the crew faced a challenge navigating maximum vessel beam of 26.8 metres at the entrance lock, but was able to surmount this by approaching at high tide.
"After changing our ballast configuration to stabilize the effect of raising the jibs, this meant that we could pass the locks safely, without risking collision with things like buildings, bollards or lampposts on the quayside," Savenije said.
Ultimately, the vessel was able to pass with just 60 centimeters horizontal clearance to the lock wall and 3 meters vertical clearance from the deck extensions to the quayside
---
Subscribe to BreakbulkONE and receive more industry stories and updates around impact of COVID-19.