---
Apr 15 | 2021
(Global) Alliance Creates Dominant Competitor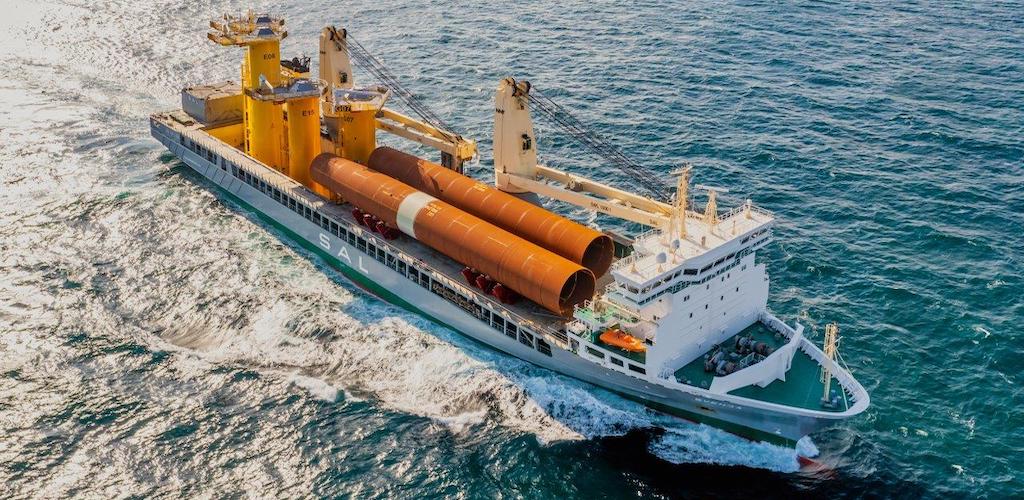 Dutch maritime heavy-lift carrier and engineering contractor Jumbo Shipping and SAL Heavy Lift, the German-based breakbulk and project carrier, said they have commenced their joint activities, as the Jumbo-SAL-Alliance.
The move will see the two firms combine their fleets across all commercial activities and unleash "a new powerhouse in the heavy-lift sector."
The new venture will control a fleet of 30 highly versatile project cargo vessels, with lifting capacities up to 3,000 tonnes, making it the largest fleet in the 800-plus tonne sector. The venture will also act as a single commercial entity for a joint sales network of offices and agents in more than 20 countries and will handle all marketing processes for the fleet.
The two venture partners
released a video
introducing the alliance, and has
created a dedicated website
.
Combined Fleets
Based in Schiedam in the Netherlands, Jumbo provides heavy-lift and project cargo services worldwide and operates a fleet of nine heavy-lift vessels with lifting capacities from 500 tonnes up to 3,000 tonnes. Within this fleet two have lifting capacity of more than 1,800 tonnes and a further two have capacity of 3,000 tonnes.
"This joint venture is a big step for both of us. In the past few years, it became increasingly clear that the benefits of collaboration heavily outweigh the traditional way of doing business. Our client base and interests have changed, and to remain an effective global player in our field of activity, you always need to adapt and innovate. Not only on a technical level, but also commercially. We believe that the flexibility and competences that our clients are looking for are best served by SAL's and Jumbo's combined assets and knowledge," said Michael Kahn, managing director of Jumbo.
Headquartered in Hamburg, Germany, SAL Heavy Lift, meanwhile operates a fleet of 22 heavy lift vessels the majority of which have capacity of up to 900 tonnes, while four vessels feature combined crane capacities of more than 1,400 tonnes. SAL is a member of the Harren & Partner Group.
"This collaboration allows us to bring an unrivalled shipping product to market. It provides a solid answer to the needs of big contractors and EPCs as well as manufacturers and forwarders. On one side, we can handle regular or spot-market breakbulk cargoes. On the other, we have the experience and the assets to handle very large and long-term scopes, including arranging third-party tonnage or whatever is needed to make good on our 'one-stop-shop' promise. Simply said, we want our customers to be happy during and after each and every project. This way, they will trust us to deliver a new heavy lift solution for them the next time," Jens Baumgarten, Director Chartering at SAL Heavy Lift, said.
Commenting on the announcement, Darron Wadey, market analyst at Dynamar, told Breakbulk: "What there is now is a change of circumstance. Whereas previously it was an announcement or statement of intent, we now have the formal launch of the venture following approval from the relevant regulator(s). Clearly, they didn't feel that the new venture, which would bring together around 35 vessels, 27 of which are capable of lifting loads of more than 700MT, would hold a dominant position. The next biggest operator – and only real competitor of scale – is BigLift Shipping whose fleet numbers 19 ships, all of whom offer a lifting capacity of more than 700 MT. It will be interesting to see how this new alliance develops, and if others are created."
Yorck Niclas Prehm of Hamburg consultancy Toepfer Transport commented: "When looking at the business models and fleet sizes of the top 20 MPP operators it becomes clear, that the fragmentation indicates a high potential for cooperation and consolidation in the market [but] unlike other shipping markets, the potential for cost savings is limited. MPP/Heavylift shipping is very labour-intensive and merging companies will not automatically create options to cut costs. Jumbo and SAL are presumably one of these few good matches. They offer complementary services, have a similar client structure and they share a commitment to an asset-heavy business model, extraordinary fleet capabilities and proven expertise in engineering and project handling. Acting jointly might also help to accelerate the inevitable fleet renewal, since the super-heavylift fleet gets older and the orderbook is blank."
'Highly Complementary'
The joint venture was announced last quarter and was cleared by the German competition authority earlier this month. In total the two companies bring more than 90 years of experience in the sector and both remain family-owned and managed.
Jumbo and SAL "are highly complementary, both in terms of fleets as well as human resources, both ashore and on board, while sharing many of the same values in terms of quality, safety and solutions focus," the companies said in a statement.
"I truly believe we are creating something extraordinary here. This strategic collaboration combines engineered transport solutions with a significant fleet of heavy lift vessels. The Jumbo-SAL-Alliance stands for the best in heavy lift shipping and in complex global transportation. We have a unique team of highly experienced people which can really create value for our customers. From engineering to full-scope project management, by combining our resources we can now provide services that literally exceed any other heavy lift service currently in the market. It's a winner," said Martin Harren, managing director of SAL and the Harren & Partner Group.
---
Subscribe to BreakbulkONE and receive more industry stories and updates around impact of COVID-19.