---
Jan 29 | 2021
(Americas) Delivery from Phu My Port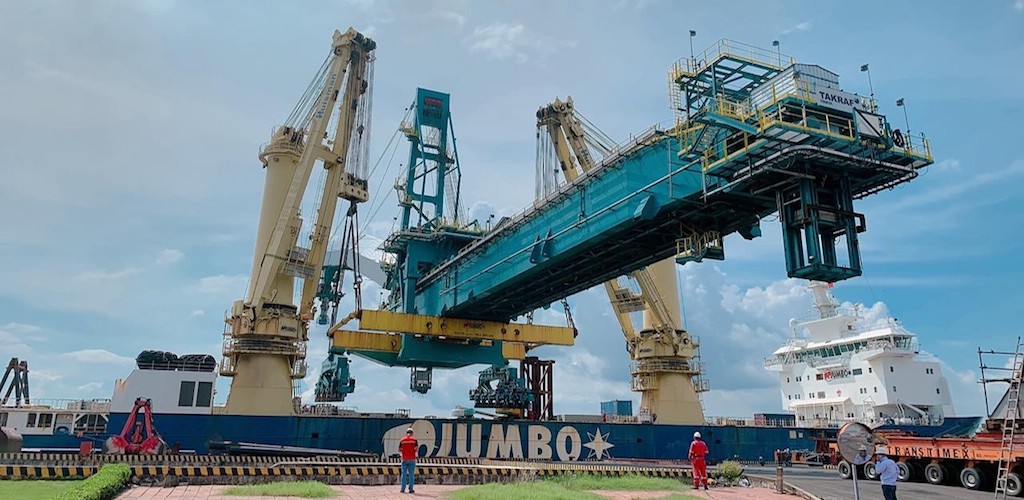 Heavy-lift specialist Jumbo Shipping has completed a record breakbulk project, transporting an outsized shiploader from Vietnam to Canada.
A team from Jumbo oversaw loading of the giant unit to the firm's multipurpose vessel
Jumbo Kinetic
at Phu My Port in Vietnam. The unit weighed 1,435 tonnes and measured 135 meters long, 25 meters wide and 43 meters high.
"Based on the size of the unit and the length of its boom, loading this shiploader at Phu My Port, Vietnam was a formidable task, but the dual lift went without a hitch," said Jan-Hein Reeringh, communications consultant at Jumbo.
Advance Simulation
The complex lift was completed on behalf of the machine's manufacturer Tenova and required advance simulation prior to loading to ensure the safety of the move. Having completed these calculations, the team then relied on the 3,000-tonne dual lifting capacity of the K-class vessel to complete the lift.
"With stage one of the lifting operation complete, the next step was to temporarily suspend the unit above the deck so that the boom could be retracted to change the center of gravity position," Reeringh explained.
The team were then able to re-rig and perform a single lift to move the shiploader across to its final stowage position. Once safely secured, the
Jumbo Kinetic
began the sea voyage to Vancouver, Canada.
Complex Discharge
Following a 20-day ocean voyage, the vessel arrived at the Neptune terminal in Vancouver and commenced discharge operations. This involved complex offloading operations to discharge the shiploader while it was half suspended over the water.
"The shiploader was then steadily maneuvered onto the pivot point at the quayside and onto the semi-circle-shaped rails above the water. Now in its final position at the Neptune Bulk Terminals in North Vancouver, this shiploader is reshaping the landscape of the port," Reeringh added.
Based in Schiedam in the Netherlands, Jumbo provides heavy-lift and project cargo services worldwide and operates a fleet of heavy-lift vessels with lifting capacity from 500 tonnes up to 3,000 tonnes. The firm is an exhibitor at Breakbulk events.
---
Subscribe to BreakbulkONE and receive more industry stories and updates around impact of COVID-19.