---
Feb 09 | 2021
(Asia) Monopile Transport and Installation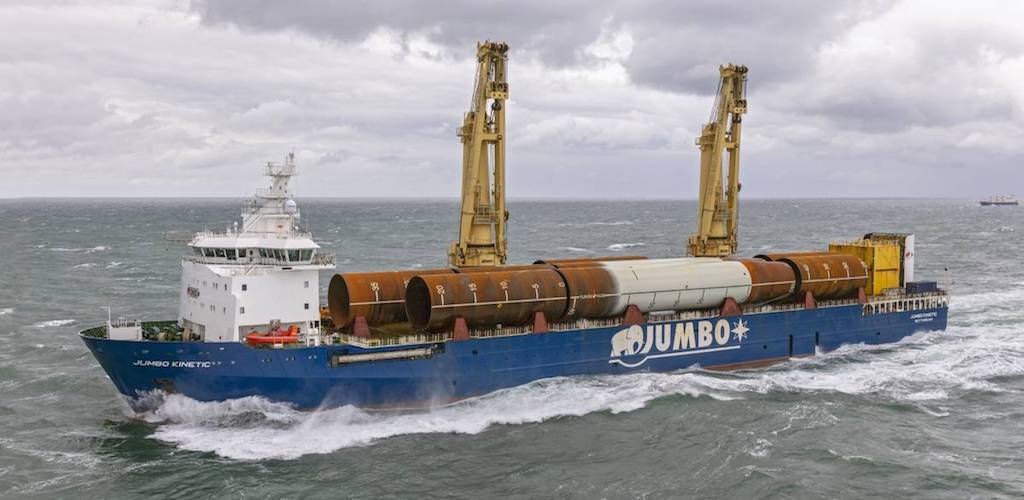 Cargo shipping firm Jumbo has completed transport and installation of breakbulk components for the Yunlin offshore wind farm in Taiwan.
The complex assignment involved delivery of 40 monopiles, 120 monopile sections and 40 transition pieces from yards in the Netherlands and Germany to Taiwan.
"Yunlin illustrates Jumbo's position as a Tier I contractor for a major offshore wind farm construction project. In addition to the actual transport of components from A to B, Jumbo's role was complete project management of numerous critical aspects of the project," a spokesperson for the firm said.
Tier 1 Operations
Scope of work for the project included all transport of components as well as engineering, design and fabrication management for the supporting and sea-fastening elements such as cradles, grillages and load spreader beams, procurement of additional equipment and services, as well as the chartering of third party vessels.
"Our eye for detail in the early contractual stages enabled the smooth progress in execution of transport. We highlighted potential bottlenecks in the port logistics in Taiwan well in advance, tackling them in an open and candid fashion to safeguard our client," said Boudewijn van der Garden, Jumbo commercial manager specialised in offshore renewables.
The firm was able to save time and costs by direct berthing at the fabrication yard in Germany and reusing the saddles and other sea-fastenings.
Short Communication Lines
The firm secured the contract with Yunneng Windpower in 2019, and has now completed transportation of all offshore wind substructures. The firm will next begin work on installation of 80 transition pieces, once again working at Tier I level, contracting additional services such as monopile cleaning specialists and TP grouting teams.
"In providing total project logistics management, we have had very short communication lines with all the project participants. We have worked with an efficient mix between our own tonnage and the support rendered by our competitor-colleagues. At all times, our client has had direct contact with the asset holder," said Laurens Govers, Jumbo Manager Commerce Shipping.
Based in Schiedam in the Netherlands, Jumbo provides heavy-lift and project cargo services worldwide and operates a fleet of heavy-lift vessels with lifting capacity from 500 tonnes to 3,000 tonnes. The firm is an exhibitor at Breakbulk events.
---
Subscribe to BreakbulkONE and receive more industry stories and updates around impact of COVID-19.