---
Jan 25 | 2021
14 Vestas windmills for Astana Expo 2017 Project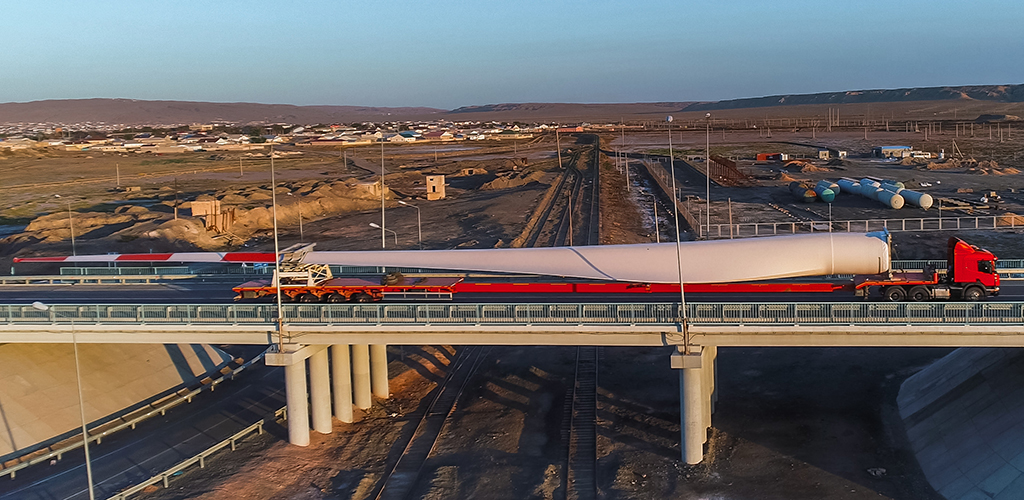 In October 2020, ISS Global Solutions SARL completed delivery of 14 windmills for the second phase of the Astana Expo 2017, covering a distance of more than 3500 kilometers. The longest land route distance record achieved by us in 2019 for General Electric wind farm project in Kazakhstan has been broken.
The second phase Astana Expo 2017 will expand the wind farm from 52 MW to 100 MW capacity. It is being developed by TSATEK Green Energy LLP, which has contracted the senior wind turbine manufacturer and leader of the modern wind energy market Vestas to supply 14 units of V117-3.45MW wind turbines equipped with Vestas Low Temperature Operation.
Cargo from Esbjerg and Vasta in Denmark, along with cargo from Taranto, Italy, was shipped directly to Port Aktau on the Caspian Sea. Sea-river type vessels— projects RSD32M, 005RSD03 and RSD49—were used for sea transportation. All handling and transportation procedures as well as the blades rotation were performed in accordance with the manufacturer's manuals.
During the pre-ops phase, ISS Global Solutions completed a survey in Kazakhstan which showed the road infrastructure wasn't suitable for the land transportation of 57-meter-long blades without modifications, which were performed in the shortest period possible.
ISS Global Solutions' scope of work also included road permits and in-bond transit under the temporary civil infrastructure changes caused by the COVID-19 pandemic.
Convoys were escorted by police and escort cars to ensure safe transportation of fragile cargo to the site in Kostomar, Akmola Region.
This was an operationally challenging project. ISS Global Solutions expressed its appreciation for all involved parties who helped with this on-time delivery: EAT and contractors Meridian Way, Mainstream Logistic, Almaty Consolidation Center, Kazakhstan Caspian Offshore Industries and Caspian Lads Brokers.
SEE MORE PHOTOS
---
Subscribe to BreakbulkONE and receive more industry stories and updates around impact of COVID-19.