---
May 07 | 2020
True Picture of Covid-19 Impact
By Johan-Paul Verschuure, Merdan Haydarov

BREAKBULK MAGAZINE ISSUE 3 / 2020 – EXECUTIVE SUMMARY – The deep tendrils of Covid-19 have meant that no country and no business sector has escaped the impact of the virus. Certainly, the breakbulk sector has felt its share of pain with shipments delayed and cancelled and companies laying off staff en masse in a desperate bid to be able to make it through to the recovery stage.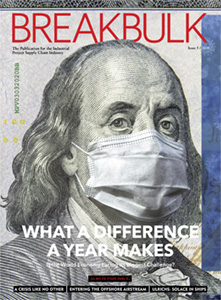 While the day-to-day effects in this fast-moving state of affairs are hard to gauge, a helicopter analysis of ship data gives insight into the actual impact on general cargo trade.

Exclusively for Breakbulk, WSP analyzed vessel movements data for general cargo vessels for a set of ports in China and North Europe. Limited activity for heavy-lift ships precluded them from this analysis.

Because this is an arbitrary grouping of ports, WSP summarized tables using indices to provide a more general view on developments. Analyzing those indices, WSP Senior Consultant Merdan Haydarov explains that volumes for major Chinese ports are expected to drop by 17 percent in the first quarter of 2020 compared with the first quarter of 2019. In comparison, volumes in the European ports dataset are expected to drop by 12 percent in the first quarter of this year.

"Shipping activity in China stabilized in March 2020, and a positive trend is expected to continue, while in Europe the falling demand could delay the recovery as the pandemic spreads," Haydarov notes.
However, the majority of vessel calls in Europe were under 10,000 deadweight tonnes, and this segment is expected to be particularly hit by the impact of the pandemic. This is especially true in Germany (down 17 percent in the first quarter of 2020), less so in the Netherlands (down 7 percent in the first quarter), while in Belgium (Antwerp) the number of calls actually increase over the period.

The second quarter will be even more challenging as the nature of the near-global lockdown, as well as the type of general cargoes being transported, have an influence over how volumes develop, said WSP.