---
Sep 13 | 2020
Bertling's MacIsaac Takes Reins During the Pandemic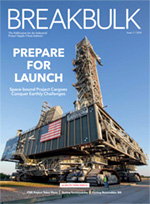 By Carly Fields
Back in April – when the pandemic was really tightening its grip on the developed world – global breakbulk businesses were desperately trying to make sense of an event that came straight out of a Hollywood script.
Before 2020, the possibility of a planet-wide pandemic simply wasn't a topic of conversation, and certainly not a factor in contingency planning.
It was in that state of severe flux that Bertling's Colin MacIsaac received a career-changing offer: to take up the CEO position at Bertling Logistics, replacing outgoing CEO Matthias Oehmicke.
Celebrating his 10-year anniversary at the company this year, MacIsaac said that he did not need to think too hard about whether to accept the offer or not. Speaking to
Breakbulk
, he said: "I was really up for this new challenge and felt responsible for our global team to take it."
He saw clearly that the Covid-19 pandemic would offer a time to adjust, grow and bring in new ideas. "So, this is an overall good starting point for a new head to take over at Bertling Logistics. We see and have always seen a lot of potentials for growth for us and also for outpacing our competitors, and I really look forward to working on these projects with our global team. I could not be more motivated, first, to motivate them, and secondly, to turn these projects into success."
His goals as CEO are clearly defined: to run a more modern commercial organization with better processes and less administrative work; to run a successful business and grow the organization from within; to become commercially stronger by investing in sales tools and resources, improving relationships with subcontractors and partners, and "selling a really good product;" to run a lean, but successful organization through empowering internal experts; and to carefully and responsibly expand in markets where Bertling Logistics sees real opportunities for growth.
It largely goes without saying that his overriding priority is to keep his employees healthy and safe.
In the Moment
Planning for the future is one thing; it is quite another to step into running a company in such unusual times. MacIsaac's and his global teams' challenge from day one was how to not only challenge, but also thrive from the pandemic. When the regional lockdowns started, Bertling Logistics made global collaboration software and a video conferencing tool available for all offices, and switched to home working to protect its employees.
This brought its own issues for a company that views itself as a people business, offering services, where personal involvement and relationships with customers and business partners still matter.
"We were sort of stuck in some unmodern, historically grown and non-remote processes," he said. "However, as we are all sitting in the same boat during this pandemic, everybody needed to adapt quickly and change the overall way of working and collaborating with each other." Since that unsettling start, Bertling Logistics has spurred on some process changes and digitization projects that were actually planned to be put into place later this year.
While it already had a digital offering for clients, it saw a huge increase in demand for paperless and secure documentation, particularly in developing markets. The challenge here was maintaining security, especially with opportunistic cybercrime on the rise.
"Ensuring digital supply chain security is a priority for us and gives our clients reassurance that their data is secure, protected and available at all times," MacIsaac said. "In this regard, we are discussing some new IT projects and enhancements to our existing IT systems to follow a more customer-centric approach, where our external partners can consume, demand and access the information they require in an autonomous and secure way based on real-time data."
External communication has also been overhauled with a shift from little to more open and frequent sharing of Bertling news and updates. "This situation, now more than ever, requires companies to communicate transparently, reward their global workforce for their work during this pandemic, let their clients know about their operational availability and performance, and openly communicate our way forward through this crisis, including which measures we are taking, where we see areas of concern (business related) and how we respond to them."
Change of Pace
All of Bertling Logistics' offices have remained operational throughout the pandemic, and MacIsaac has a great deal of pride in his teams and their abilities to flex into new working conditions. "Work" can now mean from home, on rotation or on split-shifts, a change that MacIsaac sees as permanent. "This work model won't go away anymore, that's for sure. Even more, we have to – now and also in the future – reward good performance and allow good people a certain flexibility on when, how and from where they fulfill their duties, as long as they deliver results and do their jobs. This is something we will continuously strive for," he said.
The pandemic has also served as a reminder of the critical importance of health and wellbeing, and that has led to a timely reevaluation of the way workforce teams care for each other. This has been a "real driver for global teamwork," MacIsaac said. "I think that we also now appreciate collaboration with our colleagues more. This is something that we took for granted before as we saw our colleagues every day. Now we have to arrange time to meet with our colleagues to discuss projects and developments. This also makes our interactions with clients and colleagues more productive."
He expects this shift to be permanent as well. In fact, a return to pre-Covid "normal" may never materialize: "Nothing will be like it was before, not only in the industry but in general. For sure we will eventually go back to normal, but this will be a new normal. This applies to the project logistics and freight forwarding industry as well.
"Companies, including us, will work on concepts to be better prepared for such exceptional circumstances in the future. There is no way around the fact that this crisis will be followed by the next one … and we have to make sure we put better plans in place to adequately respond and adapt to these situations in the future to ensure business continuity for our clients and employees. This is a learning process for all of us."
The long-term impact of this crisis on the breakbulk and project cargo industry will not be known for many months, if not years, so investment decisions need to be made very carefully, if not delayed. MacIsaac noted that some clients are already following that line, prompting projects to be pushed back, delayed or even cancelled. "This is why we are working on ideas on how to compensate potential gaps in the project logistics sector and increasingly focus on other sectors and further enhance our IT solutions in general, for which demand has already picked up again on a global scale."
Evolution Continues for Forwarders
The role of the freight forwarder was already changing before the pandemic hit, with forwarders vying for the service advantage and facing ever-increasing risks. This evolution will continue, MacIsaac said, with clients increasingly taking over logistics tasks themselves, establishing their own internal logistics divisions, or approaching carriers and subcontractors directly.
"This makes us rethink our business model and also the value we can add to our clients' success," he said.
"However, this crisis, once again reminded us of the importance of continuous supply of goods, solid relationships to producers, carriers and others, and also of the importance of supply chain sustainability, which is one of the areas we are working on at Bertling and addressing in our IT projects."
One slow-moving change that he is particularly passionate about is increasing diversity in the industry. "Give, for instance, women more power, and job beginners/career changers in general, better career starts and growth opportunities in this industry," he said. "We are incredibly short of experts in this industry, and hiring good people is getting more and more difficult as there are simply very little resources available. Therefore we should encourage young women to start a logistics carrier, drum up why this is a great industry to work in and empower women in markets and positions where they are sadly still underestimated.
"There are many good career paths within freight forwarding and project logistics, and we need industry champions to really highlight how successful careers can be built in our industry in order to inspire a new generation to take on the challenges that we not only face today, but also the challenges that inevitably the future brings."
Staff Engagement
In that future reality, MacIsaac hopes that his collegial, honest and open style of management, communication and exchange will continue to bring the best out of Bertling Logistics' employees. That he is "first and foremost" a forwarder is a key attribute, and having worked in several countries he understands cultural differences and demands. "This is also one of our corporate values at Bertling anchored in our Values and Code of Conduct and something we/I live every day."
MacIsaac is focused on the output and performance of every single employee and treats them with respect. "Good people, who understand their job and deliver results, will get a lot of freedom, reward and independency on how they run their department/area of expertise," he said.
Bertling Logistics plans to reduce the administrative burden for staff to allow them to focus on what they are good at. It is also reverting to a more regional management approach to empower local experts to run their "shops" in the best possible way while addressing local demands and trends – and still following corporate standards.
"I hope that these core principles will guide how I interact with my team, all our staff, our clients and our subcontractor and agent network," he said.
It is those tenets that will underpin delivery of MacIsaac's roadmap as he moves ahead. For him, people still, ultimately, matter. While cut business travel has gifted MacIsaac more time to spend with his family and an opportunity to work on strategic direction for Bertling Logistics, he looks forward to a time when face-to-face meetings can resume. Personal attention is a top priority and for him, nothing can really replace a face-to-face meeting when reaching agreements or solving problems.
With lockdowns easing in some regions just as others ramp up, he may need to wait a little longer before he can meet those contacts in person once again.
Carly Fields has reported on the shipping industry for the past 20 years, covering bunkers and broking and much in between.

Image credit: Bertling Logistics