---
Jul 02 | 2020
Revising the Meaning of Time Sensitivity
By Michael King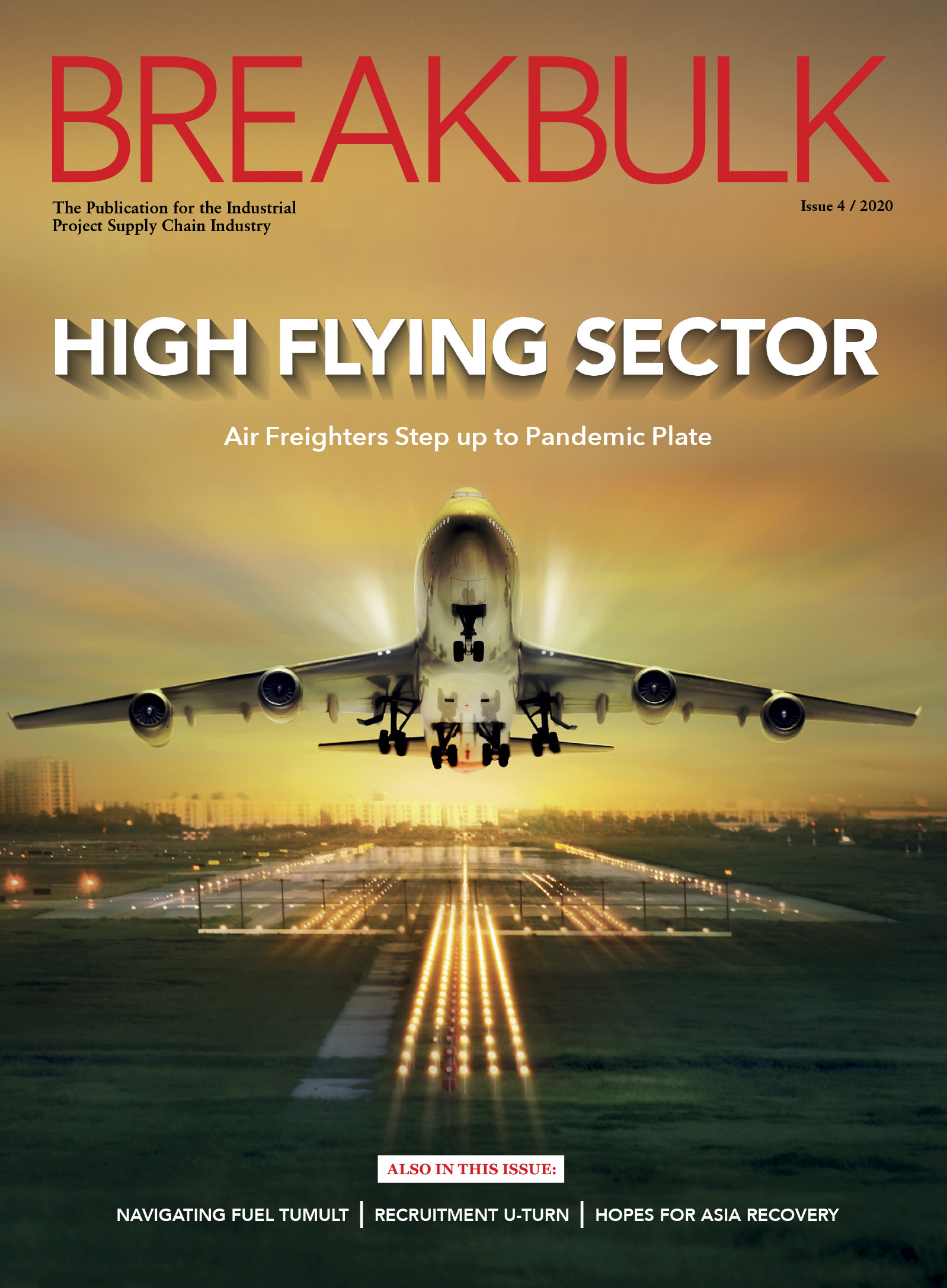 Those in the business of transport, shipping and forwarding know that for many customers "now" is often not deemed quick enough. Many want their cargo "yesterday," if not sooner.
For those planning time-sensitive breakbulk and heavy-lift shipments, the pressure is intense even in a normal operating environment. Yet with economies around the globe shut down for extended periods in a bid to limit the spread of Covid-19, there has been nothing normal about 2020.
The reliability of all modes of transport has decreased enormously as a result of lockdowns and new working restrictions. Social distancing policies have limited handling and stevedoring options at ports and storage sites.
Customs and immigration restrictions have tightened worldwide, including even at the European Union's internal borders. With so many people working from home, new communications challenges (and opportunities) have emerged. And the inconvenience and fear of handling paper documents, which can transfer germs, has prompted a rapid – and long overdue – shift to digital, although it is a shift that has not been without its teething problems.
'New Normal' Operations
However, even against the backdrop of this "new normal" working environment, leading forwarders contacted by Breakbulk attest that the challenges of moving time-sensitive cargoes in the age of Covid-19 require more or less the same skills as pre-pandemic, although with some key differences.
Social distancing, transit and customs restrictions have put more emphasis on planning ahead, for example. Keeping abreast of the rapidly evolving operational landscape, which in some regions has seen scarcities of ship, storage, terminal and truck options, and overnight regulatory changes, has never been more important.
Darren Wright, founder and managing director of UK-headquartered Allseas Global Logistics, believes that when it comes to complex cargo three major factors make or break a shipment, factors that remain as critical now as they were pre-Covid-19.
The first is thorough planning and close project management. This, he said, entails working closely with the customer, port management, shipping lines, road freight companies and any associated third parties "to join the dots for a smooth operation."
The second key element, according to Wright, is access to the right equipment, both for loading and transporting oversized and complex cargoes. "This is where the detailed planning comes in," he told
Breakbulk
. He said that Allseas, which was established more than 16 years ago and offers breakbulk, out-of-gauge and heavy-lift shipping services, and factory relocations and decommissions, uses its own in-house specialist equipment to ensure rapid deployment. "We believe this is a key advantage we offer our customers as it's common for other forwarders to rent equipment on a project-by-project basis," he said. "This can often cause delays when the necessary equipment is out of stock and not readily available. By having our equipment in-house, we're ready to mobilize this instantly."
Ensuring all documentation is prepared correctly is also crucial to timely shipment. "From bills of lading and EUR1 (movement) certificates, to export licenses and a T2L (community status certificate), there is an abundance of documentation that needs to be considered and properly completed ahead of any successful shipment," Wright said. "Failure to complete the necessary documents could cause problems and delays, even leading to goods being lost either due to ever-increasing destination charges or customs seizure."
One-stop-shop Approach
DHL's approach to ensuring cargo is delivered as quickly as possible involves limiting the number of parties involved in the supply chain, according to Moustafa Elbanhawi, industrial projects regional head, MEA (Middle East and Africa). Elbanhawi's division covers three markets: the Middle East Gulf region, which is primarily focused on oil and gas; countries such as Turkey, Egypt and South Africa, which are export-import countries; and sub-Saharan Africa and North Africa, which are predominantly importing countries.
"We are mostly focusing on infrastructure, engineering, manufacturing and the energy sector, which includes power generation and other areas of infrastructural development," he told
Breakbulk
. "So mainly if we talk about out-of-gauge shipments, it comes from the oil and gas sector. This is where we excel. I think we are now the largest operator for oil and gas projects in the Gulf."
Elbanhawi said most of DHL's contracts in the MEA region were end-to-end due to the complexities of customs clearance and the difficulties clients report when dealing with multiple supply chain contractors. "Most of our customers prefer to have one operator handling the shipment end-to-end to mitigate any risks or friction handing the cargo over from one forwarder to another forwarder, especially for big moves," he said. "Then there are other complexities, especially for engineering and execution. So the party that starts loading prefers to be the party that does the receiving, handling and delivery at destination. More than 90 percent of our contracts are end-to-end."
Such contracts, he added, incorporate everything including arranging equipment, managing documentation and chartering vessels as required. "It starts with the communication with the cargo supplier and then we arrange for the inspections if needed at the origin [right through] until we deliver direct or to warehouses or storage yard destinations," Elbanhawi said.
"The less parties involved, the more efficient the execution of the shipment from origin to destination.
"Our carrier agreements with the big bulk, container and breakbulk carriers are very important. We have long-term agreements with first-class carriers who have regular services from the main origins to the main destinations.
"Most of the countries that we are delivering to or receiving cargo at are countries where there are challenges in the execution at the port itself. So we have agreements with the terminals also."
Increasing Time Sensitivity
Andy Thorne, CEO of the Kestrel Group, noted that out-of-gauge shipments have a tendency to become more time sensitive due to the nature of the projects business.
"Breakbulk and heavy-lift cargo tends to start off not critical, but then becomes critical by its very nature," he explained. "For example, we are moving wind farms into north Scotland and Ireland. The shipment deadlines come forward all the time because there might be a big storm in the North Atlantic that causes a delay and suddenly it's very urgent."
Further illustrating Thorne's point, Kestrel is managing a major project moving large cargo from Shanghai, China, into the Caribbean. "It's a large kit that has suddenly become urgent because of design changes as they were built," he said.
With increased urgency comes higher costs, Thorne said. "When you have a customer who says '[the cargo] absolutely, categorically has to be here,' we'll look at a full vessel charter," he said. "The man who pays the most gets the service."
The Kestrel Group is a non-vessel-operating common carrier, or NVOCC, and liner agent with a strong presence in the Caribbean. It also offers a full portfolio of breakbulk and heavy-lift services supported by multiple offices across the Caribbean, five in the UK and a string of offices in the Americas, Africa and Asia.
Social Distancing Challenges
In the age of Covid-19, managing shipments has become increasingly complex due to the range of highly variable and rapidly evolving restrictions on operations. According to Thorne, although some Caribbean ports have closed and there are social distancing restrictions in place for stevedores at those that remain open, the requirement that crew stay onboard ship has been the biggest headache to overcome.
"We make sure the vessel and the crew are not only safe, but also that we are not going to fall foul of any regulations where a ship would go to a port and they would say, 'Sorry, you've been to a port in Africa that has coronavirus, you will now have to wait for 14 days to quarantine the vessel.' So we are very careful about which vessels we work with."
All of the forwarders contacted by Breakbulk said the downturn in shipping demand because of Covid-19 lockdowns had made it easier in some cases to secure space or charters. However, the flipside is that, overall, the shipping market has become more challenging, not least because liner frequencies have fallen, making services less reliable, and because finding the right ship has become more difficult, with owners reluctant to foot repositioning bills and struggling to find return cargoes.
"Some ships have been laid up or slowed down," Thorne said. "Also we need specialist ships, as some of the places we go to are difficult to get to and there's no point getting a vessel that can lift 300 tons and needs 15 meters of draft when the destination has 8 meters of draft. You need the right vessel with the right capability."
Elbanhawi, who said Covid-19 shutdowns had changed the operating environment and hit demand, said there were now fewer vessel options available. "We don't see the same number of vessels that are available and the consolidation requirements are very high," he added.
However, as lockdowns are eased, he predicts a quick bounce back in demand. While it will be different from one country to another, he expects the UAE and Turkey to pick up very fast, and countries like Kuwait, Saudi, Qatar to face some difficulties. "We are very optimistic that things are going to pick up even for the oil and gas sector. We expect 2021 to be better," Elbanhawi said.
Shipping Flexibility Required
Wright said Allseas is coping with Covid-19 lockdowns by finding flexible ocean options to overcome the increased lack of reliability. "Where possible we have used container or ro-ro (roll-on, roll-off) vessels for breakbulk cargoes, mainly due to the regularity and flexibility of the services," he said. "With the inevitable delays caused by the lockdowns and the subsequent reduction in labor, drivers, crane crew, stevedores, cargo handlers, marine surveyors etc. to handle such cargoes, pinpointing vessels with 100 percent accuracy has been almost impossible.
"Missing a container/ro-ro vessel with a regular weekly call naturally has much less consequence than booking space on a conventional breakbulk carrier, which might only be coming to a port to pick up your cargo."
Allseas recently shipped five large-scale construction pipes from Malaysia to the UK. Some measured more than 15 meters long, 1.3 meters in diameter and weighed 18 tons. "Ordinarily a conventional liner might have been the best approach, but given the situation it was fairly easy to predict we would need the flexibility and speed of a container vessel to make up for the delays brought about by Covid-19," Wright said.
The shipment was further complicated by a "Movement Control Order" in Malaysia, which stated that only essential/perishable cargo services could go ahead, and by police roadblocks that restricted all but essential travel unless specific government clearance had been obtained. As a result, getting all the required authorizations was a painful process.
"This Movement Order was reviewed weekly as was our transport planning," Wright said. "We were forced to postpone our logistics plans and roll the vessel booking four times before we were actually allowed to mobilize the trucks, people and equipment to get the cargo shipped."
Allseas had to collaborate closely with the manufacturer and contractors, especially because the latter were operating with minimal personnel working shorter hours than usual. "Coupled with abiding by the government social distancing regulations, this made an awkward cargo even more complex," Wright said. "But in all honesty this kind of meticulous planning is required for each and every complex movement undertaken in this sector, otherwise the results do not end well."
Michael King is a multi-award winning journalist as well as a shipping and logistics consultant.

Image credit: Shutterstock