---
Apr 30 | 2021
Project Cargo Serves Carbon-free Fuel Frenzy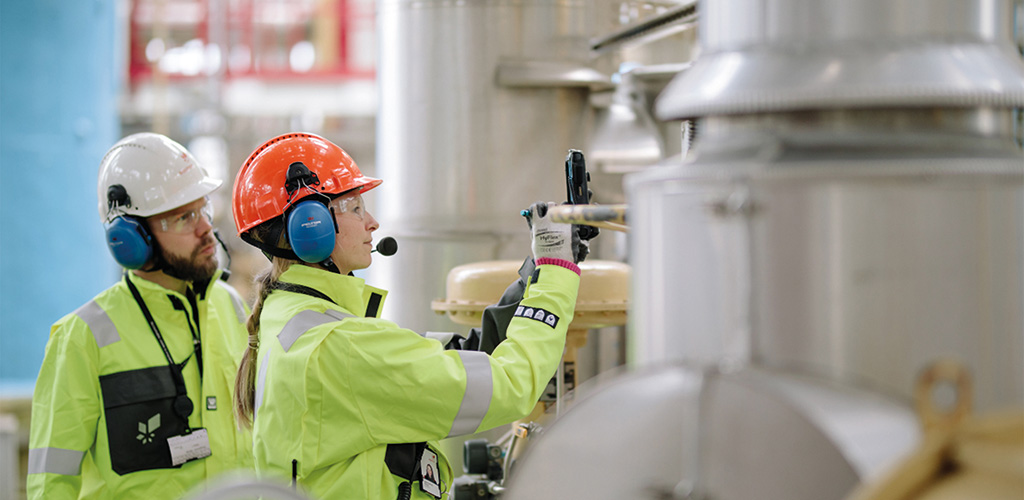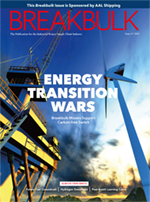 By Mike King
The transformative potential of hydrogen as a fuel capable of drastically reducing fossil fuel emissions has long been recognized. The colorless gas does not produce carbon dioxide when burned, making the benefits of harnessing its power obvious.
William Robert Grove, a judge, inventor and physicist from Wales, mixed hydrogen and oxygen in the presence of an electrolyte to produce electricity and water all the way back in 1839, while the first hydrogen car was built by General Motors in the 1960s. There have been many other attempts since to commercialize hydrogen, but the technical complexities and cost have proven prohibitive over the decades.
Enthusiasm for overcoming those challenges has tended to rise with oil price inflation and rapidly ebb when crude becomes more affordable. However, everything changed with the 2015 Paris Agreement, which committed 191 member states to finding ways of limiting global warming by committing to fossil fuel emissions cuts.
The UK subsequently passed legislation committing it to net zero emissions by 2050 and the EU and others have promised to follow suit. Most agree that hydrogen, and specifically low-carbon hydrogen, will play a key role in helping industry meet Paris Agreement emission-reduction targets.
Indeed, such has been the post-Paris Agreement momentum behind hydrogen projects that analysts at Morgan Stanley refer to hydrogen as the "abundant molecule" which "will increasingly replace carbon as the dominant energy carrier" on the planet. "Hydrogen will transition from a dirty feedstock used in industrial processes to a clean fuel source adopted by power, industry and mobility in particular," said the investment bank's latest hydrogen report. "The similarities with wind and solar in the early 2000s are hard to ignore."
Global Project Rollouts
Governments around the world have been rolling out hydrogen blueprints as they bid to drastically reduce emissions. A new report from lobby group the Hydrogen Council in collaboration with McKinsey & Co. details more than 30 countries that have published hydrogen roadmaps to expand hydrogen output as part of government commitments to decarbonize. "No less than 228 large-scale projects have been announced along the value chain, with 85 percent located in Europe, Asia and Australia," noted the report.
Most national plans are supported by generous subsidies to lower the production costs of hydrogen. China, for example, aims to get 1 million fuel-cell vehicles on its roads by 2029 and by 2023 will have invested more than US$17 billion in hydrogen projects alongside private developers. Government strategies focus on incentivizing developers to produce low-carbon hydrogen, which is produced either without fossil fuels (green hydrogen) or by capturing and storing emissions generated (blue hydrogen).
However, the infrastructure required to produce low-carbon hydrogen is both expensive and requires huge logistics support to complete. For those in the business of project and heavy-lift logistics the potential is clear.
Frank Appel, CEO of Deutsche Post DHL Group, told Breakbulk hydrogen was a fuel with the ability to transform logistics as well as create a new project logistics market of vast potential. He expects both hydrogen infrastructure projects and hydrogen fuel usage to accelerate in the short and medium term.
"It's good to see that there is so much commitment out there," he said. "Governments need to put a price tag to carbon emissions worldwide. And in the long run, we also need to promote [hydrogen] investments. We need to invest in new scientific ideas. If all that is done, then I'm confident that we will make a lot of headway."
The new hydrogen projects identified by the Hydrogen Council include large-scale industrial usage, transport applications, integrated hydrogen economy, infrastructure, and giga-scale production projects. "If all announced projects come to fruition, total investments will reach more than US$300 billion in spending through 2030," said its latest report into the industry. "Of this investment US$80 billion can currently be considered 'mature' – meaning that these projects are in the planning stage, have passed a final investment decision, or are under construction, already commissioned, or operational."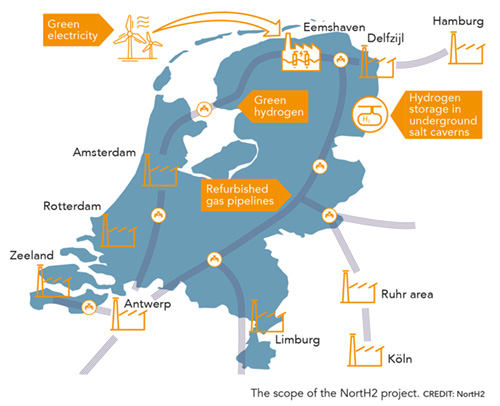 Equinor Steps Up
One such new project is NortH2, which is being heralded as Europe's biggest green hydrogen project. It aims to produce green hydrogen using renewable electricity from offshore wind off the coast of Netherlands at a rate of around 4 gigawatts, or GW, by 2030 rising to more than 10 GW by 2040.
Launched in February last year, the project is led by Shell, Groningen Seaports, Norwegian energy giant Equinor and Germany's RWE. DSV Panalpina confirmed to Breakbulk it is involved in the logistics of the project with development due to start later this year.
Pål Eitrheim, executive vice president New Energy Solutions in Equinor, said the development of viable large-scale clean hydrogen value chains via projects such as NortH2 would help Europe meet Paris Agreement targets. "Hydrogen will add to the competitiveness of renewables in the years to come, by adding value and an alternative route to market for renewables," he said.
Equinor is also a partner in H21, a radical plan to make 3.7 million homes and 40,000 businesses in the north of England emissions free by 2034. This will be achieved by switching their energy usage from natural gas to hydrogen by converting the existing gas network so it can receive hydrogen blends. Clean hydrogen will be produced from the natural gas using a self-powered production facility with carbon capture technology. The resulting carbon dioxide, or CO2, captured as a by-product of the process will be stored safely in saline aquifers far below the seabed off the northeast coast of England.
A similar project is also underway in the northeast of the UK where the Zero Carbon Humber partnership aims to decarbonize the Humber industrial cluster, the UK's largest cluster by emissions. Partners in the project include Equinor, Mitsubishi Power, National Grid and Associated British Ports. The plan is to enable shared trans-regional pipelines to distribute low-carbon hydrogen and captured carbon emissions, thereby creating the world's first net zero industrial cluster by 2040.
Central to the blueprint is the Equinor-led Hydrogen to Humber (H2H) Saltend project which will be the starting point for a CO2 and hydrogen pipeline network developed by National Grid Ventures. The H2H Saltend project will produce blue hydrogen by reforming natural gas, initially for use in existing power plants and industry, while capturing its carbon emissions. It will eventually connect energy-intensive industrial sites throughout the region, offering businesses the option of directly capturing their emissions or making a fuel switch to hydrogen.
Equinor was unable to confirm a timeline or the logistics requirements of either its NortH2, H21 or Zero Carbon Humber projects when contacted by
Breakbulk
.
Ørsted Prominence
Another key company in the hydrogen revolution is Danish power company Ørsted, which specializes in the development, construction and operation of offshore and onshore wind farms, solar farms, energy storage facilities and bioenergy plants.
Ørsted is now proceeding with Danish demonstration project H2RES, which will use offshore wind energy to produce green hydrogen. The project is expected to produce its first hydrogen in late 2021. The H2RES project will investigate how to best combine an electrolyzer with the fluctuating power supply from offshore wind, using Ørsted's two 3.6 MW offshore wind turbines at Avedøre Holme.
H2RES will have a capacity of 2 MW and produce up to about 1,000 kilograms of renewable hydrogen daily, which will be used to fuel road transport operations in the Copenhagen and Zealand areas. Ørsted has over the past 18 months partnered with different consortia in seven renewable hydrogen projects in Denmark, Germany, the Netherlands and the UK, but H2RES will be the first out the block in terms of producing hydrogen.
Ørsted was unable to confirm the logistics requirements of the project, but Martin Neubert, executive vice president and CEO of Ørsted Offshore, said: "With the right framework in place that incentivizes the shift away from fossil fuels, renewable hydrogen can decarbonize transport and heavy industry, which is paramount to creating a world that runs entirely on green energy."
As previously reported by Breakbulk, Ørsted is also working with BP towards launching green hydrogen production at the latter's Lingen Refinery in Germany. The project aims to utilize a 50-MW electrolyzer powered by offshore wind initially, with plans to eventually expand capacity 10-fold.
Elsewhere in Europe, Iberdrola has launched what it claims will be the largest plant producing green hydrogen for industrial use on the continent in Spain. The €150 million Puertollano plant complex is scheduled to be commissioned later this year. It will comprise a 100 MW solar photovoltaic plant, a lithium-ion battery system with a storage capacity of 20 MWh and one of the largest systems for producing hydrogen by electrolysis (20 MW).
Iberdrola sees the Puertollano plant as the first element in a comprehensive plan hatched in alliance with Fertiberia with a goal of developing 800 MW capacity of green hydrogen in Spain via an investment of €1.8 billion by 2027. If realized, this would see the development of three additional green hydrogen projects between 2023 and 2027 at Ciudad Real and Huelva.
US Modular Adoption
The U.S. is also proceeding with new green hydrogen projects with SGH2's technology, which it claims is "the missing link to hydrogen" due to its ability to enable affordable, mass-produced hydrogen.
It is central to plans to build the world's largest green renewable hydrogen facility in partnership with the City of Lancaster, California, which seeks to become a global hub for alternative energy capital. The Lancaster facility, which will be constructed in partnership with Fluor Group, will have the capacity to produce 11,000 kilograms of green hydrogen per day and 3.8 million kg per year, according to SGH2.
"That's nearly three times larger than any other green hydrogen facility built, under construction or in development within the decade," said the company. "All other green hydrogen plants produce a much more expensive hydrogen through electrolysis of water using large amounts of intermittent renewable energy."
The plant will feature SGH2's pioneering technology, which uses recycled mixed paper waste to produce "greener than green" hydrogen which, the company claims, "reduces carbon emissions by two to three times more than green hydrogen produced using electrolysis and renewable energy and is five to seven times cheaper."
Construction is expected to begin later this year and the plant with full scale production scheduled to begin in early 2023.
Neither SGH2 nor Fluor Group would comment about the logistics requirements of building the new plant when contacted by Breakbulk. However, SGH2 did report that it is in negotiations to launch projects of similar modular size to Lancaster in France, Saudi Arabia, Ukraine, Greece, Japan, South Korea, Poland, Turkey, Russia, China, Brazil and Australia. "SGH2's stacked modular design is built for rapid scale and linear distributed expansion, at lower capital costs and does not require large land space – as solar and wind-based projects do – or unique weather conditions," it said.
According to Deutsche Post DHL Group's Appel, while hydrogen will not be a cure-all solution in global efforts to decarbonize, as companies such as his try to reduce emissions, this will increase demand for hydrogen and reduce the costs of new hydrogen plant projects while also creating a new project logistics market.
"We are only at the beginning of this [hydrogen adoption] development," he said. "I think in the second half of this decade, things will pick up speed and I am very confident we will see much larger investments then. That of course will have a bearing on us and our customers. I think this is the right time and the right place for us to take action."
Michael King is a multi-award-winning journalist as well as a shipping and logistics consultant.

Image credit: Equinor