---
Apr 02 | 2019
Negotiation 'on a Different Scale' Now Necessary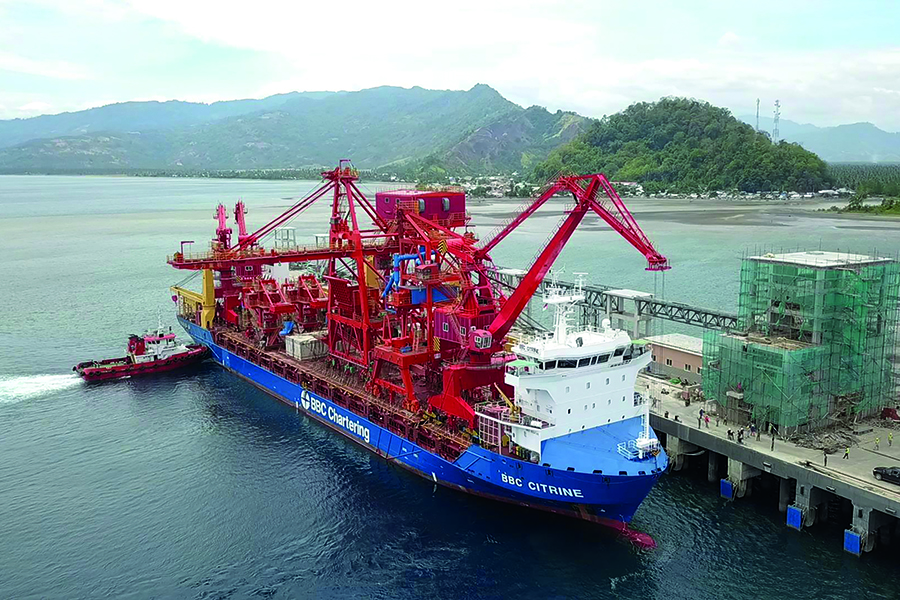 By Carly Fields
'Our word, our bond,"– four little words that used to carry a great deal of weight in the multipurpose ship chartering world. But their importance has been diluted by a market depression that seemingly knows no bounds, much to the chagrin of an MPV shipping veteran.
An industry expert with more than 30 years' experience, BBC Chartering's Singapore-based Chief Operating Officer Henrik Pedersen admits he is saddened by this slide in chartering business ethics. "People are struggling," he concedes, "and the shaking of hands and the commitment to the 'our word, our bond' promise is not there as it was before."
Based in Singapore since 2009, Pedersen has broad shipping experience: he has held brokering, operation and commercial positions within liner, bulk, multipurpose and heavy-lift segments. While his despondency might be viewed in part as nostalgia for simpler times within any one of those sectors, there is a serious side to this loss of an important MPV moral compass. Pedersen relates how he has experienced a growing number of cases where contractual obligations have slipped when one party fails to deliver as promised after taking a punt on unachievable terms and money. "There is, consequently, a big struggle, and this brings further turbulence into the market," he said.
This slide in principles has not happened overnight; it has been gradually taking place over many years, prompting ship operators to fight harder and dirtier for the too-few cargoes available. This shift has necessitated the introduction of an air of cautiousness in contracting, and a growing realization that if it sounds too good to be true, it probably is.
"This," Pedersen said, "is negotiation on a different scale. The 10 years since 2009 have been tough, and there has been constant financial pressure. These have been years of struggle for everyone."
Prickly Loan Terms
Finance has been a particular thorn in the side for many banks, and consequently operators. Restrained earnings that have spectacularly missed the mark have failed to pay off debts, and profit margins have all but disappeared. Hansa Heavy Lift, which filed for insolvency on Dec. 10, 2018 and was itself spawned by the insolvency of Beluga Shipping in 2010, was just the latest casualty of the disaffected freight market. (See "Chasing the Smart Money," page 26).
Pedersen said he was unsurprised by HHL's demise. "It has been known for a couple of years that Oaktree [the company's U.S.-based investor] wanted to sell the vessels. They gave it some eight years, but with the high original price of the ships there have not been sufficient returns." He does hope that this will be the last high-profile casualty on the MPV shipowning front. "Instead of worrying about finance and counting the money every day the industry needs stability, peace and quiet to work on cargoes." His hopes for a period of calm might transpire given there are now only a handful of big players left, BBC being one of them.
BBC has had its own path to forge to make sure it doesn't become another Hansa. It has had to shift its chartering strategy to work the market in these unprecedented times. While it has always had a mixed ownership strategy – some ships are owned by the Leer, Germany-based sister company Briese Schiffahrt, others are time-charted, others still are managed by the group – its chartering portfolio is now spot market heavy.
"We have a lot more concentration on the spot market with 80 percent of the fleet on spot, one to two months ahead. This is the way of the market," Pedersen said. But he would prefer a more equal split between spot and longer-term contracts, with 30 percent to 40 percent of the fleet on each. "That would be better for us," he said.
However, there is little likelihood that his coveted rebalance will materialize. Savvy shippers and forwarders are still demanding bottom-of-the-barrel freight rates for long-term contracts, despite a slight uptick in the market. Long-term freight rates on offer "make no sense at all, which is a big problem," Pedersen said.
The only fix in his mind is to reduce the number of MPVs competing for cargoes. There has been a reduction in the 5,000- to 12,000-deadweight-tonne fleet bracket – "We had around 800 ships in that size range, now we have around 500 in total." However, larger-size newbuildings have entered the market, offering up more competition.
"We need a better balance for the market to be comfortable," he said. "The less ships competing over cargoes, the firmer the market will be. We need freight rates to be about 25 percent to 35 percent higher."
Reasons to Be Cheerful?
A hike of that proportion might be pushing it, but there are a few glimmers of hope on the horizon. Pedersen admits that he was overly pessimistic for freight market prospects at the start of 2018, having been jaded by the misery of 2017.
"Fortunately, my pessimism did not come true," he said. "We got off to a much better start for 2018, particularly in Asia. We saw a growth in demand and good cover for ships and that continued through the year." It turns out that 2018 was "a very good year for BBC."
Looking to 2019, Pedersen plays the "cautiously optimistic" card, based on the better-than-expected market in 2018. However, he admits that so far it has been a slow start. While increasingly grueling geopolitics have not had too much of an impact in the Asia region where he is based, trade tariffs threats have created turbulence throughout the shipping sector. That said, the breakbulk sector has been "spared the worst punishment" leaving the container sector to face the full wrath of U.S. and Chinese politicking. In a minor regional wrinkle, Pedersen acknowledged that some MPVs have shifted from the international trades into intra-Asian trades, which "puts on a bit more pressure here."
However, Pedersen refuses to be disheartened. Despite all the trade changes, despite the slip in chartering standards he still, after 34 years in the industry, believes in shipping. "It's a fantastic business. There will always be a shipping community, this is not something that will disappear overnight," he said.
Hopefully 2019 will build on the rebound of 2018 and he'll really have something to smile about.
Carly Fields has reported on the shipping industry for the past 19 years, covering bunkers and broking and much in between.

Image credit: BBC Chartering