---
Jun 30 | 2020
Air Freighters Step Up to Pandemic Plate
By Felicity Landon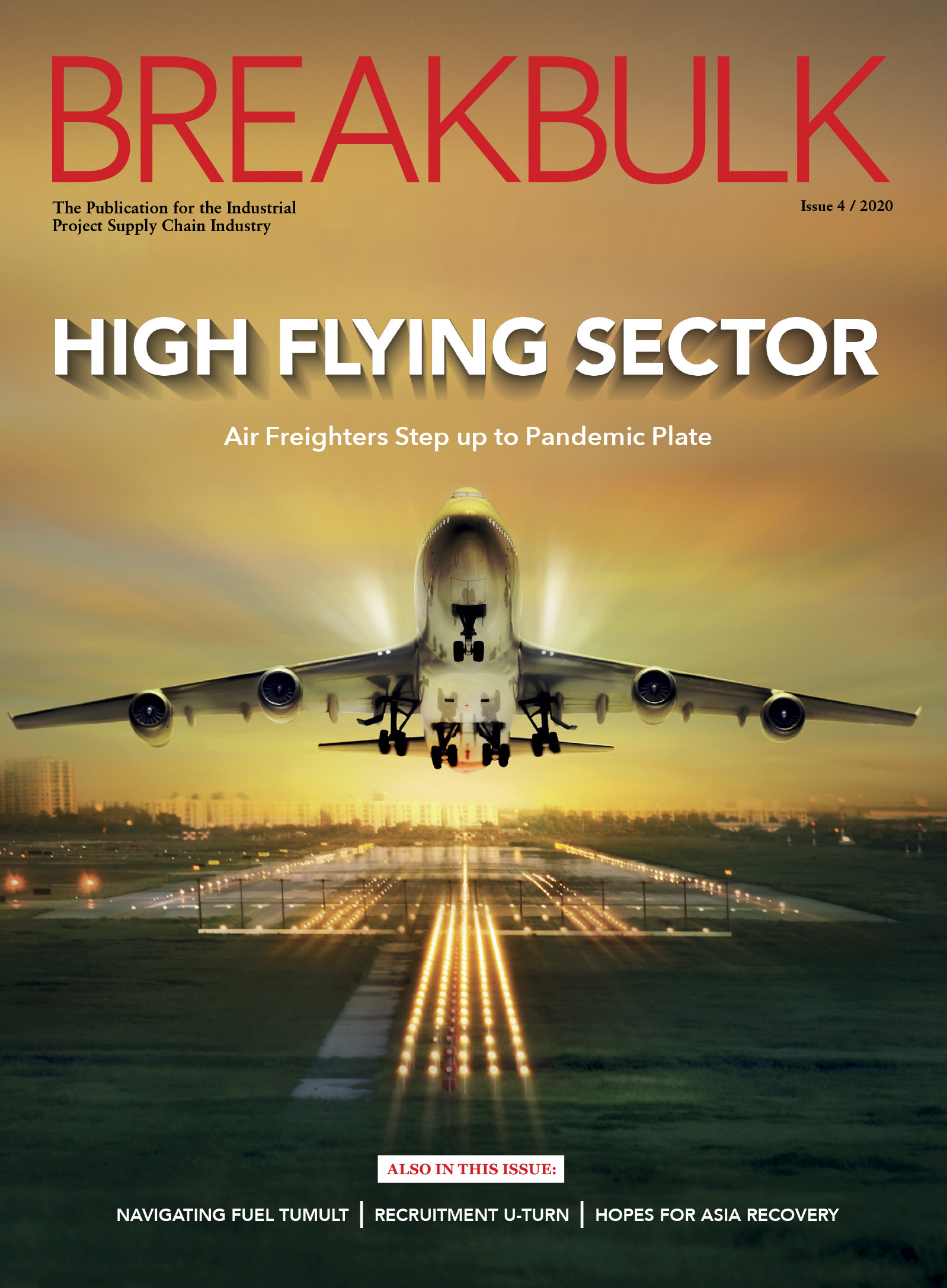 BREAKBULK MAGAZINE ISSUE 4 / 2020 COVER STORY –
In the midst of the Covid-19 pandemic, we have become used to superlatives. But for the air cargo industry, the impact really has been off the scale.
"We have offered to the market everything we have," said Konstantin Vekshin, executive president, charter cargo operations, at Volga-Dnepr UK. "Since the pandemic started, we have been really, really busy, flying very sensitive cargo – saving people's lives, essentially, not just in Europe but all over the world. We have committed all of our fleet to that effort."
The airline has been transporting personal protective equipment, or PPE – up to 8 million masks per flight, ventilators, other lifesaving equipment and even modular/collapsible hospital buildings.
For aircraft chartering specialist Air Partner, 2020 started well, but was by no means outstanding, according to Mike Hill, group freight director. The usual verticals were ticking over: automotive, aerospace, oil and gas movements, all mostly time critical, with the market a little suppressed. But from mid-March, activity shifted up gears to "astronomical, the likes of which I have not seen in my 20 years in this industry," Hill said.
Announced at an early stage of the pandemic, President Trump's mid-March U.S. flight ban was a precursor of what was to come. Large amounts of belly-hold freight capacity were stripped away from the market virtually overnight, bringing immediate demand for charters for transatlantic routes.
"Around 70 percent of airfreight volumes move on passenger aircraft as belly cargo, the remaining 30 percent on full freighters, so following the global grounding of passenger air services, this massive amount of capacity was suddenly gone," Hill said.
When Covid-19 peaked in China, production reduced significantly and demand for capacity dropped away. "We were during this time even operating flights with PPE into China from Europe," Hill said.
However this proved to be the calm before the storm. Following the lockdown in the rest of the world and the gradual restart of production in China, the demand for PPE in Europe began to increase rapidly, but without the scheduled capacity to transport it. Demand spiked from mid-April with what Hill describes as "unprecedented demand" for charters for PPE, mainly from China into Europe and the U.S.
Passenger Craft Partnerships
Already feeling the lack of capacity, Air Partner started talking to passenger operators in mid-March about the possibility of using their aircraft as freighters. The response was mixed, with much uncertainty, Hill recalled: "Some airlines were simply not interested in moving cargo, and seem to have been more keen to park up and hold out for state aid.
During April, however, many governments reached out with their demands for vast volumes of PPE to be imported, and thus the passenger airlines sped up their "soft" conversion of their aircraft into freighters.
Originally this involved only the belly holds, which offered poor value. This then increased to baggage bins and loading on seats." IATA released guidance for cabin loading in mid-April and many airlines have now removed seats on some of their aircraft.
Dan Morgan-Evans, head of cargo at Air Charter Service, also described "an incredibly busy few months." However he pointed out that while the company had gained in Covid-19 related charters and moving PPE and ventilators, it had also lost on normal commercial movements. "In a normal year we have a mixture of wide-bodied big project moves and consolidated moves, and small aircraft doing intra-Europe – automotive etc. – and that sort of just-in-time business has disappeared as the factories have closed."
In a two-month period, Air Charter Service organized between 350 and 400 flights just for PPE, Morgan-Evans said. "Governments around the world are desperate to ensure they have enough PPE. They are putting in orders with factories and as soon as they have secured their orders, they look to secure the transport. In March and April, there was a real capacity crunch and prices skyrocketed for charters and aircraft in general – it was all hands to the pump to find solutions and availability."
Volga-Dnepr's Vekshin told a similar story. "As soon as everyone was back in the factories in China and they opened up the airports, essentially it was the signal for everyone. Governments lined up for capacity, understanding the urgency of the situation."
He added: "In a way, the airfreight industry and dedicated freighters have been neglected [for many years]. Passenger airlines have been adding belly capacity and everyone has been happy – then Covid-19 happens and all of a sudden we don't have so many possibilities; we need to fly as much cargo as possible, and our own flexibility and expertise has come in handy." That is how it should be, he said. "Freighters are necessary, it is a strategic message for the entire world."
Competing with belly hold for cargo capacity has been a challenge in the past, something that the pandemic has inadvertently rectified. Now, pure air freighters are able to charge fair prices in a more balanced market, Vekshin said.
Shifting Roles
With the landscape of pricing and aircraft availability changing very quickly, deugro found it was working day and night to keep its finger on the pulse of the rapidly changing situation, according to Pavel Kuznetsov, head of air chartering at the forwarder. "We have seen things that you don't experience in normal times: massive AN-225s – usually used for ultra-heavy cargo – started moving general cargo like PPE; the heavy-lift workhorse AN-124 that usually has comparatively high operational costs was operating at price levels lower than most B-747 and even B-777 freighters; and passenger aircraft being used for cargo-only charters to move not only PPE, but also oil and gas equipment and machinery parts."
In terms of pure project cargo demand, it has been a mix of ups and downs, he adds. There was a reduction in demand caused by a general economic slowdown, lockdowns affected production plans and many projects were put on hold, delayed or canceled. At the same time, there has been increased interest for urgent air freight to minimize disruption to production schedules and traditional supply chains.
Kuznetsov said: "While deugro has always been known as a leading service provider for heavy industries such as oil and gas, energy, power generation, mining and infrastructure projects, during the Covid-19 crisis our strong competence in air chartering has also attracted a lot of clients seeking solutions to move their medical and relief supplies."
As well as investing in PPE for employees, air freight specialists have also been faced with the challenge of moving people around the world. "For example, we need to pre-stage crew and ensure we have enough crew in place. Passenger flights are few and far between and, of course, expensive. We have even come close to using business jets," Vekshin said.
Overcoming Airport Challenges
Despite the difficulties, airports have on the whole been very flexible and understanding, according to the breakbulk air freight community. "They know we are flying sensitive cargo which is very important, and they have been willing to extend their hours and mitigate their curfew restrictions," Vekshin said. "We have had to manage so many moving parts at the same time and have had to be flexible in shifting from airport to airport."
As well as congestion and delays in customs clearance, loading of cargo has been a pinch point. While its 747s can be loaded with masks, ready prepared on pallets, in three to four hours, Volga-Dnepr's Antonov-124 aircraft are not configured for palletized cargo. "So for these it is manual labor, 11 to 12 hours on the ground while the cargo is loaded [in boxes] by people wearing masks and gloves and protective suits. It isn't a quick turnaround, but a very painstaking effort."
Volga-Dnepr has been flying into China via Russia, where aircraft stop for crew rest purposes and to wait to ensure the cargo in China is ready and the airport slot confirmed before completing the journey. "It is absolutely out of the question to fly in and sit there and wait – first there is no room, second, no one will let us. So in this sense, it is a precision type of operation."
Air Partner's Hill said that the quarantine requirements of numerous countries mean crew duty times and crew rest have been an issue. "Crews in general do not exit the aircraft in China, and no night stop is made, as would usually be the case in pre-Covid times." Obtaining permits has been complicated in some cases, he added.
One positive for Volga-Dnepr has been the rebooting of its subsidiary, CargoLogicAir. At the start of 2020, the airline had suspended operations because of a downturn in demand. By April it was back in operation, with its 747s described as "a timely addition to the effort."
Looking to the Future
Having coped with the spike in demand caused by Covid-19, carriers are now reporting that supply-side pressure seems to be easing. In part, this has been due to the additional influx of capacity from passenger airlines offering their aircraft for cargo-only flights.
"The price-surge peak seems to be behind us and the capacity shortage is easing up slowly, so the situation is showing signs of improvement," Kuznetsov noted at the end of May. "The next couple of months are looking better in terms of freighter availability."
However, he does not expect the market to return to normal quickly. deugro is therefore recommending that its clients take care of transport arrangements for time-sensitive cargoes as early as possible.
Air Charter Service has strong bookings through the end of July, and while Morgan-Evans believes that prices will start to come down, capacity will stay tight for some time with strong demand for cargo space throughout 2020.
Air Partner's Hill expects that the slow return of passenger services will again impact freight capacity, allowing the air charter boom to continue. "Maybe not at the same intensity as currently, but far higher than pre-Covid levels," he said.
One interesting development has been the increase in competitiveness of passenger craft in carrying air freight. This may, according to Hill, encourage some passenger operators to remain in the cargo business until the passenger market has fully recovered. While they cannot compete with the ultra-heavy-lifts, breakbulk cargoes are an inviting prospect in an otherwise bleak outlook for passenger aircraft. What bearing this will have on the balance of business available to traditional air freighters in the future remains to be seen.
Felicity Landon is an award-winning freelance journalist specializing in the ports, shipping, transport and logistics sectors.

Image credit: Shutterstock
---
Subscribe to BreakbulkONE and receive more industry stories and updates around impact of COVID-19.