---
Sep 21 | 2020
(MENA) Vessels to Floating Dock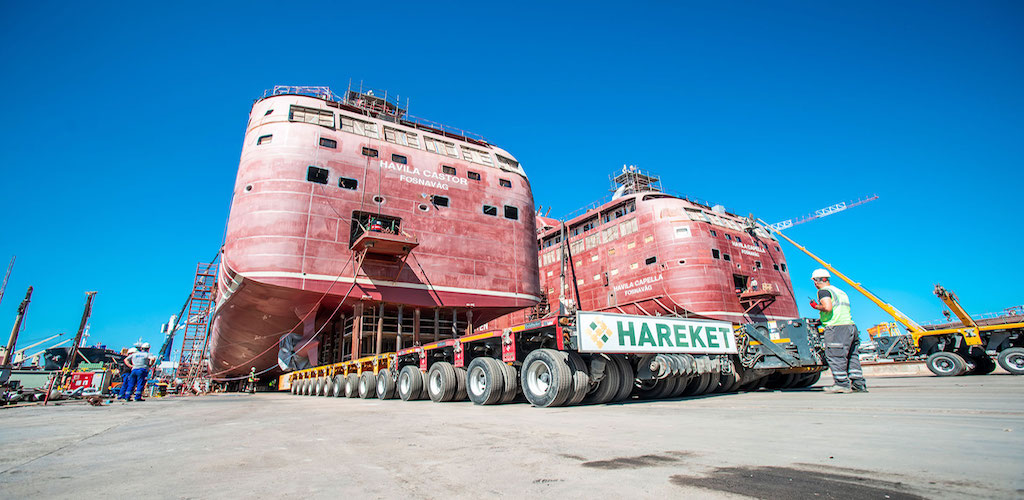 Cargo specialist Hareket Heavy Lifting and Project Transportation has moved two of the largest loads in Turkish history, delivering two passenger ships to floating dock in Yalova shipyard.
The giant units weighed 6,200 tonnes and were transported using 200 axles-line with 1,600 wheels. The ships each measured 124 meters in length and were moved 250 meters wide from the shipyard area to the floating dock.
"Even if 250 meters seem to be short, it is a great success to complete the transportation operation of these two ships in such weights in only four days … The construction process of the ships with the names of
Havila Capella
and
Havila Castor
and to provide service in the historical direction of Bergen-Kirkenes will continue at the dock," said Abdullah Altınkum, general director of Hareket.
Headquartered in Istanbul, Hareket carries out project transportation, heavy and non-standard cargo transportation, as well as crane and platform rental and assembly activities. Hareket is an exhibitor at Breakbulk events.
---
Subscribe to BreakbulkONE and receive more industry stories and updates around impact of COVID-19.