---
Mar 28 | 2019
International Maritime Organization's 2020 Low-sulfur Fuel Rules Create Challenges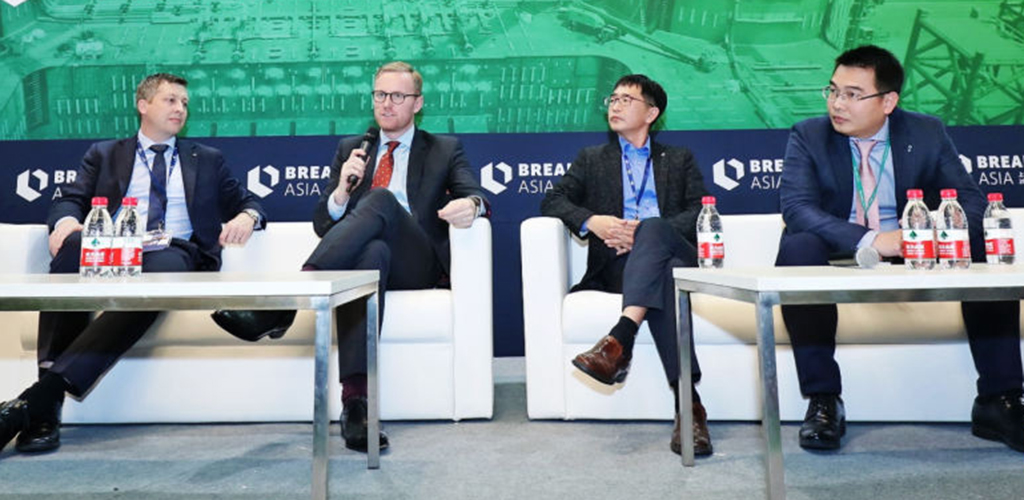 By Mike King
BREAKBULK ASIA 2019 COVERAGE
– The International Maritime Organization's 2020 low-sulfur fuel rules create "brutal" challenges for breakbulk and heavy-lift shipowners and will bump up costs for shippers, heard delegates at Breakbulk Asia in Shanghai.
Wei Zhuang, Asia regional manager at shipping association BIMCO, said, "this is maybe the most disruptive regulation that has ever happened to our industry – we still have a lot of uncertainties, no answers."
He said implementation of the rules would be "brutal" and, as a priority, breakbulk shipowners must urgently address two critical issues. "First, how are you going to share the extra cost or pass it onto the cargo owner?" he said.
"Secondly, from an operational perspective, you need to prepare sourcing the new fuels so operations are smooth.
"Availability is a big question mark. If you look at the big ports, there are no problems at all. But for breakbulk, where you might be calling at small ports which have never used these fuels before, that will be the challenge."
The higher cost of fuel is expected to hit shippers and carriers in the pocket, while charter and freight rates are likely to rise across the bulk, breakbulk and container shipping sectors as owners and operators seek to pass on the higher price of fuel via bunker adjustment clauses added to new contracts.
Certainly, who pays how much of the higher bills was a hotly contested topic at Breakbulk Asia.
"Most clients understand that carriers will not cover the [full] cost without the shippers [help]," said Jungmoo Roh, vice president, China sales, Eukor.
Kristian Lund Knudsen, head of special and dangerous cargo solutions, Maersk, said the new rules were "a very good thing for society," but "for the containerized business we estimate something to the tune of US$50 billion of additional costs as a consequence of this regulation."
This, he said, would need to be recovered through freight rates. "We've been out early communicating with our customers and explaining to them how we see this panning out, explaining that there is of course uncertainty about the exact cost but that we should all plan for the cost going up," he said.
"By the way, in the big scheme of a logistics cost it's still a relatively minor component of it," he added.
Steven Ou, vice general manager, SAL Heavy Lift, said in the competition for cargo, the most efficient fuel consumers among carriers across the broad spectrum of operators that compete for general cargo and breakbulk will thrive.
"I think the competition will be there – who can control the cost maybe slightly better, maybe they can get some more margins in their business," he said.
Fuel availability will be another challenge. Lund Knudsen said this would come down to planning. "At Maersk we deploy 750 vessels around the world, so obviously it's not something we can just assume will be there," he said. "We'll need to plan it out ahead. We have made partnerships already with a couple of refineries, so we know for one-third of our need we have that planned out. We have indications from oil majors that they are planning for this and that they will be ready. I am fairly confident that we'll be able to make it work."
While many shippers have questioned the transparency of fuel charges they will face, one cargo owner said he had "full trust" that carriers would fairly pass on higher fuel cost and that was fine for his company "because we're 100 percent behind the new rules."
But he said, while he was sure carriers would use strategies such as slow steaming to reduce costs, they should also talk to shippers to mutually develop low-fuel strategies.
"I don't want to talk about how much will be the cost of the fuel, I want to talk to them about this as a logistics process," he told
Breakbulk.
"Now they are moving the cargo from Origin A to Destination B, which has certain costs and certain parameters. Maybe we can change these parameters, which are still acceptable not only for us but also for other cargo owners, and these changed parameters will actually push the fuel cost down.
"They may think that you want to have the cargo from Point A to Point B within 10 days, but maybe we can do it differently and then the bill for all of us is lower."
Photo: (From left) Oskar Orstadius, Höegh Autoliners; Kristian Lund Knudsen, Maersk; Jungmoo Roh, Eukor; and Steven Ou, SAL Heavy Lift.