---
Apr 02 | 2019
Mining Sector is Industry's Buried Treasure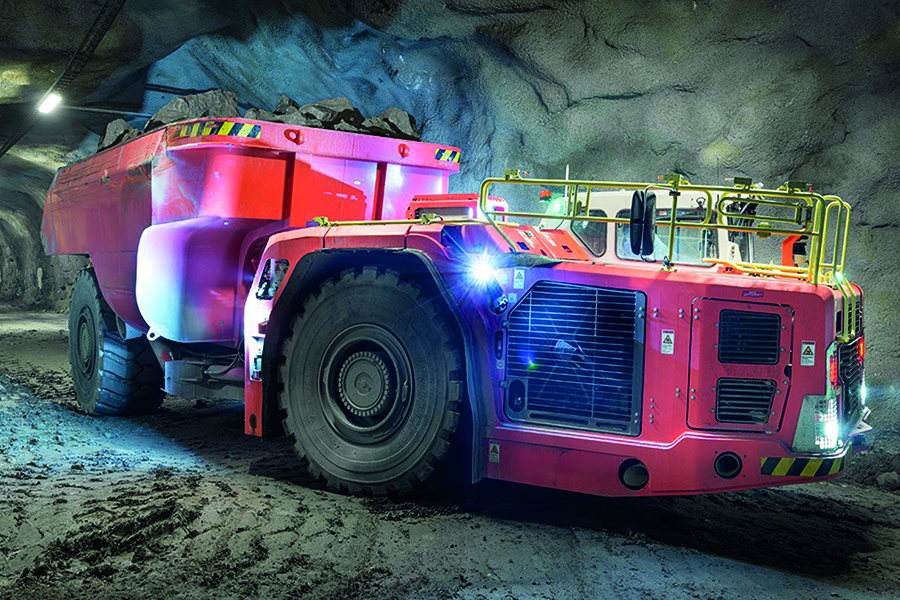 By Michael King
Located in remote West Africa less than 20 miles from the Côte d'Ivoire border and about 200 miles from the Mali capital Bamako, the Syama Gold Mine is an unlikely setting for world-leading innovation.
Yet the flagship development of ASX-listed Resolute is in the process of becoming one of the first underground mines anywhere to be fully automated. Resolute teamed up with Sandvik Mining and Rock Technology after studies revealed that the automation and digitization of Syama would improve efficiency and safety, reduce costs and extend the mine's lifespan.
Automating a gold mine is, unsurprisingly, an expensive business – Resolute will spend a small fortune on the advanced Sandvik mobile and fixed equipment and the systems needed to manage and operate them. Yet the gold miner is not alone in investing in the latest automation technology and gear, nor is Sandvik the only supplier helping automate mines. Above and below ground, commodity majors worldwide are modernizing operations with the latest technology, driving demand for project shipments as they do so.
In Zambia, for example, Nonferrous China Africa, a Chinese firm, is in the process of installing automated underground mining systems at its South East Ore Body project. Australia, meanwhile, is a hotbed for innovation. BHP is now using driverless trains, and at four of Rio Tinto's mines the company has deployed some 73 driverless trucks to haul iron ore 24 hours a day with employees controlling and monitoring the vehicles' operation from the mining giant's control center in Perth, Western Australia, some 750 miles away. In short, autonomous trucks, drills, locomotives, and remote-controlled equipment are transforming the global mining landscape.
"It is clear that automation is not only reserved for first world mining countries, as this is already taking place in Africa," said Lars Engström, Sandvik Mining and Rock Technology president.
Boosting Investment
The embrace of new technology across the mining industry is aided, of course, by improved prices for many commodities. This is stimulating production increases and providing the capital for investments that boost productivity and efficiency. According to S&P Global Ratings, across 2017 and 2018, healthy demand for metals and mining products supported price and revenue growth for producers. Revenue growth for upstream producers, for example, grew 7 percent year-on-year in 2018. Although revenue growth in 2019 and 2020 is forecast to be flatter as demand and supply balance out, the sector is forecast to remain in positive territory.
Another element motivating the global mining industry to invest in new technology is its increased risk aversion. Higher levels of scrutiny on the safety of personnel is prompting the sector to deploy technology in a bid to simultaneously boost safety while also reducing costs. The International Labour Organization, or ILO, estimates that more than 2 million people die each year through work-related accidents and illnesses. Nineteen percent of these fatalities are due to occupational accidents, of which the mining industry is responsible for up to 5 percent. Despite comprising just 1 percent of the global workforce, this translates into at least 15,000 mining deaths a year.
From a project and breakbulk supply chain perspective, commodity majors' willingness to modernize existing mines to improve safety and productivity, and increasing investment in new capacity as mineral prices rise, are significant trends given how this plays out in terms of cargo generation.
Kyriacos Panayides, managing director of specialist heavy-lift project cargo carrier AAL Shipping, told Breakbulk that shipping demand from the mining sector has been primarily driven by capital expenditure by commodity giants, with new mining projects generating "hundreds of freighted tons of cargo on each new project site."
The high value of mining cargo and its often unique nature also make it an attractive market to the project and heavy-lift shipping and logistics providers. Panayides said setting up a new mine often involves a "huge variety of over-dimensional, heavy and specialized units," which require skilled and experienced handling and transport engineering. "It involves the shipment of giant ship-loaders, cranes, conveyors, massive steel structures, wagons, huge trucks and concrete pallets, and a variety of heavy machinery, all of which no other shipping sector can serve other than few specialized project carriers," he added.
Range of Shipments
Gary Dale Cearley, managing director of XLProjects Network, a project forwarding network, said demand from the mining industry was a mainstay of Asia-Pacific specialist logistics markets.
"Heavy equipment such as large earth-moving vehicles are a major factor in Asian project forwarding," he said. "But people tend to forget there are also a lot of regular-sized shipments that go into a mine as well. For instance, I have just seen an inquiry for bamboo mats to be used in storage lay down. These mats are huge."
As far as breakbulk vessels go, mining requires considerable shipments from Southeast Asia to western and northwestern Australia. But northern Vietnam, Laos, Indonesia and Papua New Guinea are all also huge in the mining world and present their own challenges, Cearley said. "For instance, Laos is landlocked, so shipments to southern Laos generally go through Vietnam and to central and northern Laos through Thailand; all overland. Philippines and Indonesia are both archipelagos so there can be lots of barging there."
The breakbulk shipping sector obtains dual benefits from increased cargo flows due to mining, because new investments in capacity often generate fronthaul and backhaul cargo for specialist carriers, according to Panayides. Although some of this cargo, including trucks and other earth-moving machinery, is sometimes shipped to mines on roll-on, roll-off vessels, since these ro-ros generally only serve major ports, most projects rely on MPV and heavy-lift fleets.
"Although the fronthaul voyages are focused mainly on project cargo, we do pay particular similar attention on the return legs of our voyages to the mining sites," he said, adding that much of this cargo flow is shipped as breakbulk.
AAL Shipping is tendering for mining project contracts worldwide, but continues to face stiff competition for cargo from ro-ro, bulk carrier and container ship operators. "This is serving to keep freight rates low and challenged," Panayides said. "However, we expect this to improve over time as more projects come online and more tonnage is allocated to this purpose."
Demand Upside
While there may be pressure on the vessel supply side of the equation, when it comes to shipping mining cargo on specialist carriers, the demand side certainly looks healthy, both in the short- and long-term. Global production growth of major minerals – bauxite, coal, iron ore, gold, nickel, tin, zinc, copper – is expected to continue expanding over the coming decade. Moreover, analysts expect processing equipment, mineral drills and breakers, crushing, screening and pulverizing equipment and surface mining equipment to all be subject to automation, accelerating project demand further still.
According to one estimate by the International Institute for Sustainable Development, the global mining equipment market will expand by a compound annual growth rate (CAGR) of 9.5 percent to US$284.93 billion by 2025. Another report, Mining Automation Market by MarketsandMarkets, suggests that the combination of increased productivity and safety with decreased expenses may cause the mining automation market to grow by almost 50 percent in the next six years, reaching US$3.29 billion by 2023.
Panayides certainly expects global demand from the mining sector to keep increasing. "After five years of reduced spending and relatively quiet market activity in new mining projects, we have seen an increase in capex spending in 2018 with the launch of a number of new projects on which we have been bidding," he said.
"Per the various market reports, we should expect increased activity in the mining project sector on a global scale," he said. "2019 GDP forecasts predict mining sector growth in the U.S. near 3 percent, in the Eurozone near 2 percent, in Latin America at 2.5 percent, and in China at 6-7 percent."
Positive Outlook For Services
Martyn Lawns, global head of engineering and manufacturing in the mining sector at DHL Industrial Projects, also confirmed the company had seen demand for specialist forwarding services from the mining and commodity sectors pick up over the last 24 months.
"We have seen double-digit growth in 2018, and we expect this to continue positively into 2019," he said. "With new projects coming regularly to the market, the outlook for this year is extremely positive and we are already at advance stages of discussion on many good opportunities with both new and existing mining customers."
Deutsche Post DHL Group is active across multiple mining clients, with the largest revenue generated from companies with interests in iron ore, gold, nickel and copper. It has mining projects in more than 20 countries supported by its Industrial Projects arm.
"Our mining logistics business is generated from three streams – either direct engagement with the capital equipment suppliers, construction companies (EPCMs) or directly with the miners themselves," Lawns explained.
"We are typically shipping complete mining equipment units when they are small enough to be transported by road, and the larger haul trucks or heavy mobile equipment, or HME, cargo is broken into several shipments ready for final assembly at the mine site."
DHL Industrial Projects has executed a number of large copper projects in South America and Eastern Europe, and recently completed a major iron ore project in Brazil.
"As with most mining projects these have been particularly challenging due to the scale, complexity and often challenging geography due to lack of infrastructure and the remote locations," Lawns said.
"Our dedicated projects team has been working tirelessly to meet the demands of EPCs and owners' teams to bring these projects in on time and under budget."
He said gold and copper mining markets, in particular, continue to be buoyant. "Companies are continuing to invest in good quality copper assets, betting on the market going into a shortage further down the track," he said.
"We are still seeing both brownfield and greenfield gold projects progressing and the associated logistics contracts coming to the market, particularly in West Africa. In addition, we are seeing some larger copper investments going ahead as planned in Latin America.
"The outlook for this year is extremely positive and we are already at advance stages of discussion on many good opportunities with both new and existing mining customers."
Michael King is a multi-award winning journalist as well as a shipping and logistics consultant.

Image credit: Sandvik Mining and Rock Technology