---
Sep 11 | 2020
Persevere Despite Covid-19 Upheaval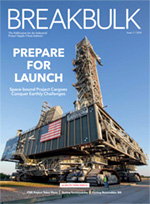 By Felicity Landon
How things change. Covid-19 has brought new and very direct challenges across the board and, as the economic impact becomes clear, there are obvious concerns in the medium to long term.
Europe's ports have clearly been tested by the pandemic – and have come out fighting.
At the start of 2020, the Port of Antwerp had every reason to expect another record year – after seven consecutive years of record volumes.
"As soon as we realized that Covid-19 was coming and would not be limited to China and the Far East, we started addressing this," said Wim Dillen, Antwerp Port Authority's international development manager. "We very quickly realized … that it was going to have an enormous impact on what we do and what we will achieve this year and perhaps in the coming years."
Fortunately, Dillen said, governments immediately realized the importance of ports and the maritime sector as critical in terms of keeping supplies of food, drink, pharmaceuticals and medical equipment flowing.
Ports Respond
When met with the Covid-19 crisis, Bremen and its ports organized a task force to facilitate a close exchange between the port industry and authorities, according to Claudia Schilling, Bremen senator for science and ports.
"The current crisis has highlighted the national significance of our ports and the port business," Schilling said when the task force was developed. "The ports of Bremen are the driving force behind Bremen's economy.
Every fifth job is dependent on the ports. What's more the port and logistics business plays a central role in the supply chains and consequently for ensuring supplies to industry and to the population of Bremen and the whole of Germany."
A bremenports spokesperson said the ports "took organizational measures to ensure that the ports in Bremerhaven and Bremen would continue to be fully accessible, including by road, rail and inland water. No problems have arisen; the ports are operating 24/7."
Likewise, the Port of Antwerp created a task force about the same time, Dillen said, "not only the port authority but all the players in the nautical chain. This involved other ports along the Scheldt, including our neighbors on the Dutch side. It was multifunctional and very unified in monitoring, measuring and sharing best practice."
As a result, he said, Antwerp had not lost a single hour of operations, "and that is quite an achievement when you look at the problems that existed," Dillen said.
At the Port of Hamburg, terminal operators were quick to change systems and working patterns in response to the pandemic, said Axel Mattern, CEO of Hamburg Port Marketing.
"Very small groups have been working with each other so that if someone gets the infection, it would not hit all the workers," he said.
Weathering the Storm
Results have been mixed among European ports during the first half of 2020, partly due to the pandemic, but also because of other forces.
A stack of issues have hit European ports since the start of 2020, including the impact of Chinese New Year on cargoes, followed by the Asian outbreak of Covid-19, further reducing import volumes. Shortages of materials for manufacturing and processing operations soon began impacting the Europe market. Then, as Covid-19 reached Europe, factories closed and entire supply chains were disrupted.
The U.S.-China trade war has also had an impact on volumes. For Antwerp, steel had already been hit by two years of declines since U.S. President Donald Trump imposed duties on import steel.
"Not only have we seen less steel going out to the U.S., but we have seen an even sharper decline in steel coming into Antwerp, after the EU imposed its safeguarding measures, with maximum quotas imposed for steel imports," Dillen said. "We have lost another 30 percent in steel volumes in the first half, against 2019," despite a slight rebound in June, linked to companies using up their quotas. "But as long as the trade war continues, we expect less steel will be handled in Antwerp."
As for project cargo, Dillen said the pipeline has struggled for more than a decade, with the 2008 financial crisis, oil glut and now the pandemic. But, since project orders are placed years out, "even a crisis doesn't stop it, because what is in the pipeline must come out," he added.
However, the impact will be felt "when there is nothing left in the pipeline," he warned. The fact that the oil industry is in dire straits with prices so low will also depress investment, he added.
Hamburg reported declines in automotive cargoes as a result of the pandemic because most of the factories had closed, and therefore the manufacturers which supply the parts and pieces to the automotive factories were also affected. "However, the chemical industry continued to work at full pace and project cargo and heavy-lift operations continued without delays or interruptions, with adjusted systems and ways of working," Mattern said.
Mixed First-half
Despite initial setbacks, the Port of Antwerp recorded 4 percent growth in the first three months of 2020, compared with the first quarter of 2019. Part of that was due to vessels diverting to Antwerp during port strikes in France, Dillen said.
The second quarter, however, was different, and the full impact showed in a 4.9 percent decline in volumes for the first half. Containers stayed stable, but conventional, breakbulk and roll-on, roll off volumes showed a double-digit decline for the six months, he said.
At Hamburg, Covid-19's impact started small, but grew dramatically, as first-half volumes fell 10 percent compared with the same period in 2019, Mattern said.
Still, he added that the port has remained strong in industrial goods, steel products and chemicals, to the point that there has been pressure on shipping line capacity due to blank sailings – "which was good for the lines because they could keep their rates up," Mattern said.
Looking Ahead
There is plenty of reason for optimism in Antwerp, which is home to Europe's largest chemical cluster.
"All the companies in that cluster have decided over the past three years to make some very big investments in the Port of Antwerp," Dillen said. "Basically, that will continue into the next years and it will bring project cargo in because some of these projects will have modules built in other parts of the world."
Among these, petrochemicals giant INEOS is investing €3 billion in the first cracker to be built in Europe for 20 years – Antwerp was announced as the chosen location last year.
The port authority is demonstrating its own confidence – it has earmarked a plot of land south of Churchill Dock for a new dedicated breakbulk terminal. "We retain our interest in breakbulk and conventional shipping because it is also a sector where a lot of added value is being created," Dillen said.
Terminal operators as well continue to invest. PSA has invested heavily in its breakbulk terminal, buying five previously leased Liebherr mobile harbor cranes with lift capacities from 83 to 144 tonnes, along with bespoke handling equipment for steel coils.
Conti7, Zuidnatie and Steelduxx invested in Antwerp Rail House, which is connected to rail, road and water and provides a long shed for undercover loading/unloading of steel being moved by rail. The facility was inaugurated last year and has seen further investment in 2020.
At the end of 2019, Euroports and Zimmer Staal inaugurated a warehouse with capacity for 10,000 tonnes of steel a month.
"Even in difficult times there are opportunities and there are companies that really believe and invest. If you have the cash to invest now in a period of crisis, you have a huge start when it is over," Dillen said.
While project cargo "has been running as normal" at the Port of Hamburg, Mattern said, "what will happen next year or the year after is difficult to say. The orderbooks are not really showing good signs and everyone is hesitant about investing in projects."
An important cargo generator for the port is Siemens' gas turbine factory in Berlin. Units of 500 or 600 tonnes each are fabricated in Berlin and moved via inland waterway to Hamburg, where Siemens carries out final work before export. A new project is under way to build a hybrid push barge for this purpose, using hydrogen to generate the electricity.
Wind Benefits Ostend
The Port of Ostend has played a crucial role in the construction and maintenance of North Sea wind farms over the past 10 years, and it has buoyed the port despite the pandemic.
In June, the DEME Group's installation vessel Apollo departed from the port's REBO heavy load terminal loaded with the first two sets of Siemens-Gamesa wind turbines for the 487-megawatt SeaMade offshore wind farm.
Components for the development – blades, nacelles and pre-assembled towers – started to arrive in March. The project, with a total of 58 turbines to be installed, has remained on schedule despite the Covid-19 crisis and is due to be operational at the end of this year, said the port.
"Once this project is completed, the REBO terminal can also be used for other industrial activities," said Charlotte Verkeyn, chairperson of the Port of Ostend. "Due to its unique location along one of the busiest sea routes and the existing infrastructure, the terminal is extremely suitable for handling heavy loads. By broadening the market to project cargo and decommissioning offshore wind turbines and oil and gas structures, we want to guarantee the continuity of the terminal."
Felicity Landon is an award-winning freelance journalist specializing in the ports, shipping, transport and logistics sectors.

Image credit: Antwerp Port Authority