---
Sep 11 | 2020
Europe Poised to Publicize Offshore Ambitions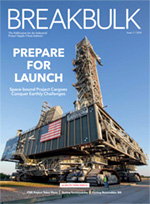 By Carly Fields
Project cargo movers hoping to secure pipeline work in Europe could be in for a windfall before the year is out. Clean energy is seen as the savior of the trading bloc as it emerges from the Covid-19 pandemic, and a seminal document due for publication in the fourth quarter will set out a clear roadmap for offshore wind requirements – and consequently project cargo needs – in Europe's waters.
The European Union's strategy on offshore renewable energy will lay out how best to exploit and scale-up offshore renewables to reach climate neutrality by 2050, according to the European Commission. It estimates that between 240 and 450 gigawatts, or GW, of offshore wind power is needed by 2050 to keep temperature rises below 1.5 degrees Celsius. Electricity is anticipated to represent at least 50 percent of the total energy mix in 2050 and 30 percent of future electricity demand will be supplied by offshore wind. The strategy, in the public consultation phase until Sept. 24, will be published as part of the European Green Deal.
A WindEurope spokesperson said the message from the EU is clear: "By 2050 they want to be carbon neutral and that basically means increasing renewable electricity.
"To meet the Paris Agreement 1.5 C target we will need to achieve 400 GW minimum of offshore wind minimum by 2050, which is about 20 times what we have today. This is significant because when projects are complex they are quite big in scale, and they take quite a while to plan and to build. On average, we say around about eight years for bigger offshore wind projects from the beginning to the end.
"2050 might seem far away, but everything that's decided today has quite a significant impact on that development. The industry is ready to take this forward and to scale technology, we just have to see how we can deliver on those capacities in the most efficient and cheapest way."
The strategy is expected to echo the European Commission's call for offshore wind as a key energy source for the EU to reach its climate goals, added Alexander Dobrowen Fløtre, vice president and product manager offshore wind, Energy Service Research at Rystad Energy. He believes that storage will be another pillar in the strategy, with a roadmap on how to integrate hydrogen/battery infrastructure with offshore renewables. All told, the strategy is expected to demonstrate "strong political support" for the continued growth of offshore wind, he said. "That means that there will be more infrastructure needed, more jobs and an increased demand for heavy-lift installation vessels, among others."
Plug and Plan
WindEurope advocates for wind energy policies in Europe on behalf of more than 400 member companies. Earlier this year, it published a position paper on its ambitions for the EU strategy. Of the 10 points that Wind Europe listed in its paper, its spokesperson highlighted two: more integrated and more coordinated maritime spatial planning, and grid development and connections.
On the first, Europe's seas are used by a range of different stakeholders, for example fisheries, military and tourism. So the wind industry needs to find an intelligent way to distribute the existing sea space, and to make sure that enough space is available for future wind farm deployment.
On the second, "hybrid" connections could be the lynchpin to largescale wind farm development in European waters. Traditionally, projects have connected to the mainland through one feed into the onshore grid. There is "no intelligent distribution," said the spokesperson. Each single wind farm is independent from the next. This has to change. "In the future, we see 20 times the installations of offshore wind that we have today, so we will need a much more connected offshore grid."
One option would be for different wind parks to share a connection to the mainland; another would be for one project to feed into the electricity grids of more than one country, the so-called "hybrid" model. WindEurope's spokesperson pointed out that there is already one project set up in Denmark that feeds into the grids of Germany and Denmark at the same time.
"We might see this even more in the future," he said. "We just have to make sure that we get the right regulations in place, because as you can imagine different countries are not always totally aligned when it comes to the regulations on grid connection and on levies and other taxes." If this could be ironed out, the potential for supporting wind farm development in Europe is vast. This approach could also support developments on a scale not yet considered.
Floating Asset Potential
It is not just bottom-fixed units that breakbulk and project cargo movers can get excited about. There is also the prospect of floating offshore wind. Water depth is a key factor here: up to 70-80-meter water depth is viable for fixed wind turbines. Beyond that, floating becomes much more cost effective. WindEurope anticipates that a quarter of the 400 GW needed by 2050 could come from floating farms, with southern France, Spain, Portugal and potentially Greece all countries to watch.
Rystad Energy's Fløtre also sees great potential for floating offshore wind in Europe. "We are still in the pilot/proof-of-concept stage when it comes to floating wind, and Europe has been the base for the majority of these projects. Towards 2030 we expect to see gradually larger projects, which will help the market reach the needed scale for costs to come down. As such, we forecast that an uptick in floating capacity deployment will come post-2030, as the sector becomes increasingly cost competitive."
Floating wind in Europe is also expected to unlock wind potential in the northern parts of Europe, such as Scotland and Norway, and the Atlantic coast of France.
Offshore wind – fixed or floating – is seen as a solution to the red tape stifling development of onshore wind development in Europe. Take Germany, which has ambitious expansion targets but is struggling to secure permits for onshore wind farms. "Onshore projects there can take up to five years or longer to be permitted – this is quite a problem," the Wind-Europe spokesperson said. Poland, meanwhile, is expected to have its first offshore wind bill by the end of the year. "They want to become the largest wind energy producer in the Baltic Sea, so this is definitely a market to look out for." He also highlights ambitious plans from the UK, especially for Ireland.
Fløtre expected strong growth from France over the next two or three years. Things are also moving in Sweden, and Spanish multinational electric utility company Iberdrola has positioned itself with the acquisition of stakes in eight offshore wind developments; Ireland is accelerating key offshore wind developments, he added.
Planning Window
Europe's wind industry has 30 years to deliver on the 2050 strategy, and that includes having the port infrastructure available to handle the increase in cargoes and the scale of those cargoes. WindEurope said that the ports of Rotterdam and Oostende have become members of the association because they recognize the challenge ahead.
Manufacturers and logistics providers also face the challenge of scale-up. Fløtre said to expect some bottlenecks in the installation/heavy-lift segment. "But there is a large influx of service companies that have traditionally served the oil and gas space, that are now transitioning towards offshore wind as their key focus market," he added.
But who is going to take the investment plunge first when it comes to supporting transportation and logistics for the burgeoning wind farm sector in Europe? Should the industry invest in transportation assets before commitments on the parks, or do developers need to commit to the building of wind parks first to guarantee work for the asset providers?
Here, National Energy and Climate Plans, or NECPs, are excellent instruments for guidance, the WindEurope spokesperson said. The EU has demanded that member states submit NECPs which map out their own ambitions for renewable energy deployment for the upcoming 10 years. In these there are very clear auction schedules and plans of how much capacity will be developed per country.
Take the example of France: "They can already say that there will be up to 28 floating offshore wind tenders and the capacity for each. There might be some delay, or something could go wrong, but in general these give very good visibility on future projects. The supply chain can really take those NECPs and see which markets are of interest and where to invest," WindEurope said.
Carly Fields has reported on the shipping industry for the past 20 years, covering bunkers and broking and much in between.

Image credit: SHUTTERSTOCK