---
Sep 11 | 2020
Webinar Explores Vetting of Project Supply Chain Partners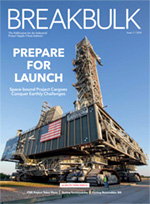 By Gary Burrows
"It's 10 p.m., do you know where your cargo's at?"
The old U.S. public service announcement was meant to illicit fears from parents about their child's whereabouts, but shippers and logistics service providers can conjure up their own nightmares, thank you very much.
Gripping middle-of-the-night phone calls and worrying about the 'what-ifs' are part and parcel of the project cargo world, a world that brings together myriad parties to coordinate often hundreds of shipments to arrive safely, timely and effectively over several months to several years of a contract's duration.
Mitigating risks is the name of the game here and adequate vetting of shippers, EPCs, carriers, charterers, intermediaries and third-party logistics providers is an intrinsic piece of the industrial project planning puzzle.
This made for a lively question-and-answer Breakbulk 365 webinar on project cargo service provider vetting on July 23.
Moderator Dennis Mottola, a global logistics consultant and former Bechtel executive, prefaced the conversation, saying: "We all want to get to a place where we have complete confidence in the service providers that we've selected; or at least we've done everything that we can do to make the right decision about the partners that we're going to give a piece of our responsibility to."
The risks are great, from finances to reputation, "every time we make one of those critical decisions about who we're going to invite to help us get our jobs done," Mottola said.
Mastering the Mousetrap
What's involved in vetting a carrier, intermediary or logistics service provider? Pascal Ochquee, director global logistics of Halliburton, said the major global energy service provider's vetting efforts are centralized. "We've joined up with our legal team and some external partners on going through the vetting of providers. It's fairly extensive, or it might sound extensive for new providers."
The key points for him are compliance and financial stability of a potential partner.
"Just having the financial stability and understanding the structure of each logistics provider and service provider is a critical part of why we vet," Ochquee said. "We're trying to match the needs that we have as an organization, and that we have the stability required to move our business."
Brian Putallaz, global commodity manager of GE, said his company and its lucrative wind energy operations list 35 to 40 primary core carriers, ranging from third-party logistics providers, or 3PLs, and freight forwarders to asset-based carriers, including roll-on roll-off, tramp heavy-lift vessel operators, liner operators, barge and other specialized carriers.
Putallaz said that in his role, depending on new business, he has to seek out "a hole," a market or service in which "we don't have the right cost position because we won't have the right carriers." He will research through networking, attending Breakbulk conferences, speaking with agents, "or pulling up a port of call (on the computer) and see what carriers have been to that port in the last three months."
While the core of its vetted carriers are on main global trade lanes, such as the major east-west routes, for niche or one-off cargo moves, GE will normally go through a 3PL or freight forwarder, who will subcontract the portion of a move requiring a niche carrier. That intermediary must guarantee that GE's terms are clearly detailed to the subcontractor. "We would view that (intermediary) as the carrier and they would be liable that the subcontractor abides by our requirements," Putallaz said.
Outside resources also include U.S. Security and Exchange Commission financial reports, Dunn & Bradstreet, Lloyd's List Intelligence, local and industry media, such as Breakbulk, and other remote external resources for information, the participants detailed.
"We redo that every three to five years for our main contractors," Ochquee said. "It's not something that is just a one-time thing and you get on the list and we never look at it again."
Once onboarded, Putallaz will monitor vetted partners' annual reports and "what their cash positions are."
Though vetted carriers have had their financial background checked, have agreed to GE's master service agreement, and have met all standards, nothing is carved in stone. GE's wind energy components are growing in size and complexity, so "the mouse trap we use today may not work tomorrow, so we're constantly looking forward," he said.
Kenn Soendergaard, owner and manager of broker and forwarder TSL Shipping and Trading, said it's not just vetting the financial aspects of a carrier.
"Once we have cargo on board a specific vessel, it comes down to how well is that ship financed," he said. With the beating the (carrier) industry has taken and the lack of investment in the fleet, those vessels are often not financed to the best of abilities," he said.
For instance, a single chartered cargo ship and exposure of an owner in bankruptcy or under dire financial circumstances may risk cargo being arrested and maintained, he noted.
Price vs. Service
Despite many shippers' vetting processes, there's still some doubt that when approaching a product that cost isn't the primary arbiter.
"There's a fine line between trying to get the best rate in the market and still making sure you're getting service quality that you need for your product," Halliburton's Ochquee said. "As an organization, we're always fairly conservative. Obviously you look for opportunities and the best service providers out there."
Oftentimes, beyond price, savings are found from longstanding relationships, he insists.
"What we've seen from doing that is being able to get, first of all, a competitive price – but it actually drives cost savings from the back end because they understand our processes, they know our products, they know the folks they're working with … if you look at total landed costs, I think we get some benefits with working with folks in the long run. On the service part, there's flexibility on both sides. A carrier that knows you well and works with you, it's easier to hold a vessel a bit, or get equipment you really have a priority for."
TSL's Soendergaard, when pressed, estimated that those companies that have projects handled on a yearly basis that implement vetting beyond rate and delivery date "is probably not even 40 percent.
"With an industry that has been under pressure for so long, you show your clients that you get the job done and you work your way through it afterward," he said.
"For most shippers, it's a matter of 'is your ship in position for the cargo, have we done business before, and can I count on you to take my cargo from point A to B without stopping at three ports on the way?' If that's the case, sure let's go along with that, rather than a vetting procedure," Soendergaard said.
Forwarder Perspective
As an intermediary, Leonard Headrick, director – industrial projects, Bolloré Logistics, has been through the vetting drill plenty of times.
"Typically they want to know about ownership," Headrick said of cargo owners, EPCs and 3PLs that initiate the vetting process. "Bottom line is, 'who am I doing business with?' Are there any partners or is it wholly owned. Is it a private or public company?
"Other elements include global coverage, your network, can you handle my business door to door? Are you using agents, where's your network, where are your offices? What types of projects have you executed, when, where, what were the volumes? Often we are asked what are the largest pieces we've handled on a project," Headrick said.
Other points in the sort-out include systems capabilities, track and trace, inventory management, forwarding systems.
The largest emphasis, though, is on ethics and compliance programs, and sustainability.
"Shippers want to know the amount of risk doing business with a company today," Headrick said. Shippers will also frequently quiz on what percentage of your business is generated from projects, oil and gas or other sectors, and, of course, insurance and liability limits.
Vetting Rubs Both Ways
In true business partner relationships, both sides should derive benefit. Therefore it behooves the vetted carrier and logistics service provider to properly vet the shipper as well.
TSL's Soendergaard admits that for many intermediaries, the process is somewhat antiquated.
"Given the pressure the industry has been under over the past 15 years … there's no universal vetting of shippers at this point," he said. "With the KYC (know your customer) process that's appeared over the last couple years, it's more a case of making sure you adhere to standards than actually vetting the shipper. That's something I foresee, more carriers and industry in general becoming standardized, so that everyone knows they're getting paid and they're dealing with businesses that they can trust."
Health and Safety
One area that has swelled in prominence among shippers' vetting is health and safety, Bolloré's Headrick said.
"Safety and keeping records of safety have become more standardized over the past 10 years," he said. A vessel safety checklist, regular "toolbox" meetings, vessel safety statistics "are part of everyday life on board for the carriers we do business with."
Though Headrick noted some statistics can be misleading with regards to a carrier's safety record: "You are keeping a record of your last incident and how many days since. But if you've only worked three ships since the last incident, it may not tell a lot about your safety record."
It's the same for forwarders. "This is a common element that we see on vendor qualifications," Headrick said. "They want to know about your HSC (health and safety) program. They want to know about incidents and accidents and how are they recorded."
Headrick maintains that Bolloré "has a very robust HSC program, because not only do we have a logistics division, but we are also a port operator and a rail operator, so we are working with a lot of equipment. So being in compliance with our customers or being in line with their programs is of the utmost importance."
One thing that makes GE's Putallaz nervous is the lack of investment in the multipurpose vessel fleet. "You look at the order book and you look at the aging out of vessels, and I think we're heading for a supply/demand curve adjustment sometime soon."
He acknowledges that the lagging order book is due to lack of return on investment, lack of capital in the carrier industry and the constraints faced after years of downturn.
Gary Burrows, a 40-year publishing industry veteran, has covered the supply chain industry since 1988 and has served as editor of business-to-business logistics publications for more than 30 years.

Image credit: Shutterstock