---
Feb 05 | 2021
(Europe) Loads Wind Blades in Sub-zero Temperatures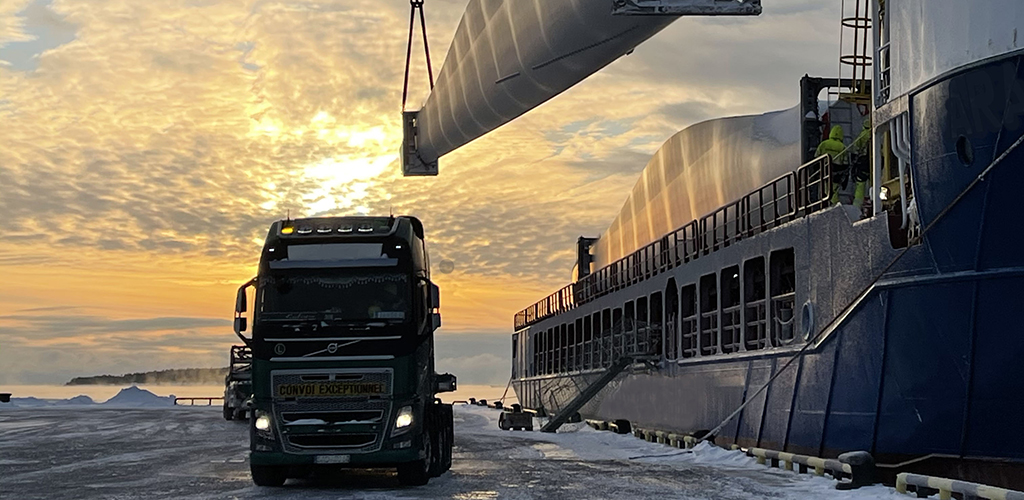 Elevon, a new logistics company focusing on the wind industry, proved its mettle recently, loading wind turbine components in Scandinavia amid snow and sub-zero temperatures.
Elevon, which serves the onshore and offshore renewables sector, was launched by Abnormal Load Services and Norsea, both part of the Wilhelmsen Group.
Elevon has already worked on two Scandinavian projects this year, the first complicated by the sub-zero temperatures.
"The day started with frozen equipment, vehicles and lashing chains. From lifting the first blade to the last one, the loading operation took about eight hours. Once the operation was complete, the vessel sailed to Denmark," an Elevon spokesperson said.
On the second project, snow and ice did not stop the renewables team on site in Scandinavia, which unloaded wind turbine components from a vessel and transferring them to trailers before arranging onward transportation to a storage facility.
Dimensions of the cargo were about 74 meters long, 4.2 meters wide, 3.3 meters high, and weighed 23 tons.
The project was completed on schedule, Elevon said.
Abnormal Load Services is a subsidiary of Wallenius Wilhelmsen and operates offices in UAE, Belgium, Finland, Germany, Holland, Italy, Romania, Spain, and the UK. The firm is an exhibitor at Breakbulk events.