---
Jan 21 | 2021
Growth Despite Covid-19 Headwinds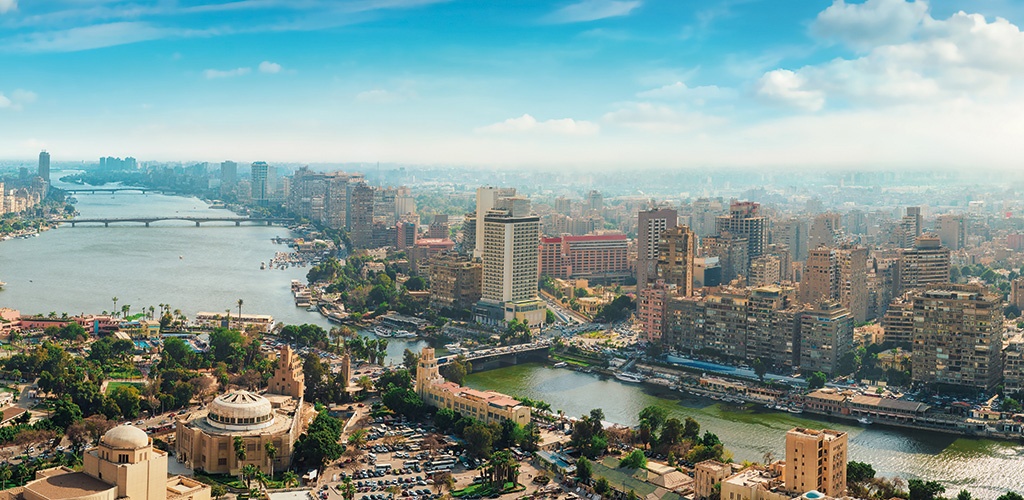 By Amy McLellan
There have been few economic success stories in 2020, a year when Covid-19 took a wrecking ball to consumer spending and government budgets. Egypt, however, is one of a handful of countries that, while not unscathed by the pandemic, looks set to exit the year with its economy in growth mode.
While European nations battle unprecedented retrenchment, with the UK among those heading for devastating economic contraction, Egypt is expected to see growth of 3.6 percent. Indeed, according to the International Monetary Fund, Egypt's economy achieved the second-highest global economic growth and was among only 15 percent of countries worldwide that achieved a positive growth rate worldwide in 2020.
Given tourism is so vital to the Egyptian economy – directly and indirectly accounting for about 9 percent of GDP in 2019 – the country was expected to be hit hard by the pandemic. But instead, the country proved remarkably resilient, although growth was muted compared with pre-pandemic levels which had been predicted to deliver global domestic product growth of 5.8 percent in the fiscal year.
In part, this is because the country, like so many others in Africa, was less hard hit by Covid-19 than expected.
"Nine out of 10 people are wearing masks when they're out and about, we're teaching online and there are curfews on shops and restaurants," reported one resident of Cairo during the first wave. "People have taken it very seriously."
The country effectively crushed its first wave of infection, although there was a resurgence during the third quarter 2020 with cases running at about 400 a day in early December. In all, at the time of writing, there had been 6,666 deaths across the country at that time as a result of Covid-19, and the country ramped up enforcement of a mask mandate, curfews for shops and restaurants and 14-day quarantines towards the end of the year.
Full Steam Ahead for Recovery
With the pandemic hopefully contained, there are hopes the momentum in the recovery will be sustained. The National Bank of Kuwait believes the worst economic repercussions of the pandemic are behind Egypt and that growth is expected to improve further over the first half of 2021. HSBC economists are also optimistic about the outlook, predicting growth of 2.5 percent in 2021.
"Egypt's economy has stood out for its resilience throughout the Covid-19 pandemic, with its 2016 reform program putting it in a position of strength as it entered the global crisis," said Todd Wilcox, deputy chairman and CEO of HSBC Egypt. "We remain hopeful that Egypt is through the worst of the downturn and are confident that it can weather the pressures it will likely continue to face."
Looking beyond next year, analysts at Fitch Ratings expect growth to recover to 5.5 percent in fiscal year 2022 and to be maintained at slightly more than 5 percent in the medium term. "This is assuming tourism gradually returns, further growth in the energy and manufacturing sectors and gradual improvements in the business environment," said a Fitch analyst.
It is not just pandemic measures that have helped. Egypt has been on a path of economic reform and growth since 2015. In 2016 it started a three-year US$12 billion loan program backed by the IMF, alongside a series of reforms aimed at boosting the economy, addressing high inflation and public debt and opening up to the private sector. Its "Egypt Vision 2030" strategy was launched the same year to drive sustainable growth and balanced regional development.
Part of the IMF-backed reform program has been increased emphasis on infrastructure and construction as a key engine of urban growth and financial stability. The fiscal year 2019/20 budget saw US$8.6 billion earmarked to obtain new resources, develop infrastructure, and improve roads, electricity, water and sanitation networks.
While some projects have been deferred as a result of the pandemic, country watchers are expecting a pick-up in activity in 2021.
Mega-Projects Pushing Ahead
A number of mega-projects are already underway, including the Grand Egyptian Museum, set to open in 2021, and the creation of a New Administrative Capital, which is being developed 35 kilometers east of Cairo.
Although progress on the new administrative capital has been slowed by the pandemic and the need to limit workers on site at any one time, the Ministry of Housing, Utilities and Urban Communities expects to complete two residential districts by late 2021 with the city's business district ready by early 2022. A further six neighborhoods are being developed by private firms and the military. Upon completion, the New Administrative Capital will contain more than 23,000 residential units, as well as an international airport, 35 square kilometers of public gardens and parks, and an office park.
Transport infrastructure is a big part of the new dynamic Egypt, including a major road building program and an extension of the rail network. A new monorail will connect Cairo to the New Administrative Capital and another 42-kilometer line will connect 6th of October City and Giza, with both projects undertaken by Bombardier Transportation and local firms Orascom Construction and Arab Contractors.
Meanwhile, a Chinese-led consortium has won the US$9 billion contract to build a 543-kilometer-high speed line connecting Alamein on the Mediterranean with Ain Sokhna on the Red Sea. The electric trains will travel at speeds of 250 kilometers per hour and will pass through the cities of 6th of October, Burj al-Arab and Alexandria. Sherif Nazmy, the chief executive of Samcrete, which partners the China Civil Engineering Construction Corp. and the Arab Organisation for Industrialisation, compared the coast-to-coast highspeed project to the Suez Canal in terms of its importance to Egypt's development.
The country has also set up a National Company for Railway Industries, backed by the Egyptian Sovereign Fund and the Suez Canal Economic Zone authority and pulling together a number of private-sector companies.
The project will produce 300 railway cars a year and attract investment of US$10 billion over its lifetime, with the aim of turning Egypt into a center for railway industries and technology. The first phase of the project is planned to operate in the last quarter of 2021.
Infrastructure Surge
The country is also investing to boost its ports infrastructure. The pandemic may have slowed progress, but the momentum is still there. Mid-2020, for example, saw Hong Kong's Hutchison Ports, the world's leading port investor, developer and operator, sign a long-term agreement with the Egyptian Navy to develop a new US$730 million container terminal inside the Abu Qir Naval Base.
The greenfield site is in a naturally sheltered location and will be connected via a new highway to Alexandria as well as the national road network to the capital Cairo. The port will have a draft of 18 meters, total quay length of 1,200 meters and a 60-hectare terminal yard with scope for expansion. Hutchison Ports boss Eric Ip said the investment was designed to meet demand for container trade as a result of Egypt's growing population and economy. The first phase of the project is expected to be operational in 2022.
Egypt has also signed a memorandum of understanding with Germany's Eurogate and Contship Italia to build a new container terminal at Damietta Port. The US$824.5 million first phase of construction will also include a railway line, dry port and a cargo distribution area, with a view to being ready for operations by the end of 2022.
A statement from the Transport Ministry said the project was designed to make the port "a pivot point in the Eastern Mediterranean region, opening up new export markets through the operation of direct shipping services to the port and increased competitiveness for Egyptian products."
Meanwhile, Suez Canal traffic increased by 165 ships between January and September 2020, including the transit of the world's biggest container ship and the transfer of 12 giant pipes, each more than 500 meters long, from Norway to Bangladesh. The Egyptian authorities are keen to increase traffic through the waterway and are pushing it as a more sustainable option compared with longer journeys that burn more fuel. Work is underway to upgrade navigation along the canal, including pilot stations and emergency stations and increased use of digital technology for requesting a transit, requesting a fee estimate prior to transit, ship repair and maintenance and rescue services.
Eye on an Energy Push
Other growth sectors that are creating plenty of opportunities for those in the project cargo and heavy-lift industries include the energy industry, where multinational companies such as BP and ENI are developing Egypt's large reserves of natural gas as well as a push to generate more electricity from renewable sources, mainly solar. Increased renewable energy frees up oil and gas supplies to be used for the country's growing value-added petrochemicals industry and for export.
More speculative projects include a long-mooted bridge connecting Egypt to Saudi Arabia, which, if realized, would be one of the largest and most ambitious projects in the world. Cairo University is undertaking studies into the proposed King Salman Bridge, which would cross the deepwater Gulf of Aqaba and provide a major transport link between the two countries. This would also connect Egypt to Neom, the Saudi Crown Prince Muhammad bin Salman's ambitious "smart city" real estate project, part of his vision to diversify the Kingdom's reliance on oil revenues.
This is a region with real growth underway – despite the headwinds caused by the pandemic. This could create major opportunities for project cargo, heavy-lift and logistics companies, which could find themselves with scope to carve out growing business in the booming infrastructure, energy and construction sectors in a country that is a gateway to Africa and the Middle East.
Freelance journalist Amy McLellan has been reporting on the highs and lows of the upstream oil and gas and maritime industries for more than 20 years.
Image credit: Shutterstock